Vision: To prepare all students for life after graduating high school.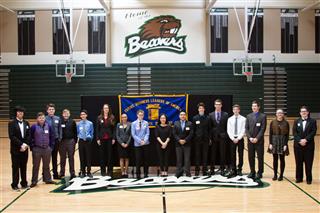 Mission: To facilitate the teaching of relevant skills and knowledge for learning, career and life.
Goal: To increase graduation rates and prepare students for employment by engaging them in learning related to career interests and workplace readiness / 21st Century skills.
Beliefs:
We believe all students when provided the opportunity, will flourish in an environment that engages them in learning.

We believe through collaborative work, we can positively impact our students learning and their preparation for the world of work.

We believe that keeping programs current by staying connected to what is happening in business/industry will have a positive impact on our students.

We believe there are many paths traveled to get to a desired career and our job is to assist students in understanding those various paths so they choose the best one to fit their needs.
---
Benefits of Career & Technical Courses
Many of our courses provide an opportunity to gain college as well as high school credit
Many of our classes provide an opportunity for credit equivalency to help students meet their graduation requirements
Provide technical skills that transfer into the world of work
21st Century Skills are taught helping students prepare for the workplace
---
Learn More About CTE
Learn more about our changing economy, in demand careers in our region, along with their education and salary levels:
Taking CTE classes can earn credit at Clark College:
| | | |
| --- | --- | --- |
| Woodland High School Course | Clark College Equivalent | Credits Earned |
| Anatomy and Physiology | HEOC 100 - Anatomy and Physiology | 4 |
| Medical Science 1 & 2 (Year-Long) | HEOC 104 | 3 |
| Medical Science 1 (Semester) | HLTH 124 | 1 |
| Take all of the courses listed above | BMED 110 & 111 | 6 |
Taking CTE classes can earn credit at Lower Columbia College:
Woodland High School Course
Lower Columbia College Equivalent
Credits Earned
Early Childhood Education
(Year-Long, Grade of B or better)
ECED 105, ECED 107 & ECED 120
12
ECED 100 - Basics of Childcare
3
Initial Certificate
Total Credits Earned:
15
---
OSHA Training
Woodland High School CTE students take OSHA training courses to help them work safely in their future careers. You can learn more at OSHA Training Services, Inc.
---
Career Pathways
In order to align with our new State graduation requirements and to meet our goal of preparing students for their future, we begin helping students build their High School & Beyond Plan in middle school.
Students use tools as a way to learn more about their interests and learning styles which connect them to potential careers. This process helps them in determining their career pathway.
---
Career Cluster Pathways
Below are the 16 Career Cluster "Pathways" which link to more information, including example careers within the pathway.
---
Woodland Public Schools CTE Course Catalog
The following is Woodland Public Schools' entire CTE course catalog. Not all courses are offered every semester/year.
Click here to download the entire Curriculum Handbook for Woodland High School
---
Agriculture
Career Options Handout for Agriculture
Taught by Kendra Pearce

CTSO: FFA

Floral Design 1*
Floral Design 2*
Floral Management 1
Floral Management 2
Horticulture 1
Horticulture 2
Horticulture 3
Horticulture 4
---
Business Management & Administration
Career Options Handout for Business Management & Administration
Career Options Handout for Digital Arts and A/V
Taught by Andria Terry


CTSO: FBLA

(360) 841-2800

Career Choices
Computer Applications
Digital Arts*
Entrepreneurship
Financial Fitness
Marketing
Office Skills and Communication
Publishing
Retail Operations
Web Design 1
Web Design 2
---
Family & Consumer Science
Career Options Handout for Family Consumer Science
Career Options Handout for Education & Training
Taught by Sarah Fontyn


CTSO: SkillsUSA

(360) 841-2800

Creative Chef
Early Childhood Education
Ethnic Cooking
Independent Living
---
Health Science
Career Options Handout for Health Science
CTSO: HOSA

(360) 841-2800

AP Biology
Human Anatomy & Physiology
Medical Science 1
Medical Science 2
---
Information Technology
Career Options Handout for Information Technology
CTSO: FBLA

(360) 841-2800

Introduction to Computer Science
AP Computer Science
---
Skilled & Technical Services
Career Options Handout for Skilled & Technical Services
Career Options Handout for Transportation, Distribution & Logistics
Taught by Wayne Miller

CTSO: SkillsUSA

Auto Maintenance
Metal 1 (Beginning)
Metal 2 (Advanced)
Maritime Trades
* designates a course that receives cross-credit or college credit