Monday, November 7, 2022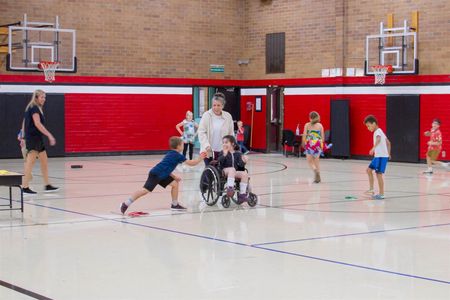 An instructional aide pushes Harper Costa, a student at Columbia Elementary, in her wheelchair so she can play dodgeball with her classmates
The teaching staff at Woodland Public Schools uses adaptive curriculum, lessons that permit adjustments to accommodate all students' needs, to ensure students with disabilities can participate in all aspects of the school day, including physical education, art, and music.
For students with physical disabilities, adaptive curriculum addresses for differences of mobility, even in physical education (P.E.). "We modify our games and sports in physical education so students in wheelchairs or with other forms of mobility challenges can participate with the rest of their classmates," said Cheryl Nesbitt, a P.E. teacher at Columbia Elementary School. "Some students need instructional assistants to help them participate while others want to manage their own mobility."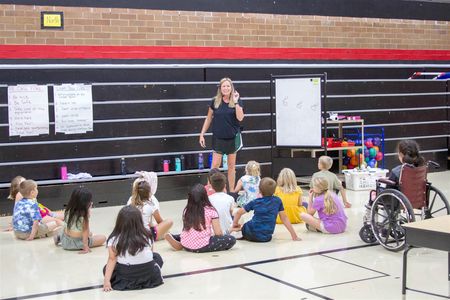 Cheryl Nesbitt, a physical education teacher at Columbia Elementary School, uses adaptive curriculum so all of her students can participate in P.E.
In order to make P.E. a fun and engaging part of her students' day, Nesbitt remains laidback and ready to go with the flow. "I've learned not to take myself too seriously so my students can have a blast in my classes," she said. "The focus is on playing to learn, so there's very little standing around and the result is kids who love P.E."
However, engaging and educating dozens of students every school day requires dedication and planning. "I want to encourage a culture of excitement when it comes to P.E., so I always call my classes 'organized chaos,'" said Nesbitt. "I've learned to fully understand my role and to keep my energy level up." Additionally, Nesbitt includes a lot of variety even within a single class to address all kinds of playstyles, "We play 3-4 games in a single class session, constantly changing it up so a kid who doesn't like a particular game knows a different one is coming soon."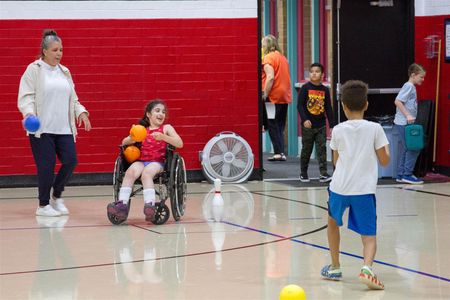 Students ensure they include all of their classmates so everyone can learn and play together
Nesbitt regularly takes professional development courses to learn more strategies to adapt curriculum so she can find new ways to engage her students, and she also teams up with the school's other specialists. The school's specialist ensures students with developmental needs can participate as much as possible, too. "For students with more debilitating needs, we take additional steps to adapt curriculum so they can stay involved with their classmates, too," said Nesbitt. "In addition to P.E., we also have specialists for music and art who use adaptive curriculum to create an inclusive environment for all students."
Elizabeth Vallaire, a teacher at TEAM High School, Woodland Public Schools' alternative high school, has direct personal experience with the positive benefits of adaptive curriculum through her daughter, Harper Costa, a student with disabilities who attends Columbia Elementary and recently joined the Portland Junior Wheel Blazers wheelchair basketball team. "While we see a lot of coverage of special needs events, few stories focus on exactly how important sports are to children with disabilities," said Vallaire. "Woodland's elementary schools really go above and beyond to ensure students with disabilities are included throughout the entire school day with physical education classes being a particular favorite for Harper."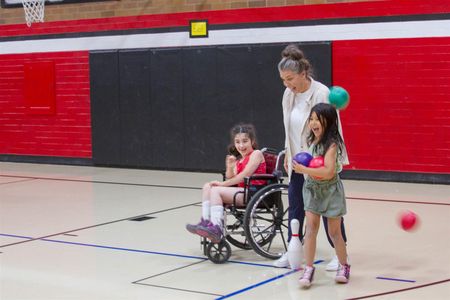 Elizabeth Vallaire, a teacher at TEAM High School and mother of Harper, says Cheryl Nesbitt is one of Harper's favorite teachers
Adapting curriculum so students with disabilities can participate with the rest of their classmates makes a huge difference to morale and can improve a student's engagement. For Harper, her physical education classes have become such a favorite part of her school day that she remembered them during a recent Thanksgiving holiday. "During one of my family's Thanksgiving celebrations, we took turns going around the table saying what we were thankful for," said Vallaire. "Harper declared that she was thankful for Mrs. Nesbitt and P.E.!"
---
Learn more about how Woodland Public Schools educates our students and serves the community, by visiting our dedicated news webpage at www.woodlandschools.org/news/wsd