Friday, June 12, 2020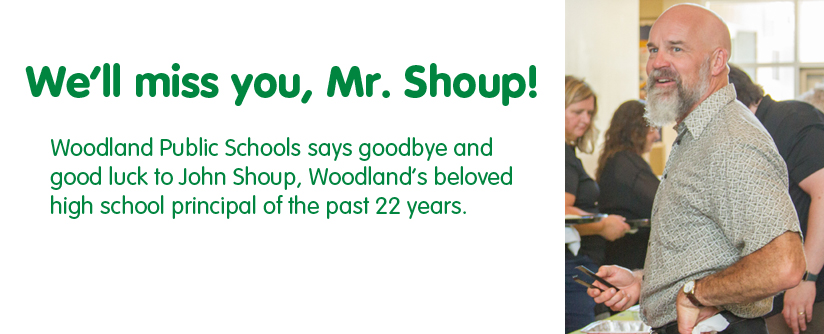 Woodland High School's Principal, John Shoup, surprised many in the community when he announced his family intends to relocate to Nevada at the end of the 2019-2020 school year. A long-time fixture at the high school serving 22 years as its principal, John's decision to move on was one he and his family did not come to lightly.
Throughout John's tenure as principal of Woodland High School, he helped lead the school staff through many historic events, not only in times of crisis but also in times of great joy, not the least of which being the grand opening of the new high school campus in 2015.
John moved his family to Woodland in 1998 from Everett, Washington. "My bride's parents lived in Oregon City and they were having a difficult time coming up to see us, so moving closer to them was an important priority," he recalled. "In addition, I was working as an assistant principal and knew I wanted to move on to the next step so when the position opened up at Woodland High School, it seemed like the perfect fit."
At the time, both Woodland and Kalama had principal positions available, but John knew Woodland was the place for him and his family after one visit. "Just visiting and walking around Woodland made it apparent that this town would be the right fit for me," he said. "I talked to community members at the local stores and no one had a bad thing to say about the town, plus it has that small-town, neighborly feel that we were looking for."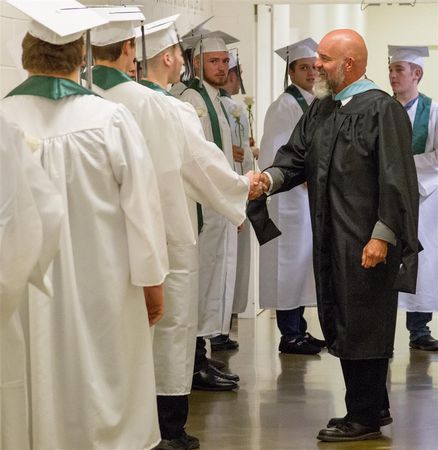 John Shoup made a practice of meeting, knowing, caring about, and following up with the students at his school.
In addition to the positive impressions of the community, John wanted to raise his children in a town with a single high school. "There's a vibrancy to seeing all the local community members when you go to a Friday night basketball game," he explained. "I love the pace, flow, and energy of Woodland."
John and his wife decided it was time to leave after 22 years. "We did what a lot of people do when they become empty-nesters – you look around at the big house and realize you want to downsize," he said. "My bride and I wanted to live in a place where there would be sunshine on a more regular basis, so, several years ago, he started talking about where that would be."
They decided on South Reno, Nevada. John regularly vacationed with his family in the area ever since he and his wife celebrated their one-year wedding anniversary there. In addition, John's sons live in Nevada, so the family has a lot of experience with the region. John admits he will always miss Woodland. "A lot of what appealed to us about Woodland in 1998 is still exactly the same now," he said.
The Dynamic Duo – Principal John Shoup and Assistant Principal Dan Uhlenkott 20 years running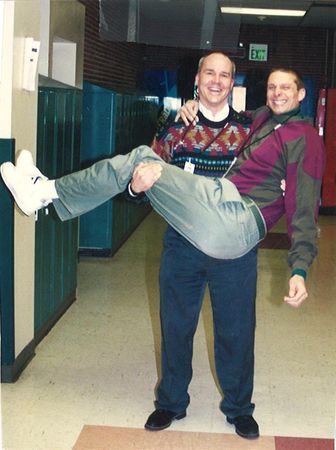 John Shoup and Dan Uhlenkott have been the Principal and Assistant Principal team of Woodland High School for two decades
Perhaps even more rare than a principal staying with a school for more than two decades is an administrative team staying together for just as long. Dan Uhlenkott has served as John's assistant principal for 20 years since John hired him in 2000, a length of time that may be a record for an administrative team in Washington State. "I have such a level of trust and faith in Dan and what he can do," said John. "We're completely different people with completely different approaches, and it's those differences that made things work so well."
Over 20 years of working together, there have been a variety of experiences – both challenging and rewarding – that John and Dan took on over their time together, however, John took the opportunity to share a memory of one, in particular. "Dan and I were carrying a table holding the diploma covers on-stage in the middle of a commencement ceremony when the table slipped and spilled the covers all over the place," John recalled. "The collective gasp from the audience was audible, and while Dan was picking them up, I pointed at him for the audience as if to say 'it was all his fault."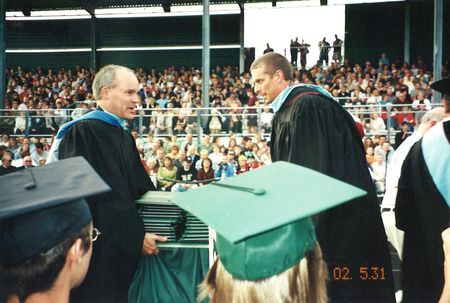 A graduating senior snapped this infamous photograph of John Shoup and Dan Uhlenkott shortly after the pair spilled diploma booklets carrying a table during the ceremony
The accompanying photograph was taken by one of the graduates sitting in the stands immediately after John and Dan finished picking the covers up, "You can nearly see actual daggers coming at me from Dan's eyes," John chuckles.
John admires the incredible professionalism and adept skill Dan brings to his work. "He's not a 'yes man,' and that's exactly what I needed – someone who challenged me and pushed me, but, in the end, would go with the plan we developed together," said John. "Dan's at the top of the list of the people I'm going to miss the most."
Dan still remembers his job interview with John. "Right from the interview, I knew it was a good fit," he said. "There was a lot of back-and-forth, but the interview was incredibly comfortable and I knew Woodland High School was where I wanted to be."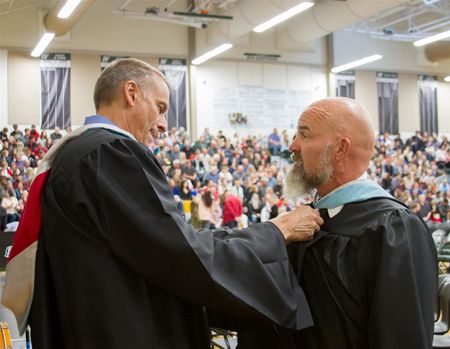 Dan Uhlenkott (left) seen here adjusting John Shoup's (right) hood shortly before the Class of 2019 commencement ceremony, credits John with lessons and coaching that made him a better administrator
Despite John being younger than Dan, Dan credits him with helping develop the administrative skills and experience he needed to serve as an effective school leader. "While I did have some administrative experience, I didn't know how much I didn't know until I worked with John," said Dan. "With John, age is immaterial – he always approached teaching me both as a coach and a teacher, and he was excellent at both roles."
Dan credits John's dedication, work ethic, and genuine personality for why staff members rarely leave Woodland High School. "Each new hire was a conscious and intentional decision by John – he made Woodland High School what it is today and it was no accident," said Dan. "John purposefully sought out and hired the right people, and he put together a truly excellent staff."
When looking back at their 20 years together, Dan points to the entire high school's staff as the reason he never desired to work anywhere else. "When you're working with the right people, if it works well then you keep on working," he said. "When John told me he was moving to Reno, it tugged at my heart more than a little – I couldn't have asked for anyone better to be my occupational partner."
Good luck, John! We will miss you!
---
To learn more about how Woodland Public Schools continues educating our students and serving the community during the statewide closure, visit our dedicated news webpage at https://www.woodlandschools.org/home-learning-stories
---
Please, send me your stories!
Email your stories with photos and/or video to jacobsoe@woodlandschools.org