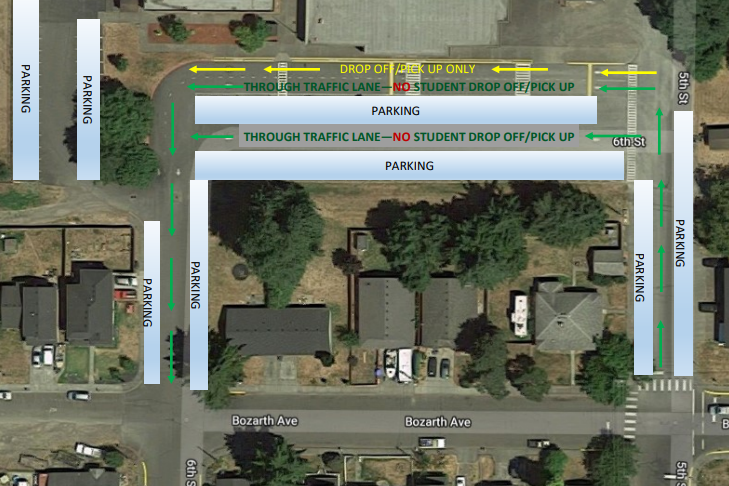 Click here to download a PDF of the Parking Lot Safety Plan
For the safety of Columbia Elementary School students and staff, we ask that you remember the following guidelines when dropping off or picking up your students:
The curb is a place to drop off and pick up

only.

Do not park and leave your car at the curb.
To drop off, please pull forward in a single line until you are at the curb in front of the building.

Once your student has exited, pull into the lane to your left and move out of the parking lot allowing the vehicles behind you to pull forward.
To pick up please stay in your vehicle and move forward to the curb when the car(s) in front of you move. Your student may enter your car when you are at the curb.
Please follow the directions of our staff.

If they ask that you circle around the block or move your car location, please do so.
Do not drop students off or pick them up in the lane farthest from the curb or behind parked cars. We do not want students crossing traffic or being hidden behind cars.
Always use crosswalks.

We have staff at each to assist with getting safely across.
If you wish to walk your student in before school or wait outside the building to greet your student after school, please park your vehicle in a designated parking space or along nearby streets. Do not park at the curb and leave your vehicle or park behind cars in designated parking spaces.
Please stay off your phone

during drop off and pick up times.
Please maintain a slow speed.