EDIT MAIN
Dual Language Program / Program de Lenguaje Dual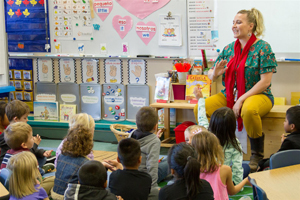 Woodland Public Schools proudly introduced its Dual Language Program in the 2018-19 school year, offering two class sections for Kindergarten students. A total of 44 students enrolled - both native English and Spanish speakers.

Students enrolled in the Dual Language Program become bilingual, bilterate and bicultural in both English and Spanish, learning their lessons for half the day immersed in English and half the day immersed in Spanish.


Las Escuelas Públicas de Woodland presentaron con orgullo su Programa de Lenguaje Dual en el año escolar 2018-19, que ofrece dos secciones de clase para estudiantes de Kindergarten. Un total de 44 estudiantes inscritos, ambos hablantes nativos de inglés y español.

Los estudiantes inscritos en el Programa de Lenguaje Dual se vuelven bilingües, bilterados y biculturales tanto en inglés como en español, aprendiendo sus lecciones durante la mitad del día inmersos en inglés y la mitad del día inmersos en español.


CLICK THE LINKS IN THE MENU ON THE LEFT TO LEARN MORE!

HAGA CLIC EN LOS ENLACES EN EL MENÚ DE LA IZQUIERDA PARA OBTENER MÁS INFORMACIÓN.