Monday, May 15, 2023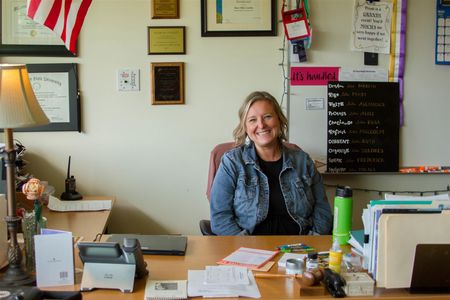 The U.S. Department of Education selected Sharon "Shari" Conditt as one of the finalists for their Fellowship Program
Sharon "Shari" Conditt, one of Woodland High School's Government teachers, became a finalist for the U.S. Department of Education's Fellowship Program resulting from an intense application process and exhaustive multi-day interview process. The Fellowship Program selects a handful of teachers from around the country to develop scalable projects to enhance and improve student education throughout the United States.
Conditt's passion for civics and her desire to empower students helped her stand out among thousands of applicants to be considered as one of a dozen finalists for the Department of Education's program. "The fellowship aims to enhance understanding between the Department of Education and educators, enabling them to bring valuable insights back to their classrooms and schools," said Conditt. Intrigued by the opportunity to delve into the origins and impact of educational policies, Conditt applied in 2022 but faced rejection despite meeting the stringent requirements, including three references, a comprehensive resume, and a project proposal.
Undeterred by her initial setback, Conditt decided to give it another shot when the opportunity arose once again. She meticulously crafted a project proposal centered on building legislative networks between students and the state legislature. "In the realm of education policy, the voice of students often remains unheard, leaving their needs and concerns overshadowed by bureaucratic decisions," said Conditt. "With no organized student representation, state legislatures miss out on the valuable perspectives offered by our students who experience the direct effects of decisions made by our state representatives." Conditt's proposal seeks to empower students to voice their concerns and ideas directly to the policymakers who shape their education by creating student roundtables throughout the state that meet regularly with state legislatures.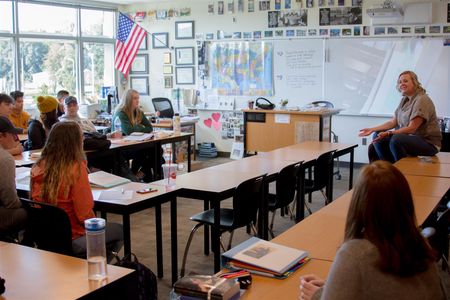 Shari Conditt encourages students to take part in local government and take ownership of their civic duty
These legislative roundtables would create meaningful dialogues between legislators and students to address issues facing schools throughout Washington. "Discussions would involve setting priorities aligned with the Office of Superintendent of Public Instruction's (OSPI) goals, addressing current challenges, and exploring innovative solutions," said Conditt. With unwavering determination, Conditt submitted her proposal in January 2023, setting in motion a series of events that would ultimately lead her to becoming a finalist for a Department of Education fellowship.
During her interview, Conditt shed light on the inadequacies of the prototypical school model. "Rather than focusing on sometimes-superficial improvements, student representation could emphasize the genuine needs expressed by the students themselves," she explained. "Issues such as the scarcity of mental health support and the lack of fully funded athletic directors could take center stage in discussions." Armed with data, Conditt presented compelling evidence illustrating the disparities between student needs and the resources allocated to address them.
Drawing attention to the underfunding of crucial positions, Conditt highlighted the shocking reality that only one nurse was available for every 650 students in the prototypical school model used by Washington State. "With five buildings – one of which more than a half hour's drive away – a single nurse can't possibly service that many students, so the funding gap for additional medical support must be made up by local levies," said Conditt. "Similarly, instructional coaches play a critical role in improving student learning as reinforced by research, however the legislature provides no funding for coaching in any way."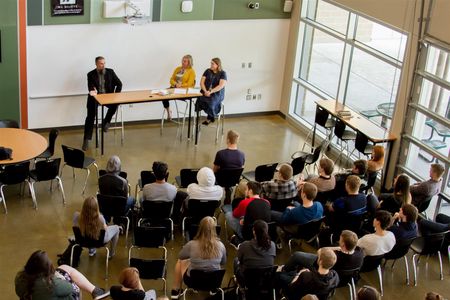 Shari Conditt invites guest speakers including lawyers, politicians, and other professionals to address students in her Government classes
February brought the news that Conditt had been selected for an initial interview. "I reached out to a former fellow of the program who shared valuable insights and advice," she said. "Her experience helped me prepare for the interview which involved multiple presentations and adherence to an incredibly strict timetable."
Following the initial selection, the Department selected Conditt for the next step: an interview process that would prove to be a grueling test of Conditt's capabilities and potential impact. Ten educators from throughout the United States, including administrators from large districts, a Hall of Fame teacher, and leaders of influential organizations and foundations, gathered for a rigorous seven-hour assessment. Conditt showcased her passion through meticulously prepared presentations delving into the detailed mechanics of her plan, outlining its potential for scalability and the benefits it would bring to other school districts.
The process separated the finalists into two groups where participants were presented with a complex problem – how to solve the teacher shortage crisis facing the country. Working alongside unfamiliar colleagues, Conditt's team was tasked with devising a comprehensive strategy that prioritized identifying and inspiring potential candidates from historically black colleges and universities, minority-based colleges, and tribal schools. "I regularly participate in councils and forums that prioritize teamwork and structure in order to achieve goals, so my past experience served me well during the interview," said Conditt. As a result, Conditt's group rose to the challenge, showcasing their ability to think critically and collaboratively under pressure with incredibly tight time constraints.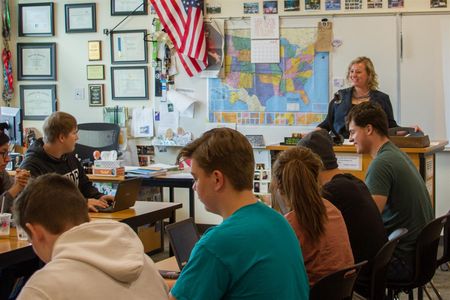 Each year, students in Government take part in a series of intense debates in March and April which Shari Conditt calls "March Madness
Conditt firmly believes empowering students to advocate for their needs will drive effective change. "By engaging students directly in the legislative process, legislators will gain firsthand knowledge of the challenges faced by students and the impact their decisions could have on their education," she said. Conditt also shed light on the disparities within programs such as Running Start and dual enrollment, emphasizing the need for fair and equal access to educational opportunities. "Students who earn Career and Technical Education credits often cannot transfer those credits to colleges other than the ones where they earned the credits," she explained. "This stands in stark contrast to students involved in Running Start programs who can transfer their class credits to any accredited college or university."
If selected for the Department of Education fellowship, Conditt would need to dedicate ten hours a week to implementing her student representation program in Washington State by collaborating with organizations and the state legislature itself. Additionally, she would regularly travel to Washington, D.C. to further develop her network and gain valuable insights to implement her plan.
Reflecting on the experience, Conditt expressed a sense of optimism and unity among all the finalists. "Each of the finalists presented viable projects with the potential to effect positive change," she said. "I felt honored to be selected as a finalist among such prestigious educators even if I am not selected for the fellowship." Conditt will learn if she is selected as a Fellow by the U.S. Department of Education sometime in late May or early June.