Tuesday, September 20, 2022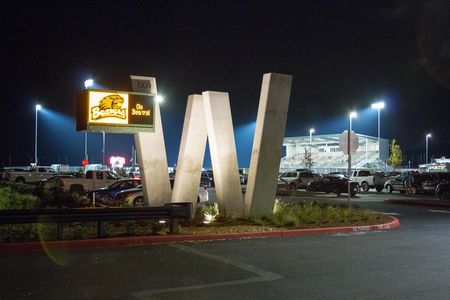 Woodland's Home Sweet Homecoming kicks off with community tours starting at 5:30 p.m. on Friday, October 7
This year, Woodland High School plans to pull out all the stops with its Home Sweet Homecoming 2022, inviting and encouraging students, families, alumni, and community members to return to the high school, tour the facilities, take part in new and old traditions, and to celebrate the big game on Friday, October 7.
This year's Homecoming will bring back old traditions, of course, but will also introduce new ones to celebrate school spirit and welcome the community back to their home school. "We have a new football coach and many community members who have never visited the new high school," said Shari Conditt, U.S. Government teacher for the high school as well as faculty organizer for Homecoming. "We want to bring the community back to school to celebrate with us."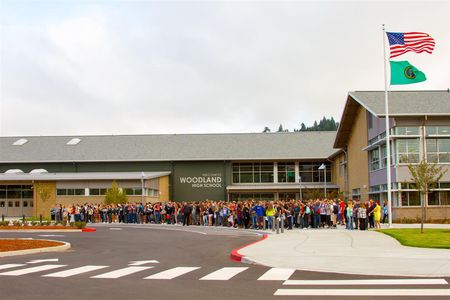 Despite opening seven years ago, the high school remains state-of-the-art with student-led tours offered to the community starting at 5:30 p.m., no RSVP required
Even though the new high school facility originally opened in 2015, Conditt learned from speaking with members of the community that many Woodlanders have never visited the new building; this year's Homecoming intends to change that, showing off the state-of-the-art features in the building to the Woodland community. "This fantastic facility represents the Woodland community's ongoing dedication to supporting their kids and ensuring students receive a high-quality education," said Conditt. "Our taxpayers deserve to see how the district dedicates itself to acting as responsible stewards of community funds by extending quality and value as far as possible." Homecoming evening kicks off with Community Tours of the new Woodland High School starting at 5:30 p.m., led by members of the WHS Cross Country and Dance teams.
The community does not need to RSVP for the tours; simply show up and enjoy touring a facility which continues to offer state-of-the-art functionality even seven years after its construction. After the tours, community members can meet the members of this year's 2022 Homecoming Court and take photos with this year's Princesses. The Homecoming Game kicks off promptly at 7 p.m.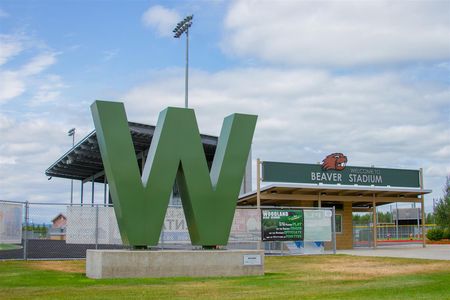 The Homecoming football game starts at 7 p.m. and alumni classes celebrating reunions this year will be recognized during the big game
The high school encourages alumni classes celebrating reunions this year to join in the festivities, where alumni from different years will be recognized during the big game. "We want to acknowledge our amazing graduates from over the years and celebrate their accomplishments," said Conditt. "Even after graduating from Woodland, our alumni remain a key part of our success in providing an outstanding education for our students by offering their ongoing support."
For students, the festivities start well in advance of the game with a Door Decoration contest starting on Monday, September 26, where classes dedicate their room doors to celebrate school spirit in the name of this year's theme, Home Sweet Homecoming. The following week, students across the district can participate in Spirit Dress-Up Days with each day featuring a different theme. "We wanted to start a number of new traditions around Homecoming this year, and a key part was to invite all students in all of Woodland's schools, not just the high school, to participate in some of the celebrations," said Conditt. "By including all grades in high school celebrations, we hope to inspire younger students to keep their eye on the end goal of their academic careers – graduation from high school."
This year features another new tradition, the Timber Court. With the goal of recognizing the wide variety of different clubs and organizations Woodland's students take part in, representatives from each club who embody the spirit of Woodland High School and community giving will be selected as members of the Timber Court. "We want to honor our students and show the Woodland community who we are, including bringing them back into the school," said Conditt. "Our students are so dynamic and their experiences are rich and varied; we want to give the community a chance to see it for themselves."
Woodland Public Schools invites the entire community including students, families, alumni, community members, and everyone to turn out to this year's Homecoming Celebration to take part in the amazing traditions that make Woodland such a fantastic place to live, learn, and work on Friday, October 7:
Free tours of Woodland High School start at 5:30 p.m. and go until 6:30 p.m.
The Homecoming Princess Meet and Greet runs from 5:30 to 7:00 p.m.
The Homecoming Game kicks off at 7:00 p.m.
Learn more about how Woodland Public Schools educates our students and serves the community, by visiting our dedicated news webpage at www.woodlandschools.org/news/wsd