Monday, May 17, 2021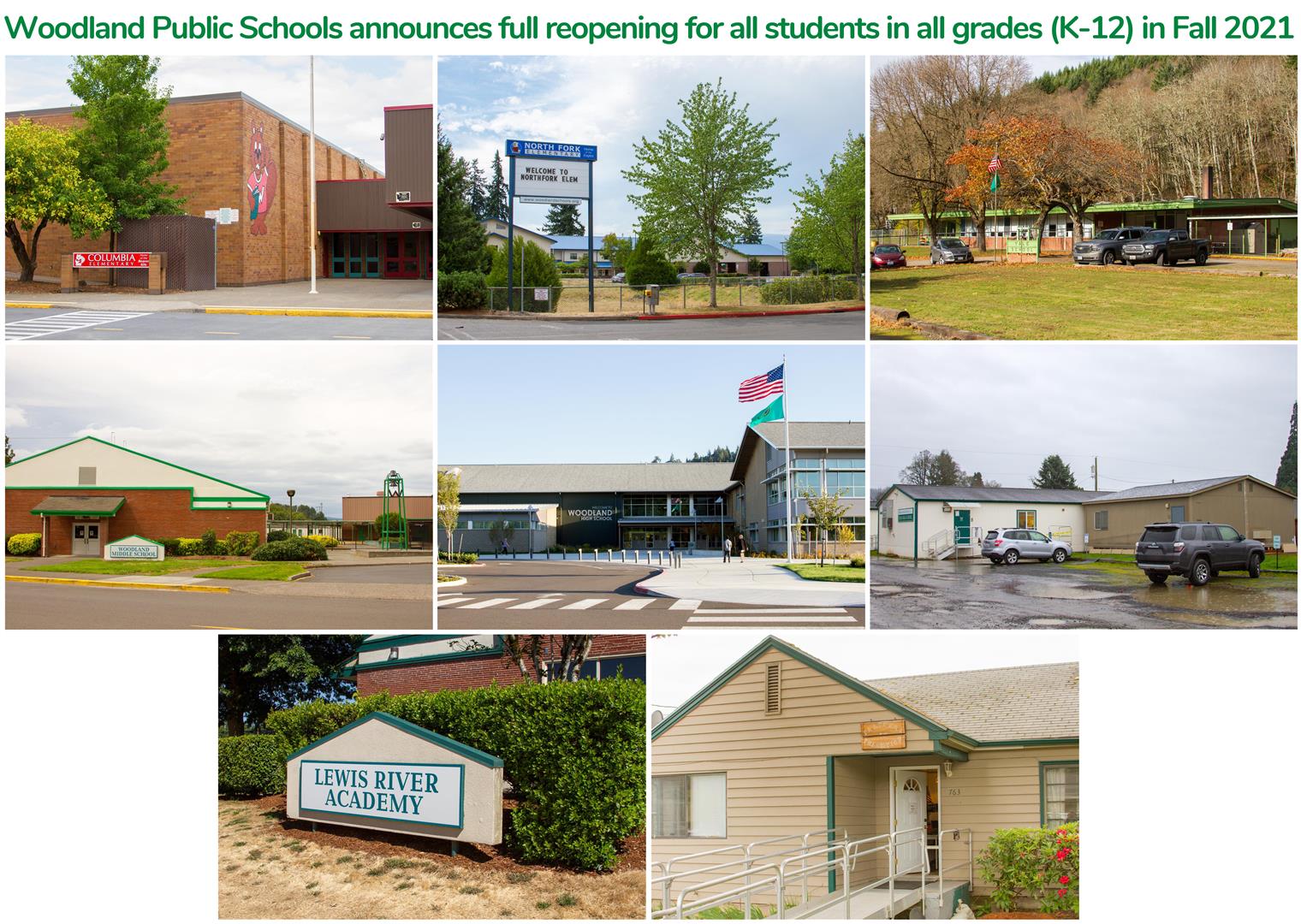 Woodland Public Schools announces full reopening for 2021-22 school year
Woodland Public Schools will fully reopen with full-time in-person learning for all students (K-12) in the upcoming 2021-2022 school year beginning Tuesday, August 31, 2021.
"Most students are more successful in a comprehensive, in-person learning environment surrounded by their peers and caring adults," said State Superintendent Chris Reykdal in a release on May 13. "Extended time in remote and hybrid learning has had negative impacts on many of our students' mental and behavioral health, as well as their engagement with and success in school."
The announcement of the return to full-time in-person learning comes following the success of widespread vaccinations throughout Washington State along with mandatory health and safety guidelines including face coverings, hand hygiene, improved facility ventilation, cleaning and disinfecting, and strict reporting and responding processes for COVID-19.
As a result, all students enrolled at Columbia Elementary School, North Fork Elementary School, Yale Elementary School, Woodland Middle School, and Woodland High School will be expected to attend school in-person. Families with students currently enrolled in remote learning and/or hybrid options at those schools who want to continue remote learning will need to change their student's enrollment to either Lewis River Academy (Grades K-8) or TEAM High School (Grades 9-12).
How to enroll a student in Lewis River Academy (Grades K-8):
For students in grades K-8, Lewis River Academy's teachers Andrea Edwards (grades K-2), Teri Retter (grades 3-5) and Annika Dukes (grades 6-8) work with families to prepare curriculum solutions for all enrolled students. In addition to remote learning, students may participate in weekly in-person classroom lessons which include guest lecturers, hands-on activities, and other learning engagement opportunities.
To learn more and to download the LRA enrollment packet, visit the school's website at www.lewisriveracademy.org. Interested parents can also contact LRA Principal Jake Hall via email at hallj@woodlandschools.org or Brandy Jackson, LRA secretary, at jacksonb@woodlandschools.org or by calling (360) 841-2713.
How to enroll a student at TEAM High School (Grades 9-12):
TEAM High School offers high school students a path to earning a diploma which accommodates individual students' life circumstances including full-time work, family responsibilities, or simply wanting the chance to finish high school early and get a jumpstart on their future.
Students prepare their lesson plans each week by meeting with one of the school's two teachers, Jillian Domingo or Elizabeth Vallaire. Students can work on their studies from home from an internet-connected computer or can elect to work in-person at the TEAM High School facility where the school's staff provides lesson support and in-person learning opportunities.
To learn more, visit the school's website at www.woodlandschools.org/team. The TEAM Enrollment Packet is available for download from the district registrar webpage at www.woodlandschools.org/registration. Students and families can also contact TEAM Principal Jake Hall via email at hallj@woodlandschools.org or call Mary Burnett, TEAM specialist, at (360) 841-2746.
Do you have a new kindergartner entering school this fall?
Kindergarten registration for the 2021-2022 school year is now available. You can learn more and download the enrollment packet from our website at www.woodlandschools.org/kindergarten-registration. You can also contact Jody Brentin, District Registrar, via email at brentinj@woodlandschools.org or call (360) 841-2707 any weekday Monday through Friday from 8 a.m. to 4:00 p.m. all year round.
---
Learn more about how Woodland Public Schools educates our students and serves the community, by visiting our dedicated news webpage at www.woodlandschools.org/news/wsd
Stay informed with the latest updates about the transition from remote learning to in-person learning and more about COVID-19 at Woodland Public Schools' dedicated coronavirus website: www.woodlandschools.org/covid-hq