Monday, February 22, 2021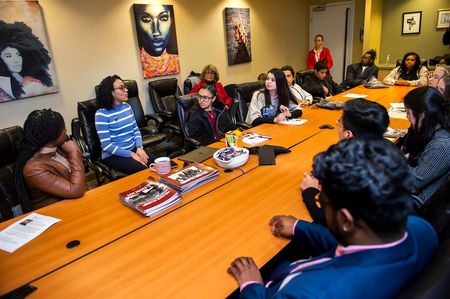 At the National Civics and Law Academy, students from across the country visit D.C. to meet with government officials and learn first-hand (Note: Photo taken pre-Covid)

Woodland High School students excel in learning more about the U.S. government and how it operates by taking part in unique and once-in-a-lifetime learning opportunities like the National Civics and Law Academy and Civics Unplugged where they interact with students from around the country, meet with government representatives, and even speak with lawyers who serve the Supreme Court, thanks to the dedication and keen eye of Shari Conditt, the high school's civics teacher.
The National Civics and Law Academy (NCLA)
Each year, the American Bar Association invites an exclusive group of just 20 students from around the United States to attend the National Civics and Law Academy (NCLA). Students spend a week in Washington D.C. visiting with different politicians and legal professionals while touring the country's capital to learn more about government, law, and civics at both a national level and a local level from first-hand experience and conversations.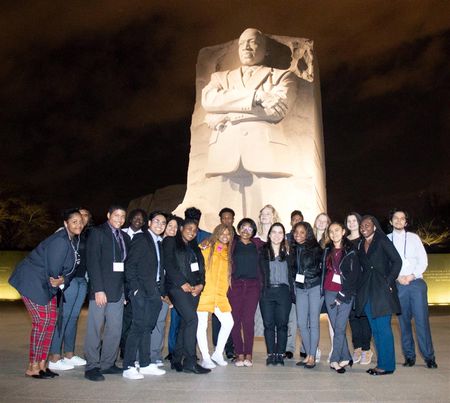 Leah Riley attended the National Civics and Law Academy in 2020 shortly before the pandemic lockdown (Note: Photo taken pre-Covid)

Due to the small number of students accepted, having a student in the program is rare for any high school. However, Woodland High School will now have two students attend the program in two years – Leah Riley, who attended the academy in 2020, and Camila Avelar, who will attend this year's program.
Leah credits the experience with giving her more confidence in the government. "There are so many different outlooks and perspectives from everywhere in the United States," she said. "At the academy, we learned how to change the government – you just have to be willing to put into the effort."
With so many students from around the country, diversity in geography, personalities, and perspectives means the students learn from each other. "We even discussed how different schools in different states operate," Leah remembered. "One student's school had security guards who looked into each student's backpack every morning."
Leah's experiences in Shari's classes transformed her outlook toward government. "Ms. Conditt really spiked my interest – government may not sound like fun, but Ms. Conditt makes it fun," she said. "I look forward to class everyday because Ms. Conditt really engages with her students and wants to know what they think."
Camila serves as the student representative on Woodland Public Schools' Board of Directors where she developed a newfound sense of how government works. "Government affects everyone whether they are aware of it or not," she said. "Serving as the student representative really started to open my eyes how government is everywhere and at every level."
Camila will attend the NCLA this March, and she particularly looks forward to meeting new people and learning more about how government operates. "I'm really extroverted so when I see a situation I don't think is right, I insert myself into it to try and change it; government is where and how change happens," she said. "I'm going to be meeting students from all over the nation and while it's a step out of my comfort zone, it will be a good step to take especially since I'm graduating this year."
Camila knew she would want to take classes from Shari before she even started high school thanks to her siblings. "All three of my siblings took classes from Ms. Conditt – she lives up to the hype and exceeds it," said Camila. "When I'm in her class, I don't like I'm attending school – I'm learning truly valuable things that I absolutely need to know for life – she makes me want to learn and teach others.
Civics Unplugged
Last year, Ruby Heidgerken took part in Civics Unplugged, a new program developed by a nonpartisan nonprofit organization to increase student interest and understanding of civics. Over the course of four months, thousands of high school students throughout the United States take part in projects to learn how to become effective contributors to building democracy.
The intensive projects include learning more about diversity and inclusion and how to implement change in school; using social media to address the lack of conversation about civics in Gen Z; and initiatives to promote youth engagement and mobilization in the policymaking process. "The whole intent is to train civics superheroes," said Ruby. "Students learn how to become involved and how to interact with their communities."
For Ruby, taking part in the program during the pandemic opened her eyes to the differences of opinion throughout the U.S. "Most of the people running the government during the pandemic showed how poorly-run and flawed our system current is," she said, specifically referencing the amount of time Congress took to send out the second stimulus plan. "We have the power to change it."
Before Shari nominated Ruby for the program, Ruby had little understanding of government. "I didn't really know what was happening or how the different political systems interact and operate," she said. "The more I read about Civics Unplugged, the more it seemed really interesting and would be a program I would benefit from taking part in."
Students form small groups of eight with students coming from all parts of the U.S. The variety in geography provided many different perspectives, particularly with one of Ruby's colleagues from St. Louis. "She had a completely different perspective and approach, particularly around the coronavirus," said Ruby. "In her state, there had only been three cases at the time when Washington was still the epicenter; she didn't understand why all the schools needed to close across the country when her state only had three cases."
Unfortunately, due the pandemic, Ruby and the other students participating in Civics Unplugged were unable to take part in the finale – a visit to Washington D.C. where students would have stayed in dorms at the Georgetown University. However, Ruby credits the program for teaching her so much about government and how it operates as well as how geography impacts the perspectives of citizens. "My biggest takeaway was developing a better understanding of how different peoples' perspectives and opinions form," she said. "It was fascinating to learn how geography dramatically impacts how people see and interact with the world."
Ruby truly values Shari's teaching style. "She really engages in the class and truly wants to know what we think," she said. "After complex concepts, Ms. Conditt asks what questions we have instead of asking if we have questions because she knows we do and wants us to ask them; it's a more inviting and engaging way of seeking feedback from students."
Additionally, Ruby appreciates how Shari goes out of her way to keep up with her students. "Ms. Conditt is always there for her students," said Ruby. "She regularly checks in with us to make sure we're excelling and getting whatever help we may need."
Helping students develop a love of government
Shari Conditt makes a point of looking for students who might excel in her courses. "I listen carefully and if I can sense a strength in an area, then I want to find ways to help students utilize that strength or grow a passion," she said. "I realize students don't often see themselves as leaders and need a little nudge to see their greatness and realize their gifts, talents, and potential."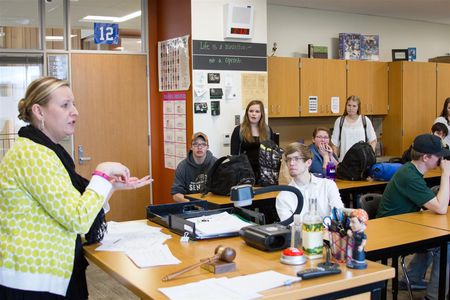 Shari Conditt takes great strides in engaging students in civics and taking part in government (Note: Photo taken pre-Covid)

In Leah's case, Shari noticed an interest in studying law and politics. "I also saw her regularly and consistently engage with the news – she'd ask me questions about current events and was deeply reflective in her reading," said Shari. "That deep analytical thinking is a needed skillset for the study of law and public policy."
Ruby, already a known leader in school, demonstrated an engagement in current events and a willingness to advocate for a variety of clubs and organizations. "Ruby is interested in the world around her and how she can impact it by engaging in civic leadership at the student level," said Shari. "Ruby would probably tell you her strength lies in math and science, but that doesn't limit her from being engaged civically as a leader – she's multifaceted."
Like Ruby, Camila carries a reputation at school of being an advocate for what she believes in. "Camila is comfortable being a leader and sets herself apart from others while being confident as a spokesperson for student with diverse needs," said Shari. "Her role as an advocate and voice of students made her perfect for the opportunity to attend the program."
Shari believes the role of teachers includes truly engaging and looking out for their students while also encouraging them to not limit their futures. "As teachers, we all operate as cheerleaders, supporters, and goal facilitators," she said. "As a student myself, I moved around quite a bit and always attended small schools in small towns but attending a small school doesn't mean students can't have big dreams and big goals."
Shari's interest in government stems from her childhood growing up in Germany during the end of the Cold War with her parents who were actively serving in the U.S. military. "I remember the Berlin Wall toppling, what it meant to the German people and to Europe overall, and fell in love with the role of advocacy," she said. "I joined student government and engage in student political groups like Model United Nations and Students Council to advocate for my fellow students and for policies that supported implicit needs."
For Shari, students need to understand how advocacy works and how government operates. "Teaching government is crucial in maintaining our democracy," she said. "We must become actively engaged, not passive, and I want my students to know how to engage in civics; how to use critical literacy skills to navigate the ever-changing media marketplace; and how to find the factual information they need to make informed decisions."
About Civics Unplugged
Civics Unplugged is a nonpartisan 501(c)(3) social enterprise whose mission is to empower the leaders of Generation Z to build the future of democracy. To learn more, visit their website at www.civicsunplugged.org.
About the National Civics and Law Academy
The American Bar Association's Division for Public Education hosts the National Civics and Law Academy (NCLA) to provide high school students with an opportunity to spend four days focused on understanding the relationship that law, policies, people, and institutions have in shaping our nation. To learn more, visit the NCLA's webpage at www.americanbar.org/groups/public_education/programs/ncla.