Tuesday, May 23, 2023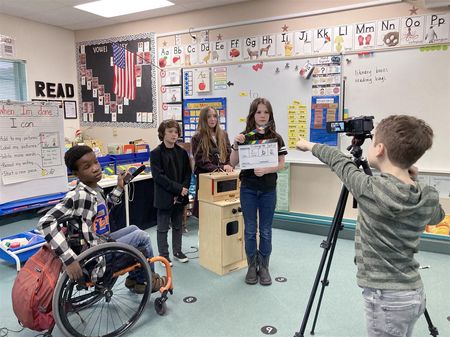 Students were responsible for acting, producing, and filming their video
Woodland students in Columbia Elementary School's after-school drama club debuted "Kindergarten Justice," a video they created inspired by television crime dramas, to a crowd of parents, staff, and community members during a premiere on Thursday, May 18.
The school's drama club attracted 12 students from 3rd and 4th grades, with careful consideration given to ensure that everyone could have an active role. "I knew the kids really wanted to put on a show, but since a theatrical production requires a lot of logistics in the background, we decided that creating a short film would be a fun way for the kids to show what they learned," said Melissa Vickery-Bareford, an LAP Paraprofessional for the school as well as the adviser for the drama club. "David Bareford, a local playwright who has produced plays for Woodland's Love Street Playhouse as well as the Magenta Theater in Vancouver, wrote the script a few years ago which I adapted for our use."
Vickery-Bareford ensured students performed as much of the work as possible from operating the camera, managing the boom microphone, introducing scenes using the clapper, and much more. "We introduced the students to film vocabulary as the production continued so the students would get to taste a bit of what real movie production might feel like," said Vickery-Bareford. "They really got into saying, 'rolling… aaaannd action.'"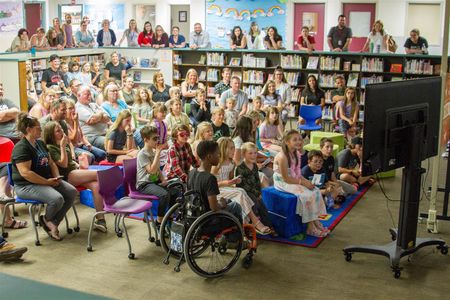 After walking in on a "red carpet," the club's members sat in the front row during the premiere
When asked about the origins of the drama club, Vickery-Bareford shared that the club began last fall as a result of overwhelming demand from students. "In the fall, we initially focused on learning basic acting skills through theater games and improv, but the kids wanted something more like a play or other kind of performance," she said. "For the spring, we decided to build on what we started with in the fall, meeting six weeks every Tuesday and Thursday after school where the kids filmed their video."
Vickery-Bareford emphasizes the importance of the performing arts in a student's academic career, "Theater promotes empathy, literacy, and social-emotional learning," she explained. "Whether through playing drama games, performing a skit, or making a movie the performing arts foster confidence, cooperation, creativity, problem solving, and communication skills."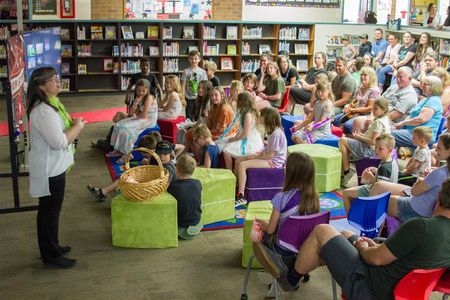 Melissa Vickery-Bareford, the drama club's adviser, introduced the production and provided background of what was involved to the audience
In addition to these skills helping students throughout their academic careers, lessons learned in the performing arts have a direct impact on careers after graduation. "These 21st century skills are critically important to student success in the real world just as they are on the stage," said Vickery-Bareford. "I have seen extremely shy kids gain the confidence to express themselves with theater giving kids who don't fit in elsewhere a real home."
Vickery-Bareford started her own journey in drama performance and production in elementary school, too. "I started acting when I was about their age which is probably why I enjoy working with kids so much," she said. She pursued her education in theater, obtaining a B.A., M.A., and Ph.D., and managed a renowned children's theater in Chicago for a decade before moving to Washington. Vickery-Bareford's vast experience led her to become a teacher and director with Journey Theater, a youth theater company in Vancouver, as well as directing locally at the Love Street Playhouse in Woodland.