EDIT MAIN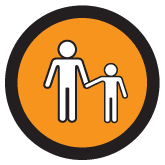 REUNIFICATION is utilized when an event, due to physical damage or tragic events, renders a campus or portion of a school uninhabitable.
The philosophy for reunification is to remove the students from the emergency to a location where they can be kept safe and effectively reunited with their families. Judging on the type of emergency, the location for reunification may vary.
The Woodland Schools reunification program revolves around four possible scenarios:
On-site reunification - If school is terminated due to an emergency school closure, or should a small portion of a school be involved in an emergency that renders a few rooms or section of the school uninhabitable, on site reunification may be selected.
In District reunification - Should an entire campus become uninhabitable, reunification at an alternate school may be necessary. Examples of this may be a major fire, flooding event or gas leak.
Off-campus reunification - In the event of a catastrophic emergency that may have excessive media coverage or resulted in physical trauma to students or staff, an off-campus reunification may be warranted.
Out of geographical area reunification - If an emergency affects all of the schools in the area, it may be necessary to reunify families at a location out of the geographical area. Examples of this could be a dam failure, volcanic activity, major earthquake or flooding.
Memorandums of Understanding (MOU's) have been established with organizations in Woodland and out of town, to pre-authorize this activity. These authorizations are kept in the District Emergency Operations Plan and communicated to the schools as needed.
School buses will transfer students to the reunification points. This shall include reunification school to school, school to town and school to a location outside the geographical area.
Reunification is a very controlled release. It is important to stay at home, stay informed and be ready to pick up your child when the instructions are given. The reunification location will not typically be given until the reunification team is set up and ready to release students.
Please review the video link below to familiarize yourself with a reunification event. It is important to understand the inner workings of the program to ensure a smooth reunification between students and parents/guardians can be achieved.
School Emergency Reunification Video
---
Fire Extinguishers and Fire Safety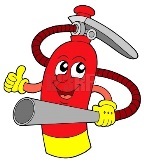 An extensive recall was initiated by the Consumer Product Safety Commission for approximately 40 million plastic-handle model fire extinguishers produced by Kidde between January 1, 1973 and October 25, 2015. (That's a lot!)
As this recall could affect your home fire extinguishers as well as school extinguishers, this recall notice was communicated to all district employees and placed on the district website for parents. The recall is related to the handles becoming loose and falling off and/or clogged. Deaths have been documented as a result of the failure(s).
Instructions for replacing the affected models are included in the recall notice. Many of the recalled fire extinguishers are home use models. See the link below to see if your extinguisher is at risk and how to get a replacement.
https://www.cpsc.gov/Recalls/2017/kidde-recalls-fire-extinguishers-with-plastic-handles-due-to-failure-to-discharge-and
---
Fire Safety Tips for the Home
Fall is the perfect time to change batteries in your smoke detectors.
Does your family have a fire plan? Great time to review it.
Do you have a fire extinguisher in your kitchen and garage? Know how to use it?

Remember this Acronym "PASS"
P = Pull the pin
A = Aim at the base of the fire
S = Squeeze the handle
S = Sweep the extinguishing agent at the base of the fire
Types of Fires
A = Something that leaves an ash, like paper or wood.
B = Oils and fuels (gasoline or other flammable liquids)
C = Electrical (burning electronics, transformers etc.)
D = Burning metals (magnesium etc.)
Extinguishers have the classes of fire they are designed to put out printed on the label. Typically most extinguishers are ABC. Once an electrical fire is de-energized (class C) it will become a class A fire as the insulation or material around it continues to burn.
---
Weather station
Woodland Middle School now has an online weather station.