EDIT MAIN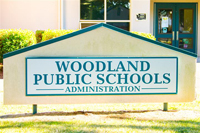 Special Services
Special Services supports Diverse Support Program K-12, Partners in Transition Program (PIT) 18-21, English Language Learners (ELL), Highly Capable (Hi C), Learning Assistance Program (LAP) Reading at Woodland Primary, Intermediate, and Yale school, Occupational and Physical Therapy, School Nurse, School Psychologists, Special Education, Special Education Preschool, Speech and Language Services, and Title 1 Reading and Math at Woodland Middle School.
The Special Services Department is committed to providing excellence in education for all students. We recognize that all students develop and learn differently. It is our goal to empower each student with the educational tools necessary to learn and succeed.
Michelle McLaughlin
Administrative Special Services Secretary
800 Second Street, Woodland, WA 98674
Phone: 360.841.2722
FAX: 360.841.2721
mclaughm@woodlandschools.org
Jake Hall
Executive Director of Learning Supports and Alternatives
800 Second Street, Woodland, WA 98674
Phone: 360.841.2716
FAX: 360.841.2721
hallj@woodlandschools.org
Any application, required policies, procedures, evaluations, plans and reports are readily available to parents and other members of the public at the Special Services Office.