EDIT MAIN
Woodland Public Schools introduces no-contact Kindergarten Registration!
Jody Brentin, District Registrar, was concerned how parents with kindergartners entering the 2020-21 school year could pick up registration packets during the COVID-19 statewide school closure.
Thanks to Ken Paul with River Country Realty, we now have a leaflet pickup box where parents can pick up the packets!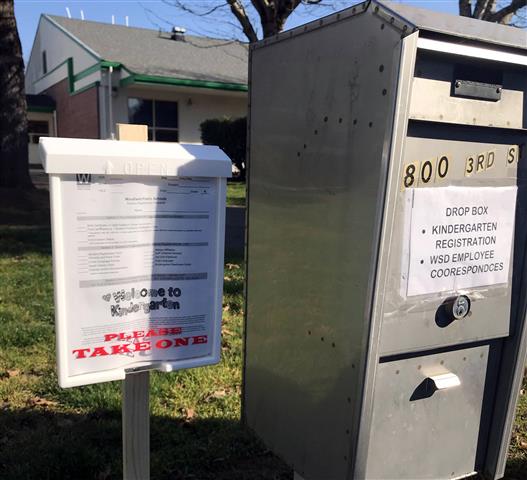 After filling out your packet, simply drop it in the Lewis River Academy mailbox right next to the box.
Both the packet pickup and drop-off boxes are located next to Lewis River Academy across the street from our business services portables at 759 Third Street, Woodland, WA 98674.
If the packet box is empty, please email Jody Brentin at brentinj@woodlandschools.org and she will refill it promptly.
---
New Student Registration - New To District
Below you will find links to the registration packet in PDF form for your convenience. Print, complete forms and bring them with you to the District Registrar located at 761 Third Street, Woodland. To expedite the process please make an appointment with our District Registrar – Jody Brentin by calling 360.841.2707 or by email at brentinj@woodlandschools.org.
Documents
Registration Packet Grades 1-12
Proof of Residency must be provided. Please bring one of the following: current utility bill, rental/mortgage/lease agreement, homeowners/rental insurance policy, public agency documents (DSHS, courts, etc.), current payroll check showing your name and address (amounts and social security numbers blacked out).
Medically verified Immunization record or Department of Health (CIS) Certificate of Immunization.
Additional forms/documents for TEAM enrollment
Additional forms/documents for LRA enrollment
Submit paperwork at Woodland Public Schools – District Registrar located at 761 Third St, Woodland, WA 98674.


Office:
(360) 841-2707
Email: Jody Brentin (brentinj@woodlandschools.org)
Hours:
Monday-Friday 8:00 am to 4:00 pm all year round.
Student registrations are centrally located at the Woodland School District for all schools including Yale, TEAM, AND LRA.
District Registrar - Jody Brentin
Physical Address - 761 Third St, Woodland, WA 98674
Phone - 360.841.2707 Fax -360.225.9320
Email - brentinj@woodlandschools.org
---