EDIT MAIN
Introduction to the Reunification Drill
December 3, 2019
Woodland Public Schools will be running a reunification drill in the spring on Friday, March 6, 2020.
Reunification protocols are utilized when an event renders a campus or a portion of a school uninhabitable due to physical damage or other circumstances such as flood. A designated reunification site serves as a rendezvous point where students, staff, and others can be accounted for and reunited with their families.
The upcoming drill will be coordinated with law enforcement, first responders, and the Cowlitz Emergency Operations Center (EOC). The district will send additional updates via email and social media regarding the reunification program over the next few months.
The goal of this drill is to test the district's reunification program under simulated emergency conditions. Parents and students will also serve as a major part of this exercise with appropriate notifications, requests, and additional information provided as the date gets closer.
Initially, all Woodland Middle School students (700+) will be loaded on school buses located around the school. Once accounted for, the majority of the students will return to class. Four (4) classrooms of students will be taken to the reunification location to be processed and reunited with their parents (or simulated parent).
After the reunification exercise, students will enjoy a free lunch at the Woodland High School cafeteria and then transported back to the middle school.
Woodland Middle School will distribute permission slips and parent/student volunteer forms with students to bring home in order for parents/guardians to authorize student participation in the drill. This upcoming drill may also serve as a good time to ensure your family's contact and emergency contact information is updated with the schools.
Please stay tuned to this webpage as we will be routinely posting updates about this important upcoming drill.
---
What can parents and guardians expect during a Reunification and how can they help?
January 8, 2020
First, remember that a reunification is a formalized, controlled release. Depending on the nature of the event, there is a relatively good chance that the reunification site will not be at your student's school.
How can you help in the event of a school reunification?
Stay at home until contacted.
The natural instinct for parents or guardians during a crisis is to go to the school. However, school officials and first responders will be working hard to control the situation at the school, and unable to assist concerned parents or guardians. Going to school could further complicate the situation and, worse, potentially endanger students and/or hamper recovery efforts.


Stay informed.
During a crisis where reunification will be required, the District will make notifications on social media and local news outlets as often as possible. Please be patient as updates take time to ensure as much detail can be provided as possible.


Be ready to respond.
Once the reunification point is publicized, proceed to the location in a calm manner. In order to expedite the process of reunifying parents and students, please send only one parent to get your child.
---
What happens arriving at a reunification point?
January 8, 2020
When arriving at the reunification site, traffic control will guide you to the proper location. Typically, the local law enforcement – police, sheriff, or state patrol – will direct you where to park your vehicle.


After arriving, a Greeter will hand you a reunification card and place you in line in order to be checked in.


Be sure to have photo identification with you as your identity will be verified against school records by the Checkers. After verification, you will be directed to an area where you will be reunited with your student.


After providing your reunification card to a Checker, they will hand the card off to a Runner who will collect your student and bring them to you.


After reunification with your student, you should leave the area and return home to keep the area as clear as possible for more parents to arrive to collect their students.


---
The Six Different Staging Areas
January 22, 2020
The reunification area will be broken down into six major staging areas:
Stage 1: Check-In
At Check-In, parents/guardians are given reunification cards by Greeters to fill out and hand to the Checkers. The Checker will validate personal identification to ensure the parent or guardian is authorized to pick up the student.
Stage 2: Access Control
Additional Checkers verify reunification cards are in order before parents/guardians enter the reunification area.
Stage 3: Counseling Area
The counseling area is set up for the parents of missing or injured students. Resources will be on-hand to help parents/guardian through the process of reunifying in the above circumstances.
Stage 4: Security Checkpoint
Reunification cards are handed to Runners who will retrieve the student.
Stage 5: Student Staging
Students are assembled at the Student Staging area where they will await reunification with their parent/guardian.
Stage 6: Reunification Point
Students are reunited with their parent or guardian at the Reunification Point.
---
Reunification Example Layout:
The below drawing shows the layout of the Reunification Drill with the Woodland High School gymnasium as the designated Reunification Location. However, the reunification arrangement will be similar regardless of the designated location.
Please be aware that, during a live reunification, there will be a heavy police presence to aid in processing and help to maintain order: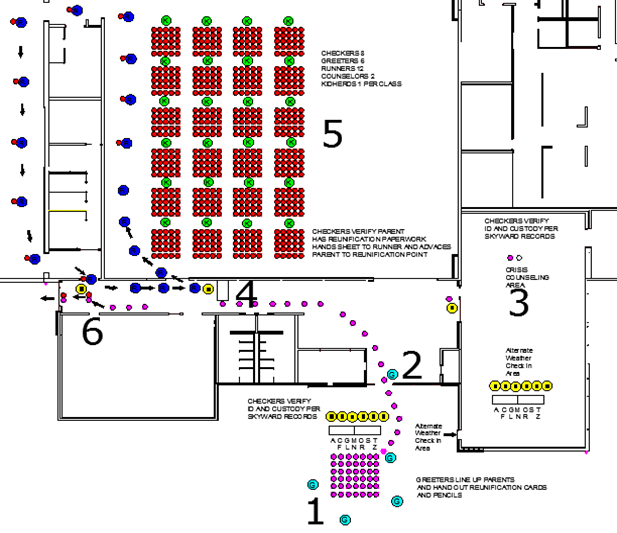 ---