EDIT MAIN
How to Enroll / CÓMO INSCRIBIRSE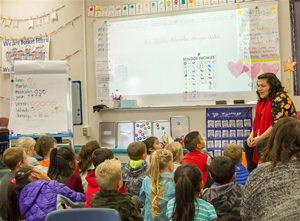 Interested families must complete and submit an application form for each child.

In-district applicants will be given first priority for admission followed by out-of-district transfer requests.

When the number of applicants exceeds program capacity, a lottery drawing will determine the order of placement to assign students.

Students not selected will be placed on a wait-list and will be added to the program as space permits. The wait-list will not carry over from year-to-year.

Once students are admitted to the program, they will retain the right for continued placement in the program from year-to-year.

After student enrollment is confirmed, a multidisciplinary and multicultural team will review the unique learning challenges of selected students and determine what additional supports would be needed in order for success in the Dual Language Program.

Las familias interesadas deben completar y enviar un formulario de solicitud para cada niño.

Los solicitantes dentro del distrito recibirán la primera prioridad de admisión seguidos de las solicitudes de transferencia fuera del distrito.

Cuando el número de solicitantes excede la capacidad del programa, un sorteo de lotería determinará el orden de colocación para asignar a los estudiantes.

Los estudiantes no seleccionados se colocarán en una lista de espera y se agregarán al programa cuando el espacio lo permita. La lista de espera no se transferirá de año en año.

Una vez que los estudiantes sean admitidos en el programa, conservarán el derecho de continuar en el programa de año en año.

Después de que se confirme la inscripción de los estudiantes, un equipo multidisciplinario y multicultural revisará los desafíos de aprendizaje únicos de los estudiantes seleccionados y determinará qué apoyos adicionales se necesitarían para tener éxito en el Programa de Lenguaje Dual.

To enroll your kindergarten student in Woodland's Dual Language Program, call Woodland Primary School at (360) 841- 2900 or email Principal Ingrid Colvard at colvardi@woodlandschools.org.
Para inscribir a su estudiante de kindergarten en el Programa de Lenguaje Dual de Woodland, llame a la Escuela Primaria Woodland al (360) 841-2900 o envíe un correo electrónico a la Directora Ingrid Colvard a colvardi@woodlandschools.org.