EDIT MAIN
Elementary School Reconfiguration
---
The Board of Directors approves boundary plan for reconfigured elementary schools in 2019-2020
Woodland Primary and Woodland Intermediate Schools will be reconfigured to join Yale Elementary in serving grades K-4 beginning with the 2019-2020 school year and all three schools will have attendance area boundaries.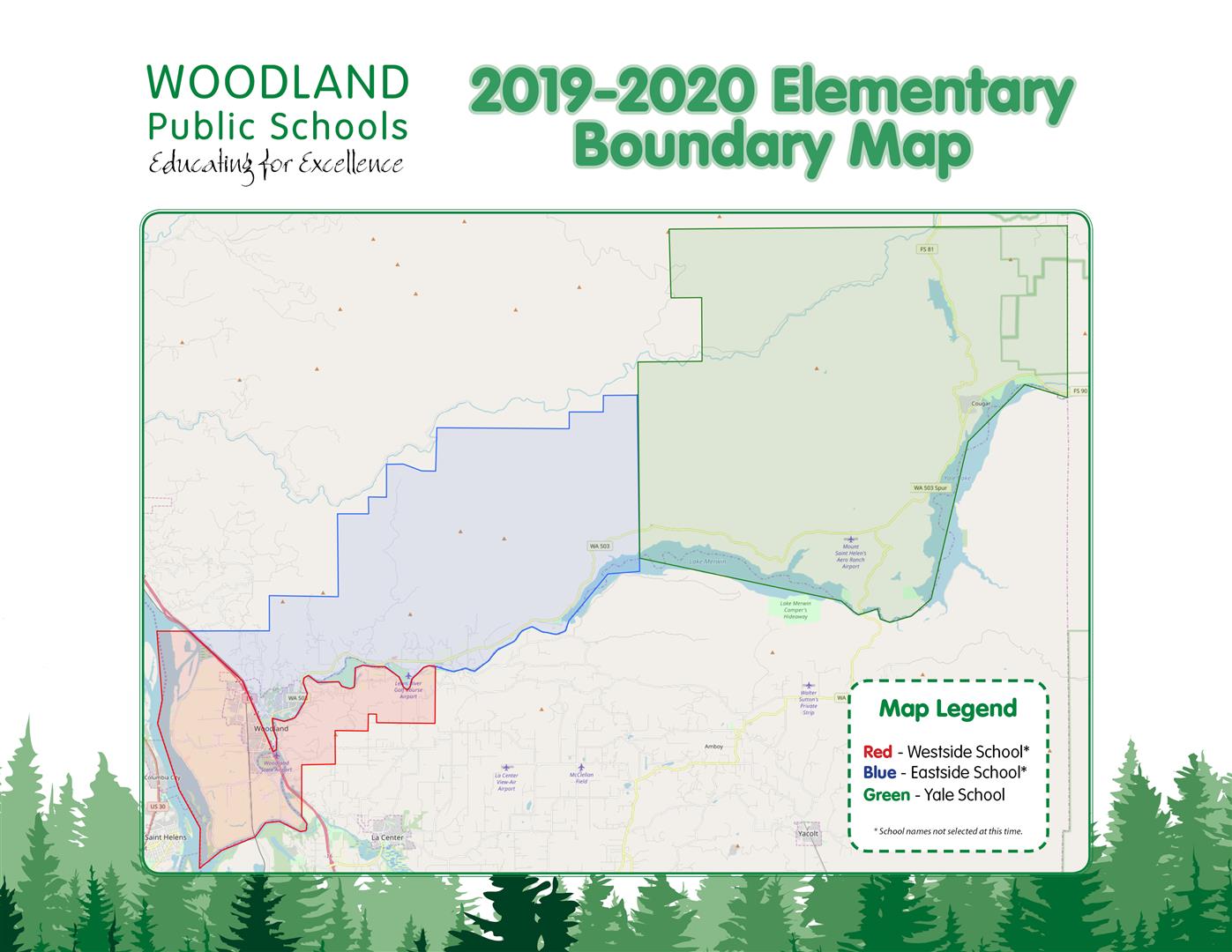 Click the image for a larger print-quality version
---
Reconfiguration Boundary Plan
In order to develop the optimal boundary plan for the new neighborhood schools, the district reached out to parents and guardians of current students attending WPS and WIS for insights into the community's most-desired priorities for reconfiguration.
Parents and guardians provided feedback, ranking three issues as the most important when creating the reconfigured elementary school boundaries:
Similar Student Populations
Childcare Concerns
After-School Activities
The district's reconfiguration planning committee used the community feedback to create eight boundary proposals for the Board of Directors to review and consider. Each proposal was designed with consideration to geographic limitations, neighborhood communities, current capacity of each building, transportation routes, and the likelihood of future growth in the attendance areas. "The planning team developed options taking the top three priorities into consideration without creating awkward boundary lines that might divide neighborhoods or otherwise substantially inconvenience parents or students," explained Superintendent Michael Green.
On Monday, December 17, 2018, the school board approved a school boundary plan that will address these many considerations and will provide substantially reduced school bus transportation times for many students. Spending less time on buses helps students and families accommodate childcare needs and after-school activities and reduces stress for students.
---
Will my student have to walk to school?
The Washington Administrative Code (392.141-340) defines a one-mile radius as the distance within which students are expected to walk to school.
The language referring to a one-mile radius clarifies that if the distance of a student's home is less than a mile from the school and the district transports the student, the cost of transportation is not funded. However, this does not mean districts automatically choose to have all students within a one-mile radius walk to school.
Many variables influence whether Woodland Public Schools can or should transport within a particular distance. With this in mind, KWRL staff have accommodated transportation wherever possible even without funding, depending on each individual student's circumstance.
If parents have specific concerns regarding their child's transportation situation, please mail our staff at Woodland Public School's transportation cooperative, KWRL at info@kwrl.org
---
Can I choose which school my child will attend?
You can submit an in-district choice transfer request if you would like your child to attend a non-resident school.
To learn more, review the District Transfer Policy (#3131) by using the links below:
District Transfer Policy (#3131)
You may download the District Transfer Request Form (#3131F) by using these links:
District Transfer Request Form (#3131F)
Forms can be submitted in person, by postal mail or via email to brentinj@woodlandschools.org.
---