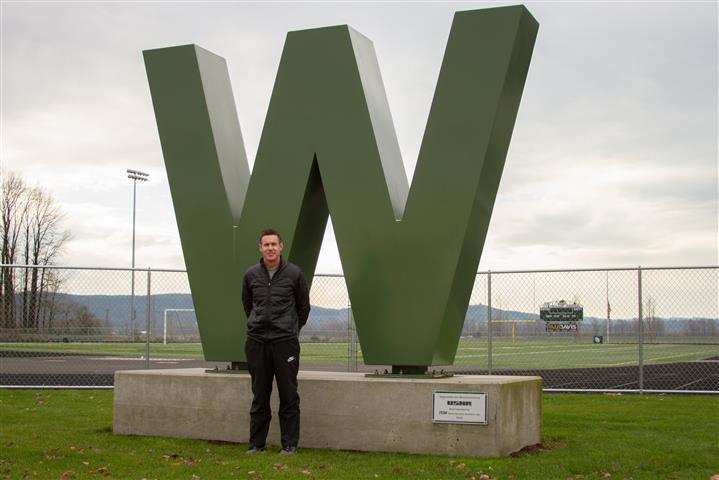 Woodland High School's Mike "Coach Woody" Woodward shares lessons learned from 20 years of coaching
Woodland Public Schools
Monday, January 28, 2019
Mike "Coach Woody" Woodward, one of Woodland High School's physical education teachers and recent football coach, announced his retirement from coaching at the end of the 2018 season. Over his 20 years of coaching football, Woodward learned a great deal from his players and students about teaching as well as coaching.
Woodward started coaching football immediately after finishing college and enjoying football as a player up until that point. "I love football and still wanted to compete, but, more importantly, I also wanted to pass on the knowledge I'd learned from the coaches I had over the years," he explained. "When you've learned so much from past coaches – and teachers, for that matter – the motivation to pass that information on to others is incredibly powerful."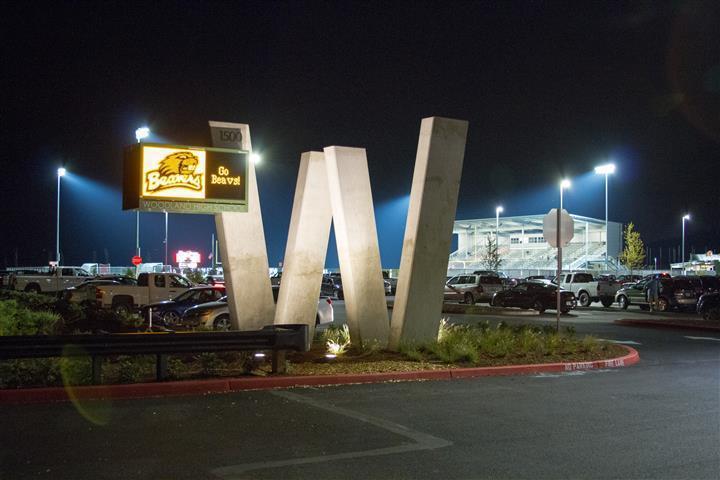 Some of Coach Woody's favorite memories are game nights, of course, however the Thursday night dinners before each game hold a special place in his heart.
Some of Woodward's best memories of coaching will always be game nights, of course, however the special dinners from the night before each game hold a special place in his heart. Each member of his coaching team would take turns teaching lessons from their own life experiences to the players during dinner. "As coaches, we've always prided ourselves on practicing what you preach, but it's not enough just to model good character, you must also teach it and hold the players accountable for it, too," he said. "Football is such a good platform to teach life skills and those Thursday night dinners were always quite something – our coaches opened up and let themselves be vulnerable with our players as they talked about their past and the students embraced it, especially here at Woodland."
Even after the end of each season, Woodward's dedication to his students and players never let up. "Those players were still my students and I always continued to care about them," he said. "I'm not able to turn that off – I've never been able to turn it off – and I don't want to, however I also never found a way to turn off the 'football switch' during the off-season, either; always thinking about the program in the back of my mind made it difficult for me to fully engage with my family and other parts of my life."
Woodward's decision to retire from coaching wasn't easy. "I'd started having feelings of being incredibly worn down, so I took a day off last May, prayed and meditated on my future for the entire day, and made the decision to retire after the 2018 season," he said. "For my last season, I gave Woodland's program absolutely everything I had and finished my career with one of the best seasons I've ever been a part of." Woodland High School's team finished with a program-best eight wins during the 2018 season.
Teaching has always taken as much of a priority in Woodward's life as coaching. "There's an incredible amount of similarity between the classroom and the playing field – teachers are coaches and coaches are teachers," he explained. "Just like out on the field, the classroom can't be about the student with the most exceptional academic performance or the player with the best athletic talent; I strive to make every student know I care about them and their success."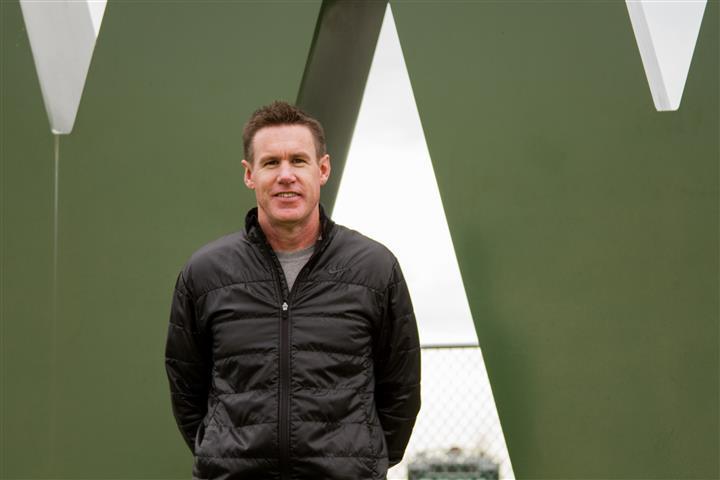 Woodward looks forward to spending more time enjoying what the Woodland community has to offer.
Now that he's retired from coaching, Woodward looks forward to spending more time enjoying Woodland. "From top to bottom, Woodland has been very good to me and I truly enjoy teaching and living here," he said. "Woodland reminds me of growing up in Battle Ground and I have very fond memories of that time."
Woodward went on to commend the interactions he's had not only with students in Woodland, but also their parents. "The parents in Woodland have been absolutely amazing for the three years I've been coaching here; I never had a single parent issue during my entire time here – zero complaints – and that's unheard of," said Woodward. "Parents in Woodland come to games and support our team without complaint, and I will miss that dearly!"
Another reason for Woordward's decision to retire from coaching stemmed from the current state of Woodland Public Schools' football program. "The program is in tremendous shape coming off an amazing varsity season and we have a junior varsity program that's simply incredible," he said. "We have great administration, an incredible coaching staff, state-of-the art facilities, and outstanding students – the next coach will be extremely lucky."
Starting with the 2019 season, Garrett Lutgen will replace Woodward as the high school's new football coach. Lutgen most recently served as the junior-varsity coach for Woodland and has been helping with the football program since 2014. "Lutgen's ability to effectively motivate and lead will allow us to continue to build on the solid program we already have in place," said Paul Huddleston, Woodland Public Schools' Athletic Director. "His undeniable passion for the game will most definitely bring an edge to the team."
If you would like to subscribe to receive Woodland School Weekly stories in your email, simply click this link. You can unsubscribe at any time, and Woodland Public Schools will not share your email address.