Three Woodland High School students make a one-in-a-million chance with all three earning perfect 800 math scores on the SAT
Woodland Public Schools
Monday, January 14, 2019
Three seniors at Woodland High School – Evan Ailinger, Michael Gabalis and Orion Hollar – recently received their results from their Scholastic Aptitude Tests (SATs) and were excited to discover they each earned a perfect score – 800 – on the math section of the test.
What is the SAT?
Many students planning to attend college take an assessment test called the Scholastic Assessment Test (or SAT), an admission requirement for many colleges and universities. The College Board, the organization which oversees the SAT as well as Advanced Placement (AP) class requirements, designed the SAT to measure students' knowledge in a variety of content areas including language arts, analytical skill and mathematics.
What does the SAT do?
Since school system requirements and grading procedures vary state-to-state (for example, some states give students one or two extra GPA points for each AP class they take), many U.S. colleges use the SAT as an admission requirement. With all students taking the same test, the standardized results provide admission boards with a measurement of applicants' levels of knowledge regardless of the school attended or GPA received.
How rare is a perfect 800 score?
The College Board doesn't release the exact number of students who receive 800 in each section of the SATs each year, however the organization does say that the number who receive a perfect score in any section is less than 1%. Using 1% as a baseline, the possibility of three students taking the SAT at the same high school receiving perfect math scores is less than 0.0001%.
In other words, the chance of three Woodland High School students receiving perfect math scores the same year is quite literally less than one-in-a million.
"Having a single student receive a perfect score on a section of the SAT is rare – less than 1 in 100," said Woodland High School Principal John Shoup. "Having three students do it in a single school year is almost unheard of and the staff is incredibly proud of the students' accomplishment and the hard work they put in to make it happen."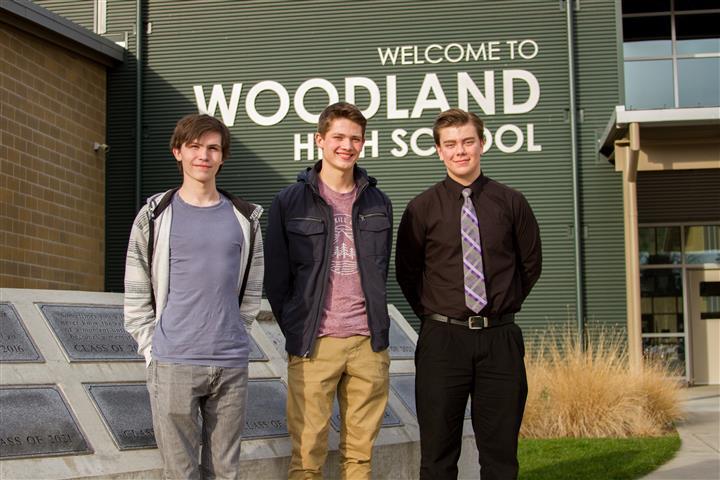 Orion Hollar, Michael Gabalis and Evan Ailinger earned perfect 800 scores on the math section of the SAT
What do the students feel led to their success on the SATs?
Evan Ailinger attributes his success on the SATs to his passion for math, "I love the feeling I get when I get the right answer for a math problem."
In a similar way, Orion Hollar likes the definitive nature of solutions to math problems, "When you get the right answer, you know you've gotten the right answer."
Michael Gabalis sticks by the rule that your first answer is likely your best answer. "Definitely trust your first instinct with an answer," he said. "The College Board has statistics that show students who change their answer more likely change a right answer to a wrong one rather than the other way around."
How did the students prepare for the SAT?
Michael, also a Running Start student enrolled at Clark College, currently takes Calculus 4 and prepared for the SATs by taking practice tests. "When it comes to math, students shouldn't study the questions they think might be on the test, they should study the concepts," he said. "The SAT's problems involve quick math so it's more important to work on timing and how to use your resources wisely."
Orion agrees with Michael's strategy of knowing the concepts. "If you know all of the basics and all the little things related to them, you'll have a much better chance of doing well."
Evan shares advice for students having trouble learning math concepts. "Students who struggle need to know that it's okay to ask for help," he said. "It can often feel challenging to ask for help, but all of our teachers give great guidance and have the answers we need, even when it comes to specific knowledge on what may be covered on the SATs."
Plans for the Future
Evan moved to Woodland his freshman year and was surprised by the size of the community at first, "Woodland is the first place I've lived that was so small, but you get to know people really well because of that." Evan's considering joining the military and working in their Nuclear Study division. "One position that really appeals to me is operating the control board for nuclear reactors," he said. "The responsibility and accountability of that position really appeals to me."
Michael hopes to attend the University of Washington and plans to major in Aerospace Engineering, "I also really enjoy English and History so I might minor in something in those areas, too."
Orion hopes to attend Oregon State University and major in Electrical Engineering. "OSU's location near the ocean results in a really excellent electrical engineering where they're currently studying whether the ocean's currents can be harnessed to generate electricity."
If you would like to subscribe to receive Woodland School Weekly stories in your email, simply click this link. You can unsubscribe at any time, and Woodland Public Schools will not share your email address.