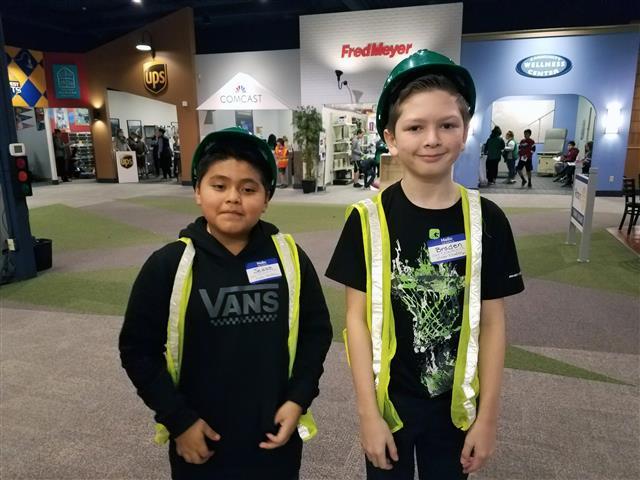 Woodland's sixth graders become sales managers and CEOs for a day at Junior Achievement's JA BizTown
Woodland Public Schools
Monday, January 07, 2019
Woodland Middle School's sixth graders worked as customer service representatives, store managers, and even CEOs when they attended JA BizTown, a culminating day-long visit to a simulated town developed by the Junior Achievement program.
Robin Uhlenkott teaches financial literacy to Woodland's middle school students as part of the school's new Personal Finance and Citizenship class started this school year. "I've always enjoyed teaching personal finance as part of the social studies curriculum, so I was excited when Principal James Johnston wanted to introduce a new class this year entirely dedicated to the subject," she said. Some of the many topics covered during the class include learning the differences between debit cards and credit cards; how to balance a checkbook; and studying how interest rates and compounding interest affects loans and investments.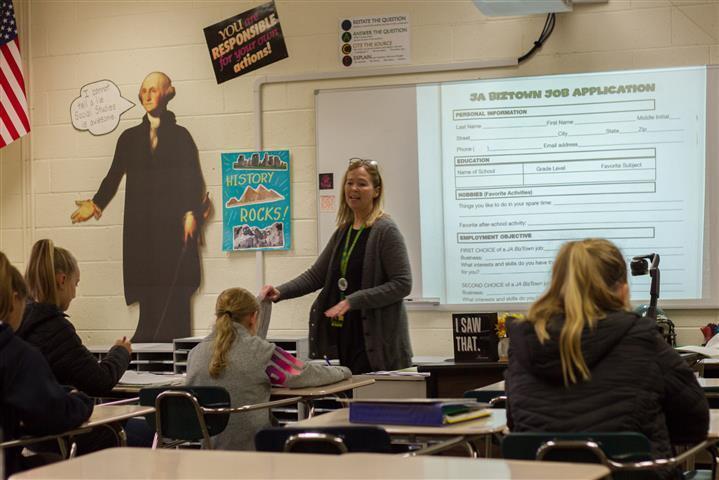 Robin Uhlenkott teaches financial literacy as part of Woodland Middle School's new Personal Finance and Citizenship class introduced this school year.
During one lesson, students used a transaction register to track the income and expenses of a fictional young woman after she earned money on her job and went out with some friends. At each store, restaurant and activity students identified transactions as deposits or withdrawals; payments or debits; and tracked fees as well as loans owed to her friends.
Students discussed the differences between credit and debit cards including identifying which ones affect a holder's credit score, which charge interest, and how tracking transactions differs depending on the type of payment used. Students also learned the risks involved with overdrafting a checking account as well as the different fees and fines charged by both banks and credit companies.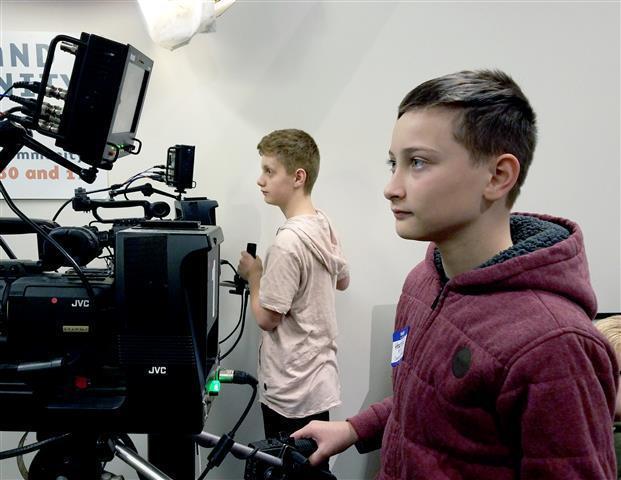 Students are responsible for every job in JA BizTown, including managing the television news station.
After four weeks of in-class lessons, the sixth graders visited Junior Achievement's JA BizTown to practice their knowledge in a simulated real-world environment. The JA BizTown uses an 8,500 square-foot replica an American city to create a one-day economic simulation. Students learn how to be a citizen, how an economy works, how to apply for a job and how to run a successful business.
Students applied for jobs from a variety of different employers including United Parcel Service (UPS), Allstate Insurance and Fred Meyer Grocers. Students reviewed job descriptions and filled out applications describing the skills and qualifications they felt made them the right candidate for their preferred jobs. While attending BizTown, students worked for their chosen company and earned a virtual paycheck. Students set up bank accounts and budgets, depositing their paychecks and then spending their income on a variety of goods and services.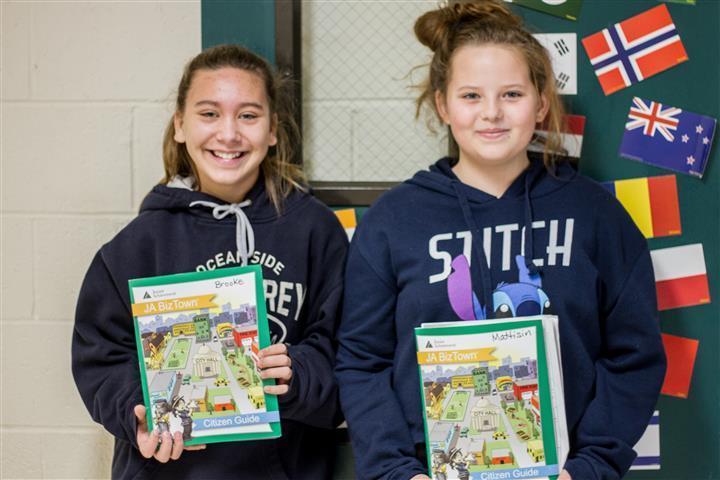 Sixth graders Brooke Beassie and Mattison Moss were very excited to attend JA BizTown to use their class lessons in a simulated town economy.
Prior to attending BizTown, Brooke Beassie, a sixth grader in Uhlenkott's class, was very excited about the field trip. "I want to be a stock manager because I like detail-oriented tasks and enjoy working with customers," she said. "Learning about real financial issues has been great because different real-world tasks – such as how to fill out a check register – can be really confusing at first."
Mattison Moss, one of Brooke's classmates who applied to become the CEO of Allstate Insurance at BizTown, also agreed about the lessons they learned. "I didn't know the difference between credit cards and debit cards before taking this course," she said. "Mrs. Uhlenkott knows so much about what she teaches us – she's always there to answer questions and point us in the right direction."
With new technologies enabling paying by mobile phone, over the Internet, and a variety of other new financial instruments entering the economy all the time, Uhlenkott believes students need to start learning about finances as soon as possible. "Some parents aren't comfortable talking with their children about how to take care of their finances so learning the different elements of a constantly-changing economy in school can be extremely powerful for students," she explained. "By learning about finance at a younger age, students will be better prepared to manage their own finances when they graduate and begin their careers."
To learn more about the Junior Achievement of Oregon & SW Washington's JA BizTown program, visit their website: https://jaorswwa.org/ja-biztown.
If you would like to subscribe to receive Woodland School Weekly stories in your email, simply click this link. You can unsubscribe at any time, and Woodland Public Schools will not share your email address.