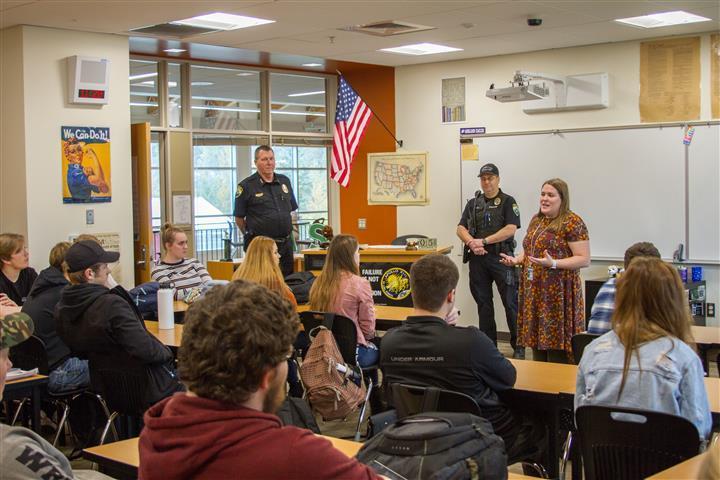 Woodland Police visit Woodland High School government class to discuss citizens' rights and the Constitution
Woodland Public Schools
Monday, December 10, 2018
Woodland's Chief of Police Jim Kelly and Officer Brent Murray visited Katie Klaus' government class to discuss the methods law enforcement uses to ensure they protect individual rights while also protecting the general public as a whole.
Klaus' students spent the past weeks studying the Bill of Rights with visiting speakers including Woodland High School Principal John Shoup offering insights into the many differences to citizens' rights in the United States. "For example, there are different rules and laws protecting students on-campus and off-campus," said Klaus.
In order to provide students with insight into how law enforcement operates under the guidelines of the U.S. Constitution, Klaus partnered with the City of Woodland's Police Department. "We really enjoy taking the opportunity to speak with students and talk about how law enforcement operates," said Chief Kelly. "Students often get very involved with lively debate and great questions about how law enforcement balances individual rights with protecting the public's safety."
Klaus began the presentation with a discussion of the Supreme Court case Miranda v. Arizona, the landmark decision from 1964 resulting in the requirement of law enforcement officers to read every suspect their rights – now referred to as "reading Miranda rights" – to ensure suspects understand what protections they have when under arrest.
Woodland Police Chief Jim Kelly presented the 1968 Supreme Court Case Terry v. Ohio and how it was a landmark case in interpreting the fourth amendment of the U.S. Constitution.
Chief Kelly then presented the case of Terry v. Ohio to start the discussion. In the 1968 Supreme Court case, the court ruled on reasonable search and seizures – a protection offered by the fourth amendment of the Constitution – when police officers determined that a suspect was planning to commit a crime in Ohio. "The Court determined that a stop-and-frisk approach would be legal if officers possessed a reasonable belief that a suspect may be about to commit a crime," explained Kelly to the students. "The officers must use objective tests to determine a suspect could be armed and dangerous prior to the search."
Students then asked several questions about the level of training officers receive and how officers go about assessing the threat of a given situation. "We're trained for hundreds of hours at the academy with ongoing training throughout our careers," answered Officer Murray. "The decision-making tools we utilize in a daily basis are acquired in the academy, through continued training, and through on-the-job experience."
Students asked how police officers know if individuals are speaking the truth. "When it comes to understanding people, a lot of it comes from experience," said Murray. "For example, when you try to talk to someone and they appear to be making up an excuse or can't answer simple questions such as 'what is your name' without thinking first, we can certainly learn a lot about the situation." Police officers are trained in identifying body language to glean possible results before a suspect interview even begins by utilizing a technique called the Read Method or Interrogation.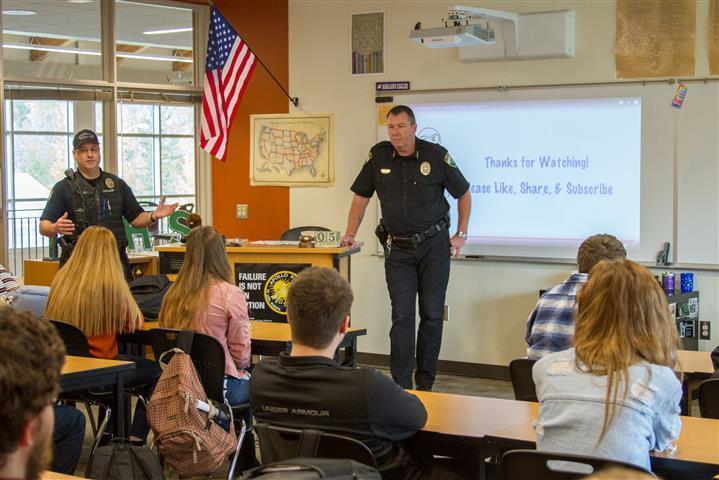 Officer Brent Murray distributed handouts with examples of how modern technology has created hard-to-find weapons, presenting challenges to law enforcement.
The officers discussed the concerns of social media and the incrimination of police officers in today's media crisis. They explained that students don't need to speak to police officers, however they may want to just to assure officers they understand the situation. "You don't have to talk to a police officer if you'd rather not, however if we give you a direction and you fail to follow it, it's going to spark our interest and cause us to investigate further," explained Officer Murray.
Ever-changing technologies continue to present challenges to law enforcement, too. Officer Murray distributed handouts with examples of new weapons that can be easily hidden such as knives the size of credit cards; guns made out of plastic that can't be recognized by metal detectors; and pens that can be used to spray mace or pepper spray. Murray also pointed out examples of older technology such as a gun manufactured into a belt buckle used by the German army during World War 2 that allowed the wearer to fire up to four shots.
Klaus partners with a variety of speakers so students can learn the different perspectives that affect how the laws and rights in any society are protected. "Hearing how law enforcement or school authorities work to protect both individual rights and the safety of the general public goes a long way in learning how important the U.S. Constitution truly is as a living document," she explained. "I'm incredibly grateful to the willingness of the Woodland Police Department and other agencies in participating to help provide even more insight for our students to reflect and learn from."
If you would like to subscribe to receive Woodland School Weekly stories in your email, simply click this link. You can unsubscribe at any time, and Woodland Public Schools will not share your email address.