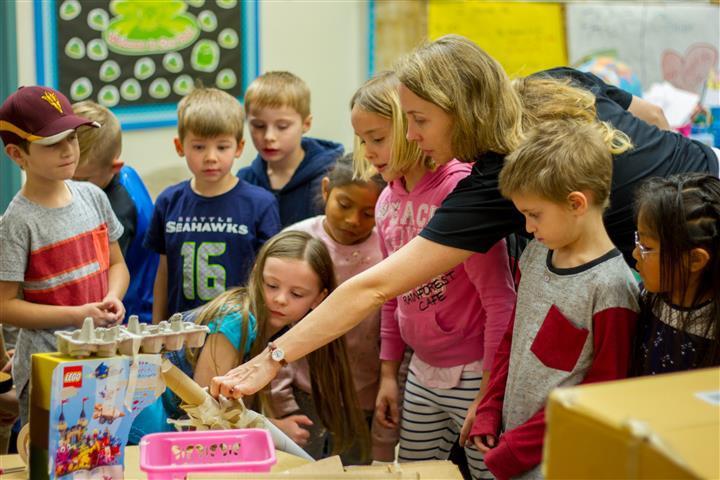 Explorience empowers students at Woodland Primary School to learn science and social studies by becoming explorers, astronauts, aviators, and more!
Woodland Public Schools
Monday, December 03, 2018
Woodland Primary School takes play-based learning to a higher level with Explorience – a weekly 70-minute event when students learn high-level concepts through classroom experiences including creating a space habitat, understanding body movement through kinesthetics, becoming explorers on the Oregon Trail, and a wide variety of other projects designed to teach students science and social studies through hands-on learning.
Defining Explorience
Explorience – a combination of "explore," "science," and "experience" – stemmed from a staff brainstorming session targeting the creation of amazing learning opportunities for students. "We started with a basic question: 'What would Woodland Primary School be like if it was the most amazing place for students to attend?'," said Ingrid Colvard, the school's principal. "The staff brainstormed ideas and concepts to motivate and excite students to learn without limits."
Teachers didn't hold back their ideas with a huge variety of descriptive concepts they feel could define and drive learning at Woodland Primary ranging from family and community involvement to collaborative, project-based learning with fun and authentic projects. "As we started to dream and plan as a staff, all of these ideas started forming," said Colvard. "As a leadership team, we took those ideas and started developing ways we could make it happen."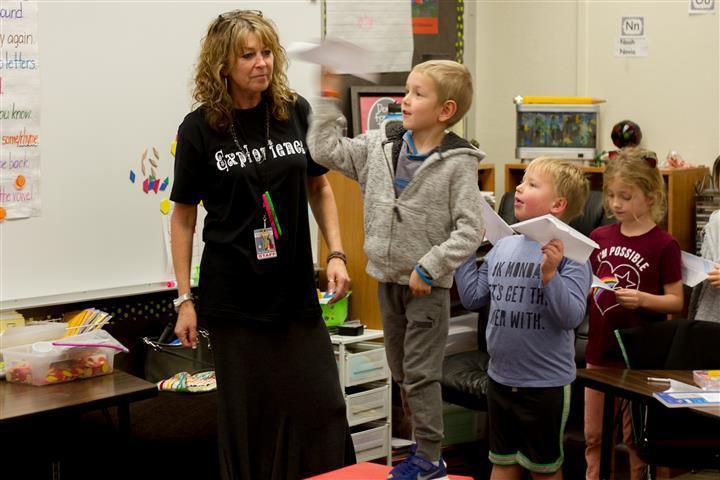 During Michelle O'Flynn's Explorience, students become aviators and learn the forces of flight including lift, thrust, drag, and weight.
The heart of a school defines the way students and staff feel in it. "We realized we needed all of the ideas – we couldn't give up any of these defining concepts," said Colvard. "The staff collectively came up with an experiential learning process that would take place each week – Explorience – where students wouldn't just learn lessons about science and social studies, but truly experience the lessons first-hand."
Students choose the Exploriences they want to take part in each week through a process the staff calls "registration;" much in the same way college students choose their classes each semester. "Research shows that self-selection enables students to feel more ownership in their learning by choosing how they will learn," said Jones. "When a student gets to choose what they want to do, they're much more engaged in the material and will often internalize the concepts faster than more traditional approaches."
Teachers developed different experiences based on their own interests as wide and varied as complex Rube Goldberg machines where motion and momentum create a cascade of interactions, or by using a race track to learn how acceleration, velocity, and distance can affect a racecar's performance. "The vocabulary and standards-based themes students learn in each experience are posted throughout the classroom and on the materials the students receive so they receive repeated exposure to the standards by using the vocabulary and concepts as they learn them," said Pat Jones, the school's instructional coach who helps teachers develop effective lessons for students.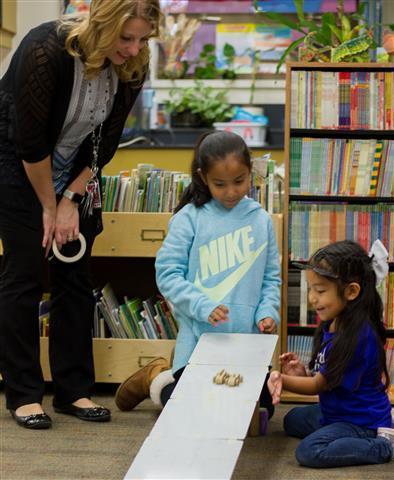 By building their own racetracks and racing cars, students in Teresa Burns' Explorience learn acceleration, distance, height, and the direct effects of physics.
Learning through Experiences
Using a variety of props and a lot of imagination, teachers create classrooms where students immerse themselves in their chosen activity. "When kids walk into a classroom, they become whatever they're doing in that event – scientists, aviators, explorers – and they use the language of the profession," said Jones. "In addition to teaching the standards-based concepts at-hand, these wide and varied experiences expose students to a variety of different futures for themselves they might not have previously considered."
During Explorience, teachers guide students by asking leading questions rather than by explaining concepts, a process which results in students potentially learning high-level concepts far beyond typical elementary level comprehension. "Teachers acknowledge what students are learning and then ask them the next challenging question to encourage students to think about the next step, continuing for as long as the student wants to learn more," explained Jones. "By allowing students to learn as much as they desire to know, teachers can guide students to levels of knowledge far beyond kindergarten and first grade."
In the last ten minutes of each Explorience, students use journals to jot down ideas and reflect on the lessons they learned in that day's experience. At the end of each eight-week session, students use their journals to reflect on the activities they took part in, what they learned, and create hypotheses to share their knowledge with their classmates in a process called collaborative learning.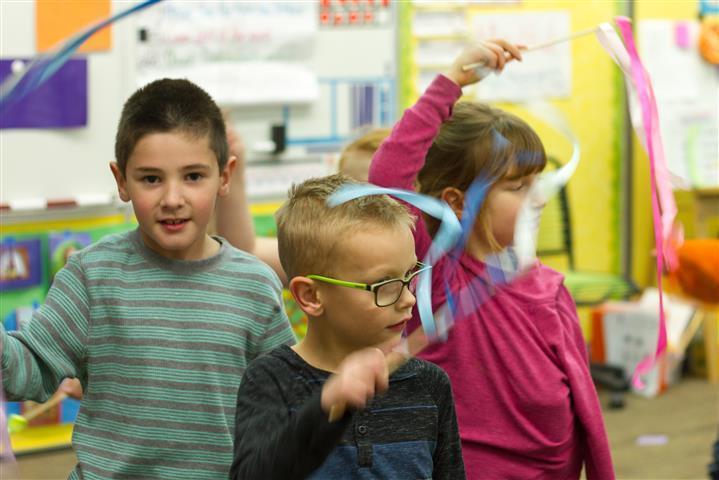 During Andrea Edwards' Kinesiology Explorience, students learn kinesthetics, memory, and concepts of energy by exploring how the human body works.
Designed to meet standards
In order to ensure Explorience activities meet the state's standards for science and social studies, the administrative team mixed teachers' passions with the concepts and standards students need to learn. The academic language used in each Explorience is thoroughly planned in advance with students using the knowledge learned during Explorience throughout their coursework following that day's experience.
Before using an experience with students, the school's teachers take part in their colleagues' ideas to ensure the experience teachers the concepts and can work in the limited timeframe. "We're on the forefront of what science learning can become – teachers and students passionate about experience-based learning to ingrain the lessons demonstrated through experimentation," said Jones.
Every eight weeks, teachers develop a new set of Exploriences for students to choose from. Jones created a lesson template for teachers to use in their development process to ensure their experiences hit the learning targets designated by the state. "By teaching the same Explorience eight times in a row, the teachers refine their Explorience so when they come back to use it in following school years, the lessons are even more effective," said Jones. "The excitement in the teachers is palpable – you can feel it – their passion for the material passes on to the students."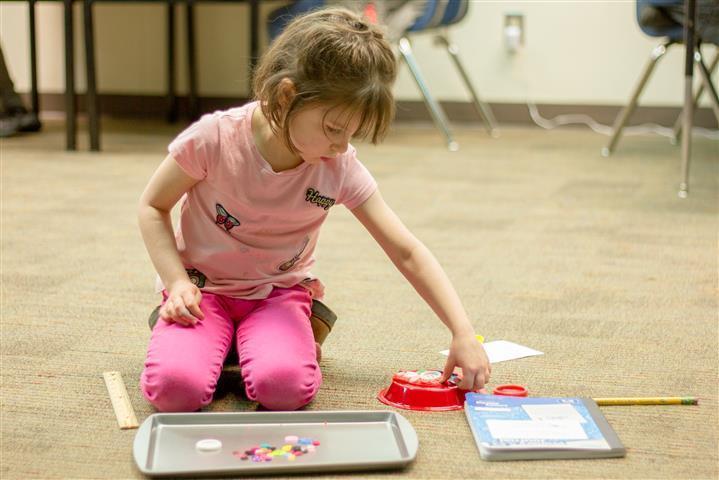 Lorie Vogel's Explorience teaches students construction engineering by using simple construction materials such as buttons and clay to create complex structures while learning challenge, comparison, and measurement concepts.
The Future of Explorience
In order to fund Explorience, Woodland Primary School uses an anonymous $5,000 donation received last year. "At first, we thought the money might pay for a full year of Exploriences, however the teachers' creativity in designing lessons has kept costs so low that we believe this one generous donation might pay for three or even more years' worth of supplies and materials," said Colvard. "Our staff is incredibly efficient and effective at offering amazing experiences while needing very few supplies."
Explorience started in the 2018-2019 school year with first graders being the first class to participate. Starting in January 2019, Woodland Primary School will roll out the Explorience program for kindergartners, too. "The process of developing Explorience exemplifies shared leadership by the school's entire staff," said Colvard. "The teachers came up with the idea, owned it, and then my challenge was just to make it happen – it's been a fantastic experience for everyone – students and staff!"
Explorience takes place on Mondays – statistically the day of the week with the most absences – as a way of kicking off each school week with something exciting that can encourage students to look forward to coming to school. "Right before Halloween, one student walked into a classroom and exclaimed, 'this is better than trick-or-treating!'," said Colvard. "We knew we were on to something when we started hearing and seeing reactions like that."
If you would like to subscribe to receive Woodland School Weekly stories in your email, simply click this link. You can unsubscribe at any time, and Woodland Public Schools will not share your email address.