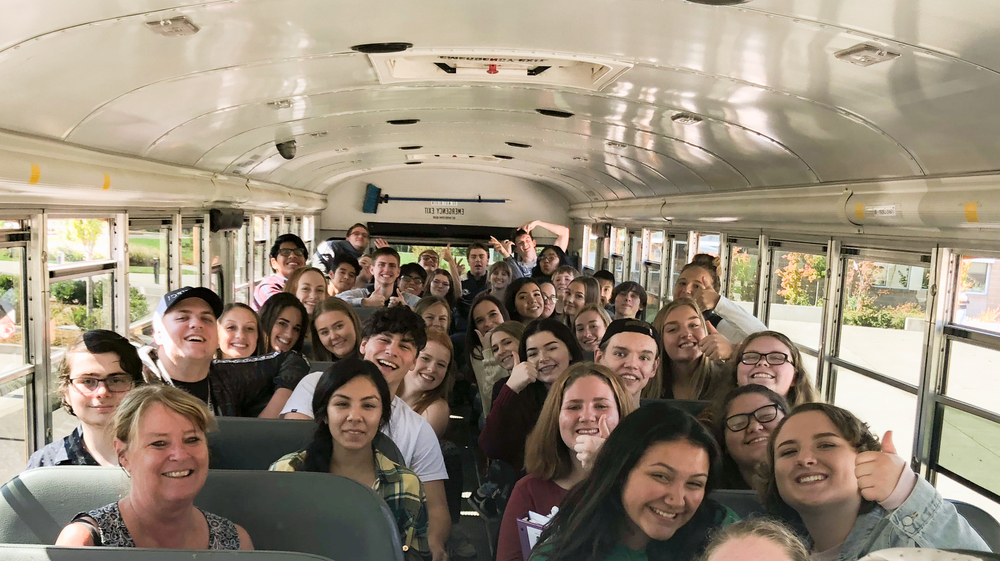 Woodland A.P. Government students attend Congressional debates and meet with Defense Attorneys to learn more about the U.S. political system
Woodland Public Schools
Monday, October 08, 2018
Sharon "Shari" Conditt, a social studies teacher at Woodland High School, invites visiting professionals to present to her classes and uses field trips to provide students in her Advanced Placement (AP) Government class with a variety of enriching opportunities in order to learn how the American political system works.
Cowlitz County Defense Attorney visits Social Studies Classes
On Constitution Day, September 17, Edward "Ted" Debray, Staff Attorney for the Cowlitz County Office of Public Defense, spoke to students in both Shari's and Katie Klaus' social studies classes at Woodland High School.
Mr. Debray taught students about the role of the public defender and how it became a right following a Supreme Court case in 1963. "Anyone unable to afford a lawyer is entitled to have access to a lawyer if they are accused of a crime," he explained. "Part of my role is to review the case procedure to ensure the accused receives fair and equal treatment under the law."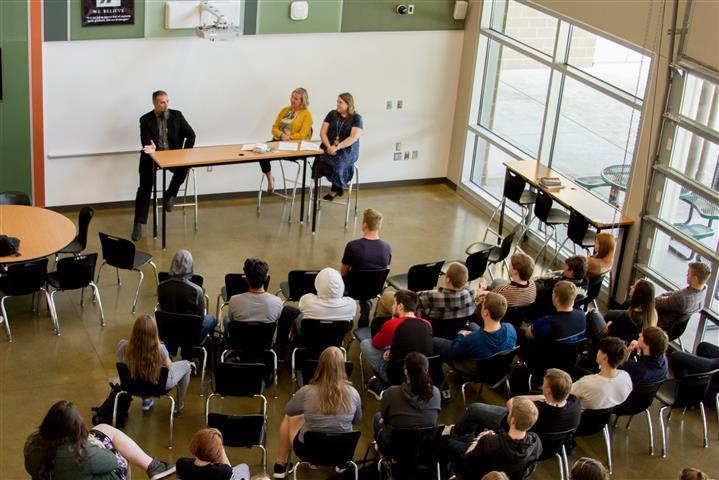 Edward "Ted" Debray (left), Staff Attorney for the Cowlitz County Office of Public Defense, spoke to Shari Conditt's (middle) and Katie Klaus' (right) social studies students

Mr. Debray discussed his educational background as well as his passion for serving as a public defender. "I was inspired by a criminal procedure professor who was passionate about demonstrating the importance of fourth and fifth amendment rights," he said. "While taking his class, I learned that I also share his same concerns which emboldened me into taking on a career as a public defender."
Shari and Katie took turns asking Mr. Debray questions including explaining the relationships between public defenders and other members of the legal system. Mr. Debray explained the roles of law enforcement, the importance of citizen rights, and the timeline of a typical court defense. He also surprised many students by telling them how few cases actually go to court. "Most cases are settled outside of the courtroom, but that comes from developing working relationships with the prosecutors to ensure the accused is fairly represented," he said. "That being said, trying a court case is just like any skill – if you don't practice on a regular basis, you do become rusty."
Many of Mr. Debray's cases involve outside specialists and professional such as mental health experts or financial professionals. "Scheduling issues alone can result in case delays," he explained. He also told stories of different past cases and the importance of respecting everyone involved, "Even outside the courtroom, how you approach and speak with judges is very important – you must always remember that you will likely present a case in front of them in the future just as you will also likely argue the same prosecutors in the future, too – forming good working relationships is vital."
Woodland students attend the Herrera Beutler, Long debate
On September 18, Shari took her AP Government students to a debate hosted by the Woodland Chamber of Commerce between Incumbent U.S. Representative Jamie Herrera Beutler and her Democrat challenger, Carolyn Long, at the Oak Tree Restaurant in Woodland.
Students engaged with other people at the debate and learned a lot about the perspectives of different Woodland community members. Students also talked about the two candidates approaches to a variety of topics including how each candidates' personal background might affect the way they voted on different legislation during their terms.
For many of Shari's students, the debate was their first experience taking part in a live political event. Many students were surprised by the behavior of audience members. "It was surprising that many members of the audience didn't respect the candidates," some students said. "So many audience members would interrupt the candidates, make assertions instead of ask questions, and generally exhibit rude behavior instead of listening to what the candidates had to say."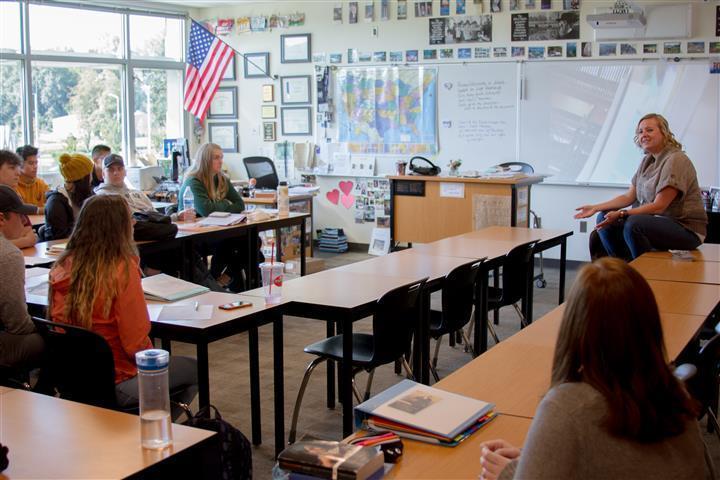 Shari Conditt and her class held a discussion to talk about their impressions of the debate, the candidates, and even the audience members.

Although this was Shari's first field trip for a government class, attending the debate was an excellent experience for her students. "I am so incredibly proud of my class for demonstrating how respectable and engage high students can be," she said. "Going to the debate as a field trip truly demonstrates the power of civics education with students getting hands-on experience with an actual political event they might otherwise not have attended."
Shari emphasizes the importance of participating in the political system to her students. "I will help my students to register when they turn 18 and encourage them to participate in political events like the debate," she explained. "I want my students to know they have a place in our democracy – the more opportunities we provide, the more likely younger generations will participate in the process and vote."
If you would like to subscribe to receive Woodland School Weekly stories in your email, simply click this link . You can unsubscribe at any time, and Woodland Public Schools will not share your email address.