Woodland Primary School students learned about salsa with "Chef in the Classroom"
Woodland Public Schools
Wednesday, May 16, 2018
Food services staff visited Kindergarten classes at Woodland Primary School to teach students how to make their own salsa as part of the Chef in the Classroom program.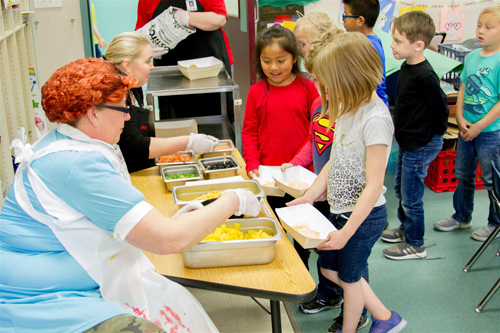 For their afternoon snack, students made their own salsa from a variety of ingredients
Cris Forgey and Judi Lute, Woodland Primary chefs, along with Laura Perry, our Food Services Director, visited the classes during the students' afternoon break time. The trio read students a short book called "Dragons Love Tacos" and taught students about salsa. Cris even dressed up as her alter-ego, Lunch Lady Mildred, to make students' breaks a bit more exciting.
For their afternoon snack, students selected from a variety of salsa ingredients including tomatillo (sauced tomatoes), tomato cuts, corn, cilantro, black beans, onions, mangoes, and even pineapple to put on tortilla chips.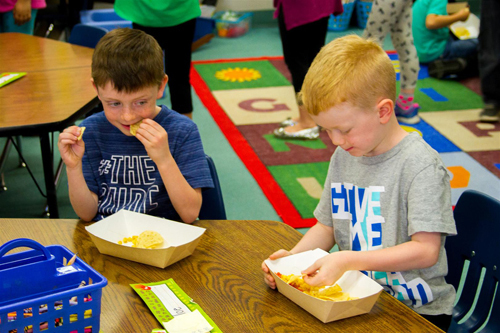 Woodland's food services staff encourages students to try new foods
"We want to expose our students to foods that are new to them which they might not normally see in their day-to-day lives," said Laura. "Food at school can be an opportunity for students to experience something new."