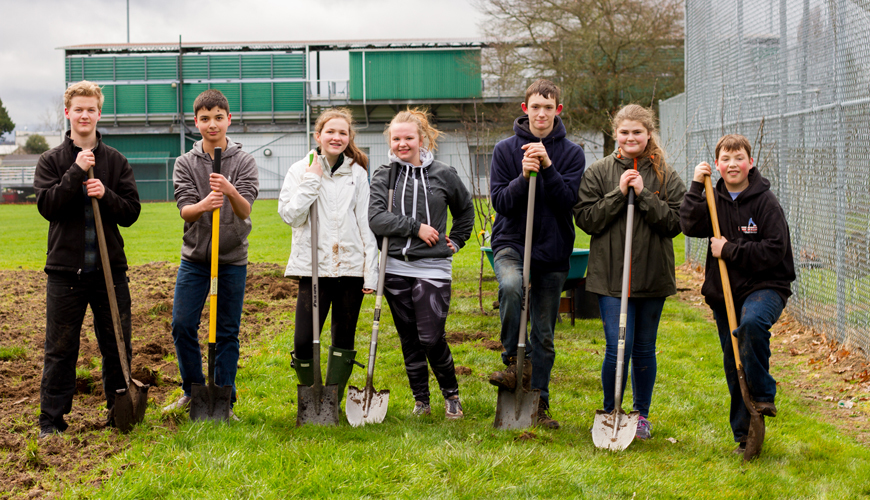 ​ Woodland's middle school receives $5,000 grant from Lowe's for new Horticulture Class while the high school wins Horticulture State Championship and Outstanding Teacher of the Year
Eric Jacobson
Monday, April 23, 2018
Woodland Public School students love horticulture and it shows with Woodland Middle School receiving a $5,000 grant for programs and Woodland High School's Horticulture Club winning the state championship while preparing for this year's 30th annual plant sale.
Students at Woodland Middle School lined up to enroll in a dedicated horticulture class provided by Joseph "Joe" Bosch, a science teacher, who received a $5,000 grant from Lowe's Home Improvement Stores and donations from local businesses to dramatically expand the school's garden and add programs.
At Woodland High School, students in the Horticulture Club won first through third place, fifth place, and 20th place, while Mary Ellen Vetter, Horticulture Teacher, received the Outstanding Southwest Washington Agriculture Teacher of the Year award.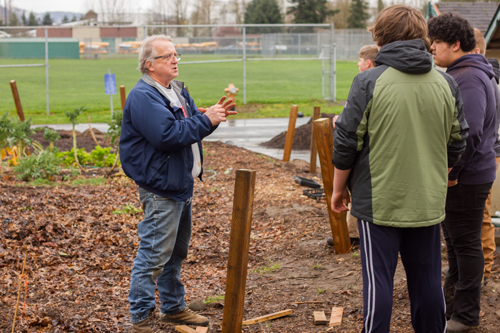 Joe Bosch directs students in the project to expand the school's community garden to 6,200 square feet.
Woodland Middle School receives $5,000 grant from Lowe's Home Improvement for a new Horticulture Class and afterschool Garden Club.
Joe Bosch applied for and received a $5,000 grant from Lowe's Home Improvement stores to create two new programs: a class dedicated to Horticulture and the Woodland Middle School Garden Club. "I'm always searching for available grants and found the Lowes grant last year… one week after it closed," he said. "I put it on my calendar and made sure I applied early this year and we got it."
In March, students in the horticulture class and the garden club updated the school's community garden. Students built fences, constructed a storage shed, rototilled the new garden, planted fruit trees, moved compost, and updated the hydroponic water delivery system. "We wanted to create a significant expansion of our current garden as well as upgrade our equipment and fencing," said Joe. "This garden provides a ton of food for food banks so these contributions will go a long way to helping our students learn while also helping out the Woodland community, too."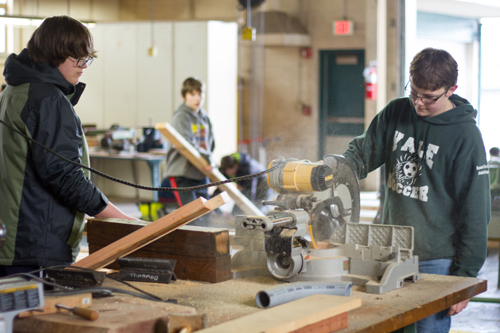 Students built fences, constructed a storage shed, planted fruit trees, and updated the school's hydroponic water delivery system.
The Woodland business community heard about the middle school project and provided donations of supplies and other materials to help with the project. The new community garden has expanded to 6,200 square feet with a hydroponics system that will support local food banks with winter vegetables in addition to the fruits and vegetables donated by the previous garden.
The following is the expansive list of supportive businesses and their donations:
Lowe's Home Improvement contributed a grant in the amount of $5,000.
Indoor Growing Systems and Sunlight Supply provided more than $3,000 worth of hydroponic equipment and technical support.
Cowlitz Compost delivered 40 yards of compost worth $1,600.
Shorty's Nursery delivered a variety of fruit trees.
Baker Creek Seeds donated more than $500 worth of seeds.
Johnny's Seeds donated 70 packs of seeds.
Yard and Garden donated a variety of fruit trees
Tokugawa's Nursey donated a variety of fruit trees.
The Woodland Middle School Landscape Staff rototilled the entire garden area.
"To date, we have received more than $10,000 worth of donations and support from our very generous sponsors," said Joe. "This project wouldn't have been possible if it weren't for our incredibly supportive community and Woodland's fantastic businesses."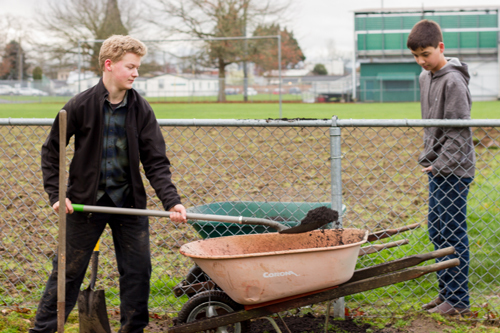 Woodland Middle School students helped spread 40 yards of compost and plant numerous fruit trees.
Woodland Middle School's students enjoy working in the garden for a wide variety of reasons. "I like seeing how plants grow and what they become when we're done," said Lizzy Bailey, an eighth grader. "Dirt's fun to work in and I really like the hands-on projects."
"I'm taking the class next semester so I reached out to Mr. Bosch to see if I could participate," said Trenton Femling, an eighth grader, who volunteered so he could have the opportunity to learn more from Joe. "Mr. Bosch is an excellent teacher because he's funny and passionate about what he teaches; my older sisters had classes with him and really like him."
Jordan Wilkinson, an eighth grader, agrees with Trenton's opinion of Joe. "Mr. Bosch's passion for horticulture is contagious and makes us, as students, like it more," he said. "I don't know if I'm going to end up in horticulture as a career, but I'm definitely going to do it as a hobby as I grow older."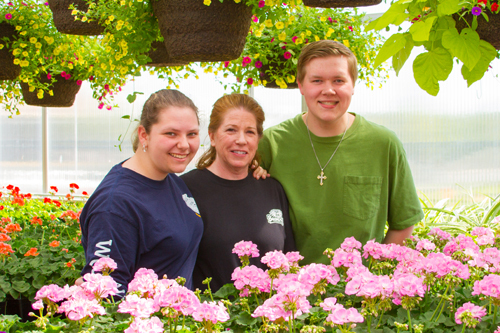 Mary Ellen Vetter (center) won Outstanding Southwest Washington Teacher of the Year and Cooper Kaml (right) won the State Championships as a rookie, this being his first time taking the class and growing plants ever.
Woodland High School's Horticulture Program and Teacher win awards and puts final touches on plants before the upcoming Annual Plant Sale.
Students in Mary Ellen Vetter's Horticulture Science classes at Woodland High School learn how to organically grow plants in mass quantities culminating in this year's 30th Annual Plant Sale scheduled for Friday, May 4 from 8 a.m. to 6 p.m. and Saturday, May 5 from 9 a.m. to 2 p.m. or until stock runs out.
This year, Woodland High School's Floriculture Team won the 2018 Washington State Floriculture Championship with team members taking five of the top 20 places out of more than 75 competing students. Cooper Kaml won first place and will go on to compete at the National FFA Competition in October 2018. Jacob Laddusaw won second place, Megan Shubert won third place, Jennifer Parkhill won fifth place, and Elisabeth Patnode won 20th place. In addition, Mary Ellen received the Outstanding Southwest Washington Agriculture Teacher of the Year Award during the competition.
Cooper, a senior, was a complete novice this year, never having taken a Horticulture class, and won the championship as a rookie by working hard and dedicating himself to improving his skills. "People often think growing plants is easy, but each and every plant has its own needs and its own personality," he explained. "I don't have a favorite – I like every plant for different reasons – but I particularly enjoy growing tricky plants for the challenges they present."
Cooper raves about Mary Ellen's teaching style and her classes. "Mary Ellen is incredibly passionate about horticulture – a passion many teachers lose after teaching for years – and you can tell based on her excitement over teaching the material," he said. "Also, she genuinely cares about her students and goes out of her way to ensure we all succeed – it's very cool."
Cooper's success stems from incredible self-discipline, but he thinks all students can be successful at their studies if they put their minds to it. "I recommend using multiple different ways to learn including receiving both aural and vocal reassurance by having friends help quiz you," he said. "Don't just use flash cards – use flash cards, writing, record yourself – the more methods you use, the more your brain will internalize what you're learning."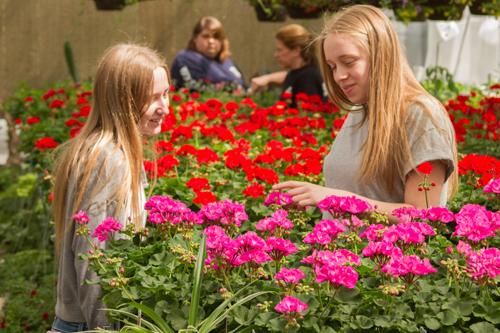 Students choose what plants they want to grow at the start of each school year and care for the plants without the use of pesticides or herbicides.
Mary Ellen teaches Floriculture and Horticulture Classes at Woodland High School for nearly 30 of her almost 40-year career. "I particularly enjoy the times when students take what they learn in class and apply it to their lives afterward," she said. "I have students who run their own shops and others who work for agriculture companies as well as many students who use the skills they've developed just for personal use."
Students begin by learning the process of how to grow the plants themselves. Plant science includes learning about the germination of seeds, proper watering techniques, and pest control. In addition, Mary Ellen ensures the students receive the full education of the plant industry. She designs the curriculum for her classes around industry standards while aligning them with state science requirements including common core. "After they grow their plants, students study marketing techniques, communication skills, and retail sales including pricing, budgeting, and inventory," explained Mary Ellen. "Interest in Horticulture and growing plants organically has been increasing in recent years thanks to an interest in healthy eating and people growing their own vegetable gardens at home."

This year marks the 30th Annual Plant Sale which will run from 8 a.m. to 6 p.m. on Friday, May 4 and from 9 a.m. to 2 p.m. on Saturday, May 5.
This year's 30th Annual Plant Sale features a wide selection of vegetables and flowers including peppers, tomatoes, geraniums, petunias, succulents, hanging baskets and many more. "Each year, the students select the plants they grow throughout the class," said Mary Ellen. "Our students are incredibly proud of their work, and we hope the community will come to the plant sale to learn or continue to enjoy gardening as much as we do."
The Plant Sale will be held on Friday, May 4 from 8 a.m. to 6 p.m. and Saturday, May 5 from 9 a.m. to 2 p.m. at the Woodland High School located at 1500 Dike Access Road, Woodland, WA 98674 and is open to all members of the community. Funds raised from the sale support the FFA program and are also used to pay for the next year's plant sale and activities.
If you would like to subscribe to receive Woodland School Weekly stories in your email, simply click this link . You can unsubscribe at any time, and Woodland Public Schools will not share your email address.