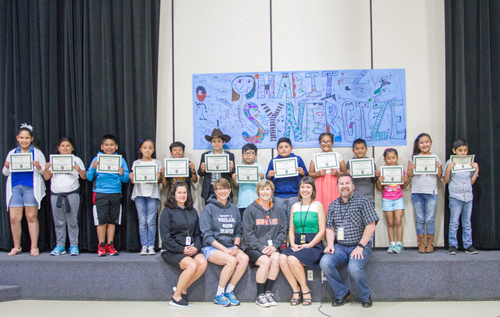 Woodland Public Schools' English Language Learners excelled in 2017 with 17 WIS students passing the state assessment
Nicole Galloway
Tuesday, April 10, 2018
Woodland Intermediate School's English Language Learners (ELL) excelled on this year's assessment test, the English Language Proficiency Assessment (ELPA21), with a total of 13 students testing out of the ELL program compared to 2016's seven passing students. To celebrate, the entire school recognized the successful students during a special assembly, presenting each student with a special certificate noting their accomplishment.
During the assembly, Carlotta Propersi, lead teacher for the ELL program at Woodland Intermediate School, explained what the ELPA21 test means, announced the outstanding results, and called each student up to receive a handshake and special certificate from the school's principal, Steve Carney. Propersi, fluent in Spanish, translated her presentation on-the-fly for Spanish-speaking family members and friends attending the event.
Students in the ELL program must pass the English Language Proficiency Assessment for the 21st Century (ELPA21) in order to test out of the program. "The test is incredibly difficult featuring sections focusing on listening, speaking, reading, and writing," explained Propersi. "The school is incredibly proud of our students as well as the ELL teaching team's success in preparing these students for this challenging test."
Each student received a special certificate and a handshake from Steve Carney, the school's principal while Carlotta Propersi presented their accomplishment in both English and Spanish
Students who speak English as their second language enter the English Language Learners (ELL) program when they first register for school. After a student passes the ELPA21, teachers monitor their progress with the general student body for a period up to two years to ensure the student receives additional assistance if he or she struggles with full-English studies. "Typically, once our students pass the ELPA21, they have no difficulties learning with the rest of their classmates," said Propersi.
Propersi was drawn to serve as an ELL teacher following her own experiences growing up in a home where both her parents spoke Italian primarily, not English. "It's very common for ELL students to be born in the United States but have their parents speak a language other than English in the home," she explained. "Growing up, I knew I always wanted to help people, and since my personal experience closely aligns with what ELL students are going through, I feel I can truly identify with what both the students and their families are going through."
Propersi received her Bachelor's Degree from the University of California Santa Barbara and went on to earn her Master's Degree from Hunter College in New York City where she taught in city schools. "Working in New York exposed me to a variety of extremely diverse classrooms," said Propersi. "When my husband wanted to move back to the Pacific Northwest, I earned my teaching credentials in both Oregon and Washington so I could find a job teaching ELL students here."
Propersi credits her own childhood growing up in a home where Italian was the primary language with her success becoming an ELL teacher
Propersi's own background and her love of teaching helped her build a successful ELL program along with the help of her fellow teachers yielding excellent results both in school and also with extracurricular events she organizes for the burgeoning ELL community in Woodland. "I really care about what I do, and the department has grown significantly in the four years since I started with Woodland Public Schools," she said. "Since I come from a similar background, it's been my goal to make our ELL students and families feel included and part of our school family."
Propersi loves teaching and thrives on meeting new students and their families. "My favorite part of teaching is seeing the growth of my students and have newcomers interact with one another," she explained. "Our students have so much potential for growth, and it's incredibly satisfying to see them successfully test out of the program."
Propersi's dedication paid off when Woodland Intermediate School received a Washington State Achievement Award for the results of the ELL program's students during her second year teaching in Woodland. "I'm incredibly proud of that award because it felt like it was my kids who won it," she said. "Woodland Public Schools' ELL program continues to excel district-wide, and it's my goal to help improve it well into the future."