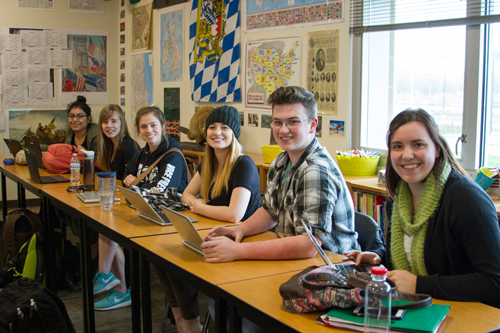 Woodland Public Schools prepares for the school year with new programs and services
Nicole Galloway
Tuesday, April 10, 2018
As another school year begins, Woodland Public Schools look forward to continued success in student learning as faculty and staff continue to refine their use of quality curricula and continued improvement of programs to serve all kids.
There is a clear vision for your Woodland Schools: "Woodland Public Schools, in partnership with families and the community, will create a PreK-12 system that serves and supports ALL children and ensures that EACH child has FULL access to, is engaged in, and obtains an excellent education that prepares them for responsible citizenship and a future of adaptability and success in life and their chosen endeavors."
Woodland Public Schools seeks to address the diverse learning needs of all children in our community with a continued and careful focus on mathematics; new Reading, English & Language Arts curriculum; ongoing, high-quality, professional development for educators; and refinement of programs to serve children with diverse needs. These are just a few of the many ways we invest time, funds, and resources in making Woodland Public Schools excellent.
Following is a brief overview of just a few of the programs Woodland Public Schools will provide over the coming school year. These programs and services are made possible by the continued support from the Woodland community through active partnerships and ongoing support of our operations levy.
Heidi Rhodes, the district's K-12 Math Manager, works to ensure all students have the math skills they need for life after graduation.
Woodland Public Schools continues to focus on improving learning in Mathematics.

Heidi Rhodes, the district's K-12 Math Manager, continues to work to prepare students for graduation with the math skills they need to ensure they are ready for college, career, and life. Part of that focus this year will include partnering with Woodland families so they are able to provide confident support of the math learning that comes home with their students. "We want to build a positive math experience in homes," said Assistant Superintendent Asha Riley. "Helping parents and families become familiar and comfortable with the math their students are learning is key in building this experience."
Updated curriculum and professional development helps teachers hone their craft, offer new lessons, and enhance student learning.
Updated curriculum keeps students up-to-date.

Over the past two years, the district has introduced new curriculum of all kinds including foreign language programs at the high school, a K-8 reading curriculum, investments in math materials for all grade levels, and an updated high school health curriculum. "We continue our focus on improving the already effective teaching of science standards at all grade levels," said Riley. "We're in a healthy cycle of regularly updating our teaching resources now."
New assessment software improves student interventions.

This year, teachers throughout Woodland Public Schools will use a software package called iReady to help them analyze students' understanding of material so educators can provide targeted support to improve learning for all students. By intervening sooner, students receive the extra assistance to learn what they need to learn before they begin to get frustrated. The iReady software package will help Woodland's teachers identify those students who need extra help learning the material and reach out to them earlier.
Professional development helps teachers hone their craft.

Throughout Woodland's schools, the support of Certification through the National Board of Professional Teaching Standards process continues with teachers regularly applying to receive the certification. Shari Conditt, Woodland High School History and Government teacher, serves as the coach and mentor for teachers seeking to receive their National Board Certification. The certification process requires teachers to examine their teaching practices throughout the year, and apply methods to improve both their teaching as well as student learning taking place in their classrooms. Shari has developed an excellent cohort program resulting in an outstanding success rate. The National Boards are focused on helping teachers continue to be reflective learners by constantly improving their practices; it's not about a label or a title, it's about professional growth.
Teachers collaborate using Chromebooks and teaching cohorts to develop more effective lessons.
Chromebooks enable teachers to work together and develop more effective lessons.

Starting this year, every teacher throughout the district will have a Chromebook notebook computer as a tool to foster effective collaboration and communication. Professional learning and collaboration is an important element in ensuring quality throughout Woodland Public Schools, and having the right tools to collaborate effectively is critical. By using Chromebooks, Woodland's teaching cohorts can look at and work on the same material at the same time, sharing ideas and concepts with one another in real-time. Chromebooks will also enhance enable teachers opportunity to work with students while they write their assignments, providing valuable suggestions and feedback throughout the creative process.
The question that drives the purchase of new technology for Woodland Schools is: "How can technology be used as a tool to improve the effectiveness of student learning?" This question illustrates the district's goal of putting learning ahead of simply introducing the newest technology. Apps cannot replace Woodlands great teachers, however apps are a valuable tool that can support and enhance quality teaching. While some districts have chosen the Apple iPad as their primary student technology platform, Woodland has embraced the use of Chromebooks as a powerful yet more cost-effective teaching and learning technology. With this tool, students have access to a wide variety of tools and applications. They can work on assignments in class while teachers virtually look over their shoulders, providing guidance along the way.
Woodland Public Schools offers Early Childhood Development Services for students starting right from birth.
Woodland Public Schools offers services for special needs students from birth.

Woodland Public Schools offers a continuum of services for special needs students beginning at birth. From birth to age two, parents can find assistance from Woodland Public Schools through the Progress Center in Cowlitz County along with intervention services provided by Educational Service District 112. Woodland Public Schools provides "Child Find" services to help parents and families with screening and evaluation services to determine if their young children have disabilities. Beginning at age three, special-needs students transition to the special education preschool program for students up to five years old.
Special education students receive support from Kindergarten through graduation and beyond.

Beginning this school year, Woodland Public Schools will provide additional services for special needs K-1 students through the Primary Learning Center. The Primary Learning Center helps students with a variety of disabilities become more familiar with the school environment, easing them into a traditional school setting over time wherever possible. "The number of students with special needs served in Woodland has increased over time, and as a result, we now have the capacity to provide a program like the Primary Learning Center," said Deb Kernen, Director of Special Services. "We offer a wide range of services for these students in grades K-12 also including our resource rooms and diverse support programs."
The Partners in Transition (PIT) program is designed to provide students age 18-21 with life skills and job training to help prepare them for life following graduation. "The PIT program has been a huge success; it's been quite amazing to help older students prepare for their lives beyond school," said Kernen. "Woodland Public Schools is typically above the state average in terms of our special needs students who are successful following graduation."

Thank you, Woodland, for your ongoing support of excellence in education!
Thank you, Woodland!

"We couldn't provide the programs we offer without the support of the Woodland community," said Superintendent Michael Green. "Woodland has a long-standing tradition of supporting schools, and we thank them whole-heartedly for continuing to partner with us in the improvement of student learning for all Woodland students."
"The ongoing commitment to excellence in education from the Woodland community overwhelms me with pride," said Green. "As we head into this new school year we will seek to continue engaging the Woodland community in the ongoing development of our schools with the goal of ensuring our students receive the highest quality education possible."