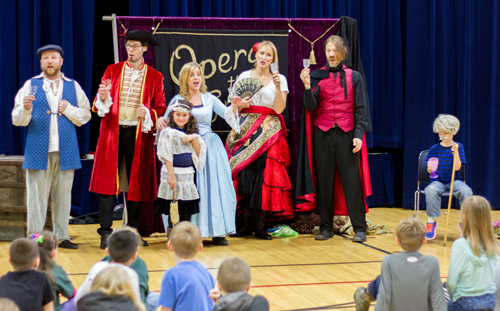 Visiting opera performers teach Yale Elementary students opera with "Opera the Great"
Nicole Galloway
Tuesday, April 10, 2018
Professional opera performers regaled students at Woodland Public Schools' Yale Elementary School while teaching the fundamentals of operatic performance in "Opera the Great," a made-for-schools opera created by Opera Quest Northwest, a nonprofit organization dedicated to bringing the world of opera to students.
Opera Quest Northwest offers "Opera the Great" performances to elementary schools free-of-charge in order to introduce younger audiences to what some may consider a rare art. "From the moment we started the organization, we felt strongly that we should provide our show to schools at no cost, if possible," explained Kate Hobbie, Board Chair and the musician who serves as the "orchestra" during performances by playing piano. "We created and co-wrote the show with a teacher of 3rd-5th grade students to make it appeal to kids right from the start."
Creating an opera targeting elementary school students presented a number of challenges for Opera Quest Northwest. "We wanted to introduce children to real opera characters, but we knew that to really engage young audiences, the show must be fun as well as educational," said Hobbie. "We also wanted to involve the audience since kids learn best through participation, so we developed a script encouraging the audience to try out operatic gestures and singing styles by bring some students onstage as characters and involving the entire audience as the chorus."
Bruce Kyte, Opera Quest Northwest's baritone, sings the introduction to open the performance while Kate Hobbie, board chair and pianist, plays the accompaniment.
Throughout "Opera the Great," which features a love story complete with a diabolical villain and joking jester, the actors sing explanations of how operas work including defining terms such as "arias," songs that show what's going on inside a character's mind instead of moving the story forward; "cut-offs," the way a director silences the orchestra quickly; and why opera singers sing their lines instead of speaking them.
The performers also explain the concept of operatic performance including a brief history of how opera started in the late 16th century in Italy, also explaining why most operas are sung in Italian. The performers teach the students how to watch a performer's movements in order to understand the story even though many of the songs are in another language.
Based in Vancouver, Washington, Opera Quest Northwest stemmed from the Vancouver Children's Opera, an organization which specialized in mounting full-scale opera productions for young audiences. "In 2013, we shifted our focus from full productions to a portable, cost-effective show that could be transported and performed directly in schools so we could reach more children," said Hobbie. "In the 2016-2017 school year, we performed in 20 elementary schools in six different school districts, and we hope to perform in at least 25 this year."
The performers select students to play roles like Jack White (first grader) pictured here playing the father of Amy Cole (left) while Barbara Choltco (right) plays a "pants role," when a female actor plays a male role, typically to better simulate a young boy's voice.
Students, teachers, and staff rave about "Opera the Great." "Children don't hold anything back so from the very first scene, kids cheer, laugh, and are genuinely eager to take part in the show," said Hobbie. "We also receive enthusiastic feedback from teachers and administrators which is incredibly gratifying."
Opera Quest Northwest's performers are professional musicians whose day jobs include working as music and voice teachers as well as even working in business offices. "I love the performance aspect of getting up in front of an audience to do something completely different," said Bruce Kyte, Opera Quest Northwest's baritone who also works in a dentist's office. "The reception for 'Opera the Great' has been just amazing – the kids love it."
Barbara Choltco, a board member and understudy performer, started singing in high school before going on to receive a degree in vocal performance. "I grew up in a musical family and fell in love with it," she said. "I love what Opera Quest Northwest does – exposing younger audiences to opera is vital to maintaining appreciation for the art."
Opera Quest Northwest performed "Opera the Great" at 20 schools last year and aims to visit at least 25 this year.
Opera Quest Northwest is a nonprofit organization bringing live music into elementary schools in order to introduce children to the world of opera in a fun, interactive way. In addition to their self-created opera, "Opera the Great," the organization provides related curricular materials to schools' music teachers. A 501 (c)(3) organization, Opera Quest Northwest is completely supported by volunteers.
To see how you can volunteer (you don't need to sing – the organization greatly appreciates volunteers to help with administrative tasks), contribute funds to the organization's cause, or invite "Opera the Great" to your school, visit the Opera Quest Northwest website at www.operaquestnw.org.