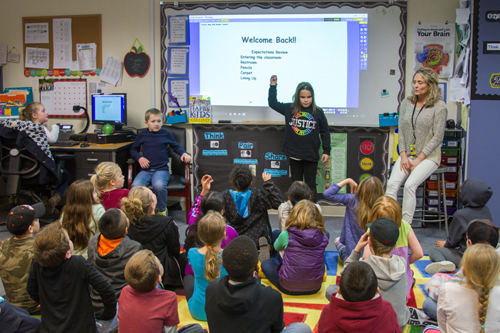 Elementary students learn how to take on leadership roles and develop self-confidence
Nicole Galloway
Tuesday, April 10, 2018
The students at Woodland Intermediate School learn to become effective leaders and learners in a new class taught by Stacia Aschoff and developed by the school staff to help students develop self-confidence and learn how accepting each other's differences by working together results in positive outcomes.
The leadership class was envisioned by a team of school staff members who noticed that students could benefit from improved self-confidence and learning various emotional skills. The team researched a number of different curricula, combining several ideas with The 7 Habits of Happy Kids, a book written by Sean Covey who also wrote The 7 Habits of Highly Effective Teens with help from Stephen Covey, the author of The 7 Habits of Highly Effective People.
Every grade level at the school (grades 2-4) takes classes with Aschoff where they learn and develop leadership skills. Each month, students learn a new habit and take part in exercises during class to see the habits at work such as acting in skits, taking part in class discussions, and participating in small group projects. In addition to developing self-confidence and leadership skills, the lessons reinforce the district's Positive Behavior Intervention and Supports (PBIS) initiative designed to reduce bullying and encourage students to respect each other's differences.
Students take part in skits to demonstrate how the new habits they learn will help them resolve conflict and become effective leaders.
"The leadership classes provide students with the opportunity to feel what it means to be responsible, as opposed to just talking about what it means to be responsible," explained Lindsay Hill, the school counselor. "The lessons teach students that being a leader means being a contributor, as well as having the confidence to do what others will not do."
The Seven Habits of Happy Kids are:
Be Proactive: Take initiative, be responsible, and do the right thing without being asked even when no one is looking.
Have a Plan: Plan ahead, set goals, and do things that have meaning to make a difference.
Put First Things First: Spend time on things that are the most important, set priorities, and be both disciplined and organized.
Think Win-Win: Balance the courage for getting what one wants with the consideration of what others want.
Listen Before You Talk: Look people in the eyes when talking, listen to others without interrupting, and try to see things from other people's viewpoints.
Synergize: Work well in groups, seek other people's ideas to solve problems, and value other people's strengths and learn from them.
Balance Feels Best: eat right, exercise, get sleep, learn in lots of places outside of school, and spend time with friends and family.
At the beginning of each class, students volunteer to take on different roles with different responsibilities in the classroom such as Teacher, responsible for quieting down the class and helping to guide the lesson, as well as various Assistants who help encourage class participation, and manage audio-visual equipment by starting videos and turning off the lights. "One of my goals is to have the students lead the class whenever possible so they can exercise the skills they're learning in class," said Aschoff. "By guiding the class, students internalize the leadership skills they learn in class by using them first-hand."
Students get motivated for the day's lesson by singing a song about the seven habits followed by a brief round of calming breathing exercises guided by the student teacher and assistants selected for the day. Aschoff then reviews the classroom expectations to ensure students understand the objectives for the new lesson they are about to learn.
Group projects and discussions encourage students to talk about the lesson with each other and hear different perspectives.
When a new habit is introduced each month, students choose partners to discuss what they think the new habit might mean. Aschoff guides the class through the habit by picking a student volunteer to conduct skits with her, such as demonstrating what two people might do if they both want to sit in the same seat. To learn how to resolve conflict, students use techniques ranging from discussion of possible solutions to "Rocking It Out" by playing a game of Rock, Paper, Scissors. "We have seen such amazing growth in students' confidence and social skills," said Aschoff. "They are also gaining the ability to think critically and solve problems on their own without always trying to have an adult help them."
Even though the course was only introduced at the beginning of the current school year, teachers have heard stories of students using their newfound skills for positive results. Stephen Petrio, a third grader, used the skills he developed in class to save his grandfather's life. When his grandfather passed out from hypothermia on their way home, Stephen flagged down a passing motorist to call 9-1-1 and have rescue personnel provide his grandfather with life-saving medical assistance. "Stephen is a true hero," said Aschoff.
In addition to the leadership classes, Woodland Intermediate School introduced a Job Corps to provide students with more opportunities to experience leadership responsibilities. "We have a wall full of job postings provided by school staff in the main hallway where any student can fill out an application and interview for a job," explained Hill. "Once a student receives a job, they work closely with a Job Corps mentor who builds positive relationships with the student working for them." A few examples of jobs include helping out in classrooms, delivering papers, and assisting the main office staff.
Already, students love the Job Corps program. "Parents have commented on how excited their kids are to come to school and do their jobs," said Hill. "Staff members are thrilled to receive the help with the many tasks needed to keep school running, while students come to school each day eager to check in, put on their badge, and head to 'work.'" Currently, more than 160 students take part in the school's Job Corps program.