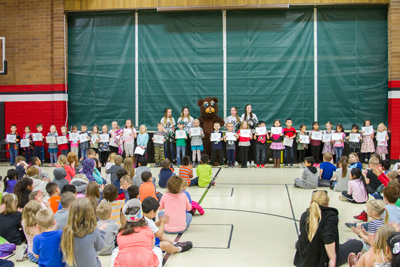 Woodland Primary School encourages and motivates positive behavior with new approaches to inspire students
Nicole Galloway
Tuesday, April 10, 2018
Woodland Primary School uses teamwork and dedicated planning to encourage positive student behavior throughout the school by teaching students character traits and rewarding them with monthly award assemblies.
Each month, the students study a new character trait and are rewarded for exhibiting that trait throughout the month. At the end of the month, the school holds special assemblies with one or two students each classroom receiving awards for demonstrating the featured trait for the month. Parents and other family members are invited to attend the assemblies to watch their students receive acknowledgment of their positive behavior.
Negative student behavior can directly affect the quality of student learning taking place in a classroom. However, studies show that the traditional approach of suspending students exhibiting negative behavior doesn't improve the situation. "Research shows that throwing students out of school has very little impact on improving student behavior, and we obviously can't teach these kids if they're not in school," explained Woodland Primary School Principal Ingrid Colvard. "On the other hand, teachers can't teach in a chaotic classroom environment, so the entire staff set about introducing a system to resolve behavior and trauma while also encouraging and enhancing student learning."
To help facilitate this change to student behavior, the primary school started using a new system to track, manage, resolve, and improve student behavior at their school with a software package called the School-Wide Information System (SWIS). "SWIS lets us catalog behavior events and then create reports with different variables which may be causing those negative behaviors such as time of day, student's grade level, and much more," said Colvard. "Using these reports, our team identifies and targets problem areas, activities, and times of day to develop alternatives to negative behavior and to encourage positive behavior."
For example, the school offers an alternative option to standard recess called Courtyard Recess where kids who have a hard time in over-stimulating environments can choose to receive coaching and support. Staff members teach kids skills they need to get along with their classmates and resolve conflicts.
The school invites "mini-celebrities," such as the high school cheerleaders pictured here, to attend the assemblies and rally the students.
If a student acts out while in the classroom, teachers can call for support if a student needs additional attention to limit disruptions. Spring Dowse and Tiffany Wear, members of the Positive Behavior Intervention and Support (PBIS) team, work with students behaving negatively in the classroom while the teacher continues the lesson so the student can see positive behavior being modeled and use it to manage their own emotions while in the class.
If a student needs additional time to cool off, the school offers a Student Support Center where kids can go to deescalate. The school intentionally designed the Student Support Center room with minimal decorations and few distractions so students can lie down and be quiet or burn off excess energy by walking or engaging in light exercise. "We don't want the support center to be more fun than class; we want the students to deescalate and be able to return to class as quickly as possible," explained Colvard. "Our goal is to connect with students and get them to re-engage in their classroom, not keep them separated from the rest of the student population."
In addition to in-school elements to motivate positive behavior, the school's plan emphasizes parent engagement. "In the past, parents used to receive communication directly from the principal when their student acted out which can be more than a bit intimidating to both parents and the student," said Colvard. "Now, our PBIS team contacts the parents first so the interaction doesn't appear as harsh which results in a more helpful outcome for both students and their families."
The teachers take turns wearing the Woodland High School beaver mascot costume to give students high-fives and hugs as they enter the assembly.
At the end of each month, the school throws assemblies to honor students who exhibit positive behavior. In order to make the assemblies even more of a special event, the school invites athletes, cheerleaders, and students from other schools to rally during the assembly. Teachers also take turns wearing Woodland High School's beaver mascot costume to give students high-fives as they enter the gym. "Our students treat these special visitors like mini-celebrities," explained Wear. "Having outside visitors motivates and inspires our students."
At a recent assembly, the PBIS team introduced a new program to encourage positive behavior by offering a special popcorn party if the school earns 1,000 Woodland Way Points by the end of the school year. Teachers and staff reward students with a Woodland Way Point each time they observe students demonstrating the Woodland Way, a concept based on four principles: being safe, being respectful, being responsible, and being problem solvers. "In order to motivate students, the entire staff develops different ways to acknowledge the behavior of students," said Wear. "Encouraging and modeling positive behavior is definitely a team effort."
The new approach to managing student behavior has yielded extremely positive results. "We've seen our number of violations and occurrences of physical violence decrease dramatically since we implemented the system at the start of the school year," said Colvard. "We no longer have dramatic issues in class as kids have learned to ask for what they need."