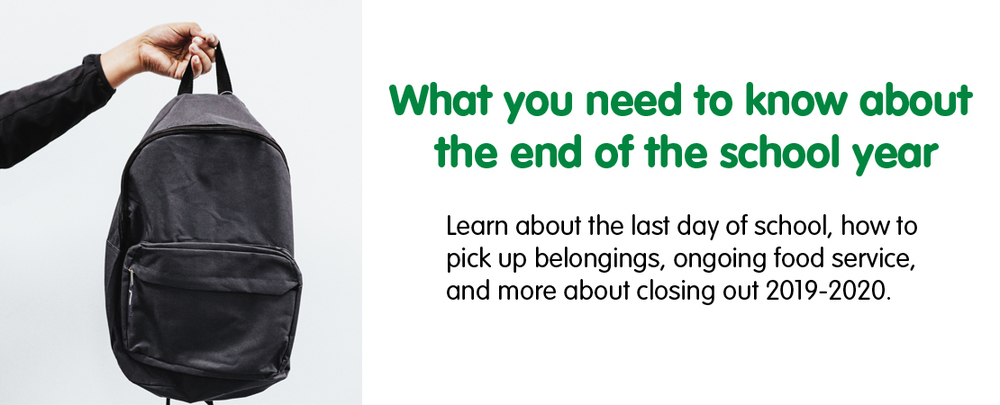 Learn details about the end of school year 2019-20
Woodland Public Schools
Friday, May 15, 2020
Dear Parents and Guardians,
As the end of this unique and incredibly unusual school year rapidly approaches, we wanted to fill you in on what you and your student(s) can expect in the coming days and weeks.
Until recently, there was inconsistent information from the state regarding how late into June schools would operate distance learning. Recent decisions at the state level mean that Woodland Schools' last day will be June 12th, as provided in the published school calendar.
For many, "home-learning fatigue" creates challenges in sustaining rich and robust learning. We are thankful for the partnership with families that has allowed students to continue to learn during this difficult time. It is the consensus of the School Board that maintaining the June 12 end to the school year is in the best interest of students and their families.
Below are some additional important details:
How to pick up your student's personal belongings:
Schools will begin the process of allowing the pickup of any personal belongings your student(s) may have left behind prior to the statewide closure. Each school will coordinate its own pickup process and communicate the details with you soon. We expect pickup of belongings to occur in most schools beginning Tuesday, May 26.
Dropping off books, loaned technology, and other loaned supplies:
If your family borrowed remote learning materials such as books, technology like Chromebooks, or other non-consumable supplies, details on how to return these items to your student's school will be forthcoming.
Please note: If your family received school supplies with limited use such as pencils, markers, chalk, notepads, or other usable school supplies, these items will not need to be returned and can be used for the upcoming school year.
Breakfast and lunch meal delivery:
We will continue breakfast and lunch delivery using our school buses through Friday, June 26. We may make some modifications to consolidate services. Notification of any changes will be communicated online and through notices in delivered meals.
Summer Meal Program:
At this time, we will likely not be able to continue meal delivery service over the summer months due to staffing limitations, however, we expect to be able to provide meal pickup service at the Woodland Middle School campus in line with how we have offered pickup service during the statewide school closure.
We understand many of our families rely on our summer food service as well, and we hope to have details on our summer meal program available shortly.
Stay tuned for additional updates:
While the end of the school year approaches, how the new school year will unfold is still unknown as the world finds new ways to adapt to the global pandemic. As always, we will keep you updated as we learn more about how the new school year will be affected by the ongoing fight against the COVID-19 novel coronavirus.
Please visit our website regularly for the most up-to-date information at www.woodlandschools.org. We will also keep you informed using Skyward Family Access, text messaging, and robocalls as we learn more.
The 2019-2020 school year is surely one for the record books, and I thank all of Woodland's families for partnering with us as learning coaches, and adapting to this new normal as we ensure our community's children continue to have access to high-quality educational opportunities.
Sincerely,
Michael Z. Green
Superintendent - Woodland Public Schools