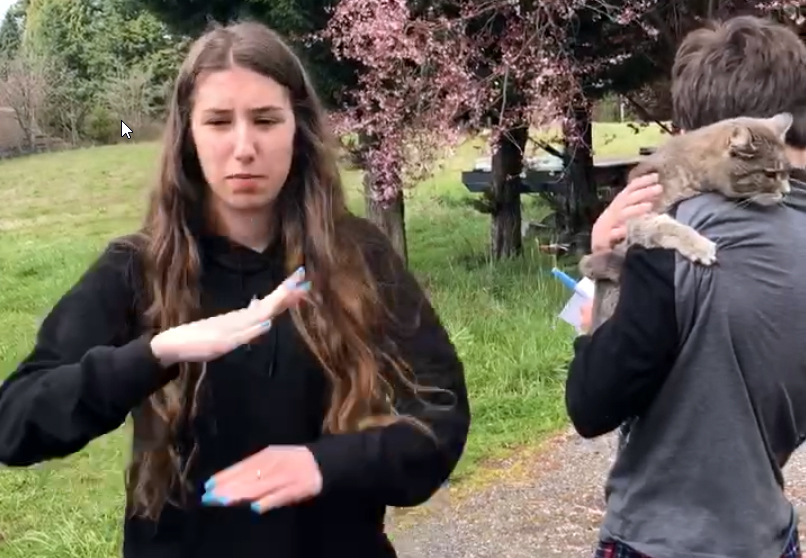 American Sign Language students at WHS use sign to introduce their pets
Woodland Public Schools
Wednesday, April 08, 2020
Students enrolled in American Sign Language (ASL) at Woodland High School have always used their Chromebooks and cloud computing to complete their assignments, so when the state closed schools to prevent the spread of the novel coronavirus COVID-19, Kim Novak, Woodland High School's ASL Teacher, immediately came up with ideas to engage with her students and continue student learning.
Since ASL is inherently a visual language, Kim's students have always used Chromebook computers to film their assignments, submitting their finished projects via cloud computing over the Internet. By reviewing videos rather than in-class demonstrations, Kim's able to efficiently grade all of her students without requiring the entire class to wait as each student demonstrates proficiency. "With no written component other than English, the visual requirement of ASL means I can't watch each student all the time in-class, so I've always need students to film themselves so I can monitor their progress and offer instruction," explained Kim.
With her students now learning from home, Kim decided to use the relocation as a strength in a project with students in her ASL 1 class who had already been working on a unit featuring pets. "The unit focuses on students using the skills they are developing in ASL to share details about their pets using entirely sign language," said Kim. "However, since my students are home, I thought it would be fun for them to introduce their pets to me 'live' as they describe them with sign language."
In addition to cats and dogs, some ASL students introduced more exotic animals like pet pigs
Students shared videos of their cats, dogs, and even pigs and other pets. "One student had a variety of pets – including a pig – who I was able to 'meet' first-hand through her video introduction," said Kim. "I really enjoyed seeing the responses from my students."
Great job, Kim, and keep up the excellent learning, students!


---
Do you have a home learning story you'd like to share?
Please send it with pictures and/or video to Eric Jacobson, our Communications Manager, at jacobsoe@woodlandschools.org