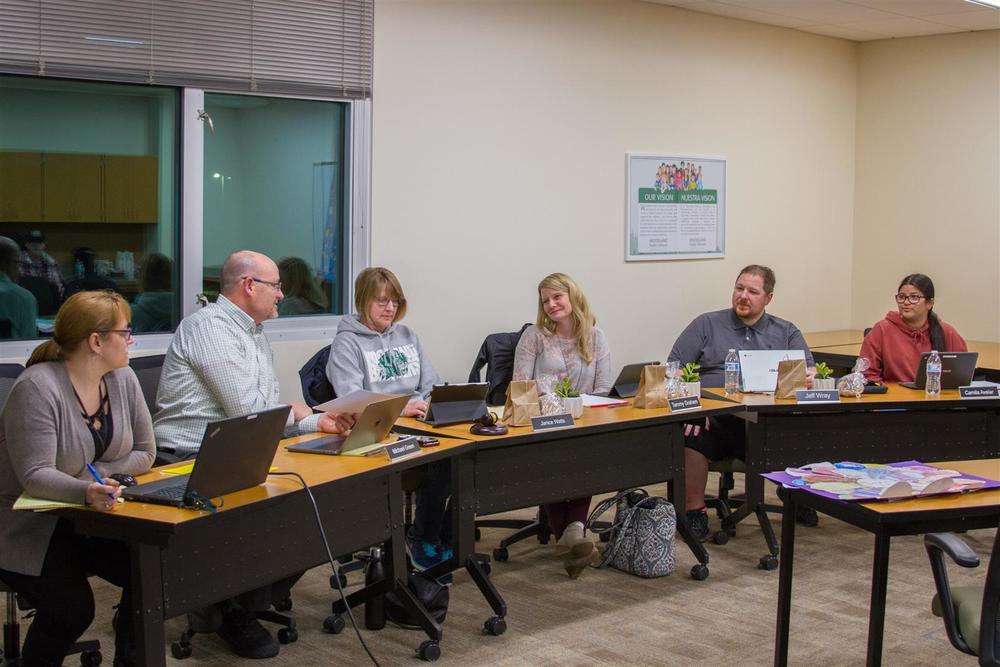 WPS welcomes two new board members & recognizes Board during School Board Appreciation Month
Woodland Public Schools
Monday, February 10, 2020
The staff and students of Woodland Public Schools celebrated their Board of Directors during the district's regular board meeting on Monday, January 27, 2020.
This year, Woodland Public Schools welcomed two new directors to the board: Jeff Wray serving as the representative for Director District 3 and Tammy Graham as the representative for Director District 4.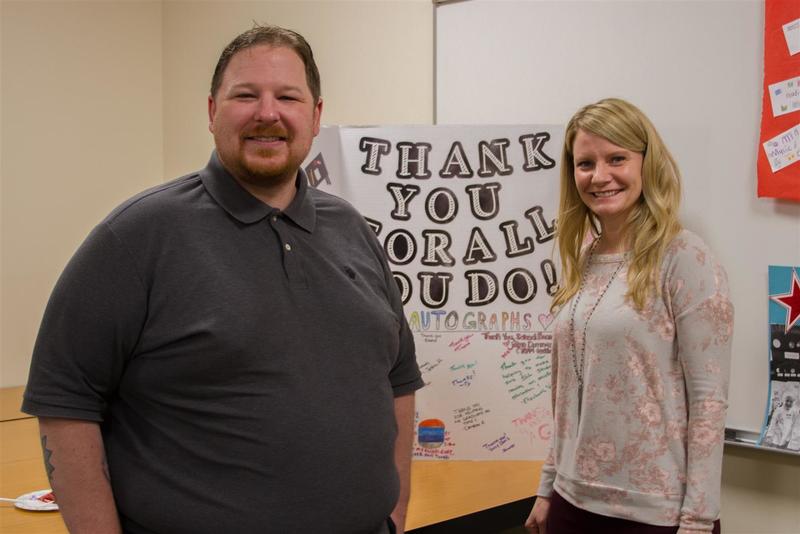 Jeff Wray and Tammy Graham serve as representatives for Director Districts 3 and 4, respectively.
Introducing Jeff Wray
Jeff Wray replaces Lesa Beuscher as the Director for District 3. For Wray, serving on the school board provided him with the opportunity to show his gratitude for the Woodland community. "I wanted a way to give back to the Woodland, a community that welcomed me with open arms," he said. "I love and appreciate the small-town feel Woodland offers and serving on the school board seemed like a good fit with my skillset."
Throughout Wray's career, he's worked with school districts throughout the state and currently facilitates training for his current employer, Amazon. "For me, my top priority for our schools is making sure we give our community's children the tools and resources they need to succeed," he said. "Those resources can range from offering robust Career-Life-College curriculum throughout their academic careers or ensuring we provide meals to those who can't afford them; my priority and hope is to ensure students are ready to learn at the start of each day with any roadblocks to learning removed."
Wray values the work of the district staff, particularly with student engagement, "Having watched student interactions between our staff and students shows me the importance our staff holds in our students' lives." For Wray, improvement and growth are ongoing goals. "My employer says, 'it's always Day 1,' and I think that applies to our schools, too," he said. "As we learn more about effective learning methods and better methods of classroom management among other topics, we'll improve the learning experience for children and adults, too."
Wray attended and graduated from the Kennewick School District in Kennewick, Washington. After high school, he focused on his career before later earning a bachelor's degree in education from Washington State University. Wray's family, his wife and three children, moved to the Woodland area a little more than two-and-a-half-years ago. Wray's hobbies include watching movies and playing games (both board games and video games) with his family.
Wray finds inspiration from a quote from philosopher John Dewey, "Dewey had a major impact on modern education and he would state 'failure is instructive; the person who really thinks learns quite as much from his failures as from his successes,'" he said. "This is a perspective I've always tried to live by."

Tammy Graham and Jeff Wray both view serving on the school board as a way to give back to the Woodland community.
Introducing Tammy Graham
Tammy Graham replaces Matt Donald to represent District 4. Although Graham hadn't considered running for the school board in the past, she had spent the past ten years volunteering with her children's schools, serving on a variety of committees as a parent representative. "I have such a heart for the kids in our community and have been an advocate to help make positive changes to benefit all of Woodland's kids," she said. "After several people approached me about running, I spent months researching the position and realized, in the end, that serving on the board would be a natural fit for what I was already doing."
Graham's passion continues to be Woodland's schools and children. "The district's greatest assets are our teachers and staff – we have some of the best around – and I regularly see our staff going above and beyond both in and out of the classroom," she said. "Any success we see as a district comes as a direct result of the hard work of our district's staff as a team and the passion they invest in the lives of kids."
Rather than joining the board with specific priorities in mind, Graham prefers to approach the role with an open mind, "I am eager to learn and approach all topics, including established procedures and policies, with the question, 'How does this align with the district's vision, mission, and goals?'"
Graham also values using research to help drive results, particularly with a focus on continued growth. "By looking into student achievement data, talking to the staff, and hearing parent feedback, we can learn where the district excels and where we could focus for improvement," she said. "I'm looking forward to working with our other board members to learn more about opportunities for growth and improvement throughout the district."
Graham and her husband, Justin, have three children attending Woodland Public Schools with one at each school level – elementary (fourth grade), middle (sixth grade), and high school (ninth grade). "Our children are all very active and involved in the community through their schools and participation in sports," she said. "We are a busy family who enjoys being together and supporting one another; attending church and growing our faith is also a very important part of our lives."
Graham was born and raised in Oklahoma City, OK where she graduated from Westmoore High School in the Moore Public School system. Following graduation, she attended York College in Nebraska where she played soccer, earned her bachelor's degree in Elementary Education, and met her future husband.
After graduating, Graham and her husband moved to Michigan where she taught first and second grade at schools in the suburbs of Detroit. Together, the two started a business which offered them the flexibility to raise their children and move to the Pacific Northwest. Graham's hobbies include distance running and volunteering, "I recently became a Lunch Buddy at one of the elementary schools and have two friends I'm excited about connecting with each week."
Graham looks forward to what she and the board can do for Woodland's schools. "I am humbled and grateful for the opportunity to serve on the school board; I do not take this position lightly and consider it a great responsibility," she said. "I believe in public schools and I think Woodland is a wonderful place to raise a family; I will strive to represent what is best for all of our stakeholders – students, parents, community members, teachers and staff."
---
Board Appreciation Day
Superintendent Michael Green opened the meeting by recognizing each of the board members for their dedication in helping to oversee the district's schools. "School districts' elected boards of directors play a crucial role for our communities and our schools," he said. "These community leaders volunteer to take on the sometimes-daunting task of helping guide school districts with their decisions affecting student learning, professional development and a myriad of other aspects of district operations."
Green then presented each board director with a special certificate recognizing their contributions.
The Directors of Woodland Public Schools Board are:
Sarah Stuart, raised in Woodland and a Woodland High School graduate, earned her Bachelor's Degree in nursing from Linfield College, and has children currently attending Woodland schools. Stuart represents District 1.


Janice Watts, raised in Woodland and a Woodland High School graduate, owns Letter Box, a local Woodland Business, and has four children who have attended or are currently attending Woodland's schools. Watts continues to serve as Board President and represents District 2.


Jeff Wray represents District 3.


Tammy Graham represents District 4.

Woodland Public Schools is seeking an interim board representative for Director District 5. Registered voters who reside in District 5 are invited and encourage to apply for this volunteer position. More information can be found on the Woodland Public School's website at: https://www.woodlandschools.org/school-board-superintendent
In addition to posters thanking the board made by students from each of the district's schools and programs, two of Woodland High School's Career-Life-College classes provided the board members with gifts. Horticulture students grew and nurtured live plants for each board member while the culinary arts students provided bags of fresh-baked cookies.
"Our school board members help fulfill our mission statement of ensuring all of our community's children have full access to an excellent education," said Superintendent Green. "While we certainly appreciate our board members throughout the year, these annual recognition meetings gives us the chance to offer them at least a small amount of the recognition they truly deserve."
If you would like to subscribe to receive Woodland School Weekly stories in your email, simply click this link. You can unsubscribe at any time, and Woodland Public Schools will not share your email address.