Columbia Elementary School received generous donations!
Woodland Public Schools
Thursday, December 05, 2019
In this season of giving, Columbia Elementary School has received some generous donations recently!
Cheryl Nesbitt, the school's Physical Education Teacher, applied for a grant from Wal-Mart and was awarded $750 to support the school's brand-new student council for grades 1-4. The council organizes events to raise school spirit, and advocates for community service projects like our canned food drive.
Nesbitt applied for a Walmart Community Grant after learning about another Woodland teacher who received one. "The money will also help pay for supplies needed to do activities that promote school spirit and recognize successes within our school," said Nesbitt. "We are very appreciative of the generosity of Walmart and their continued support of Woodland's schools."
Franklin Collazo, a first and second grade teacher, was concerned when he noticed not many of his students had ordered school spirit t-shirts. "I grew up in a humble family with little in the way of money, so I was worried the reason some of my students hadn't ordered t-shirts was financial," he explained.
Collazo reached out to Retta Wilson, a mortgage officer at Eagle Loans in Ridgefield who helped Collazo's family buy a house when they moved to the area in the summer. "Retta had mentioned wanting to help out if my students ever needed anything, so I thought this was a great opportunity," said Collazo. "She generously donated the money to buy t-shirts for every single one of my students, more than $225."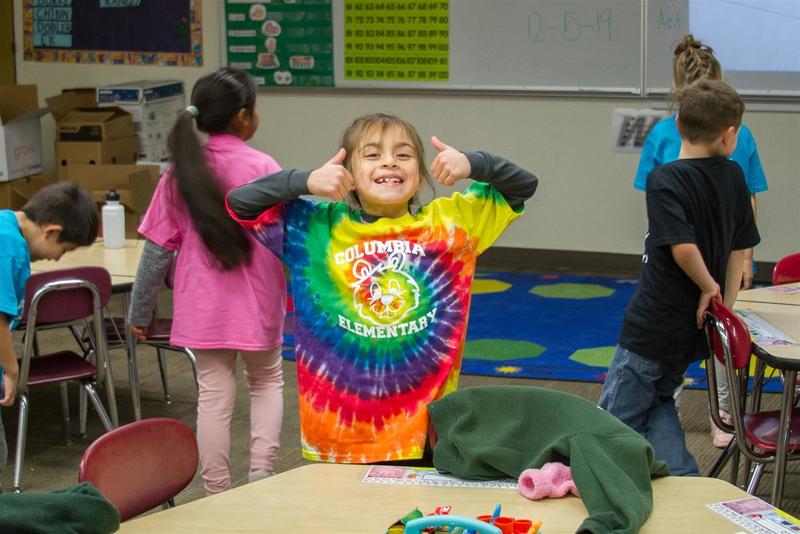 Collazo gave the t-shirts to his students on Thursday, December 5. "They were so excited that it almost felt like opening presents on Christmas morning," he said.
Once again, Woodland Public Schools would like to thank our many, many generous community members and business owners – your support helps our students in more ways than you can know!