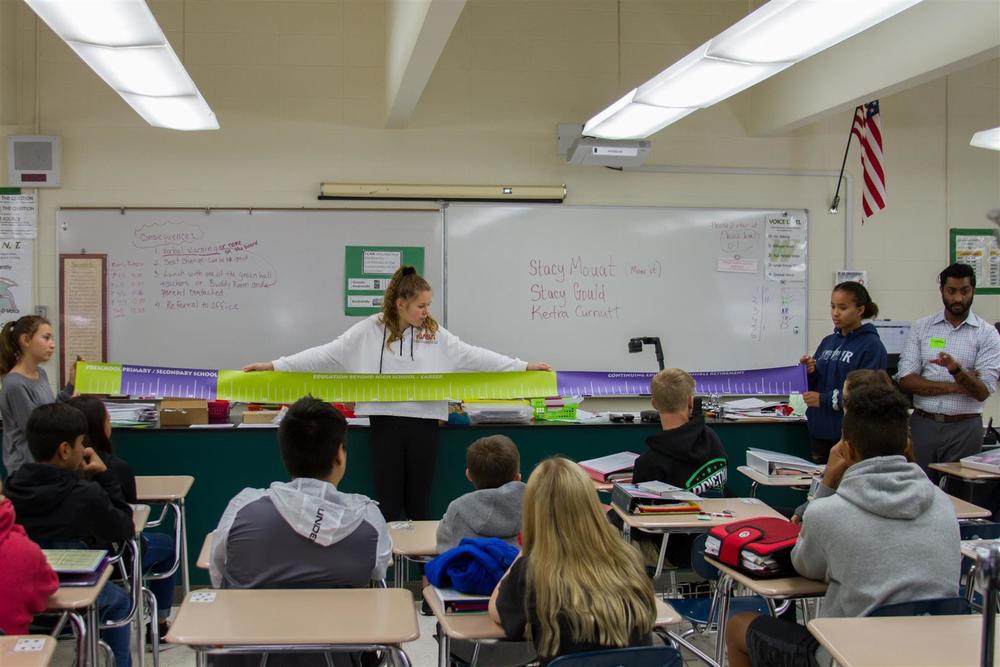 WMS students prepare for their futures with CHOICES
Woodland Public Schools
Monday, November 25, 2019
Woodland Public Schools helps prepare students for any future they desire with Career-Life-College, a journey that begins in kindergarten and continues through graduation. At Woodland Middle School, eighth grade students learned how decisions they make about their education today will affect them for the rest of their lives as part of the interactive workshop, CHOICES, presented in partnership with community outreach specialists from Fibre Federal Credit Union.
The two-day CHOICES workshop uses a proactive approach during two class periods (one each day) to address the epidemic of students dropping out of high school across Washington State and the entire country by showing students the advantages of finishing high school.
Zaheen Khan, a community outreach specialist with Fibre Federal, used student volunteers to show a timeline of an average person's life. "You might feel that you've already been in school forever, but when you look at this entire timeline, you can see that your time in school makes up a remarkably small part of your life," he said. "If you want a comfortable career and want to retire, that goal starts with smart choices made in school right now."
Khan passed out handouts with examples of different elements in a person's life such as family, health, appearance, self-confidence, and attitude. He directed students to circle the elements they can control. "You have the power to change so much in your life for the better," he explained. "Everyone has potential – I wholeheartedly believe that."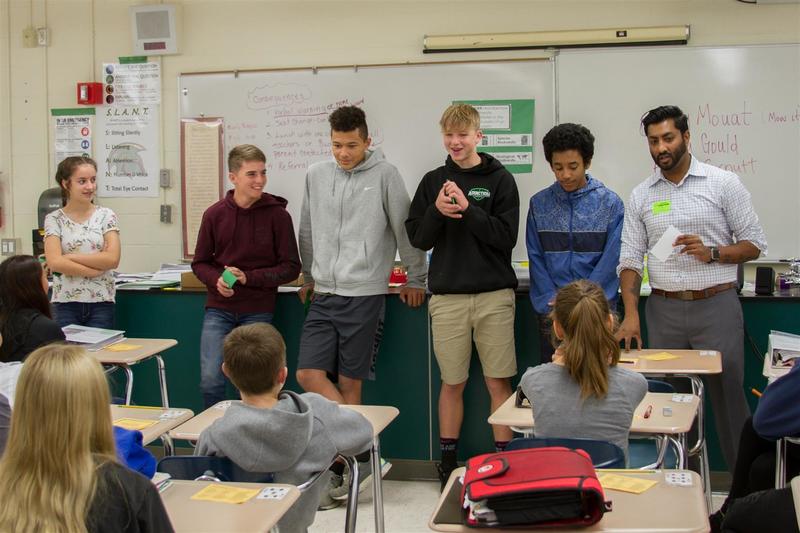 Zaheen Khan (far right), a Fibre Federal Credit Union community outreach specialist, guided students through a scenario where a high school dropout tries to make ends meet on $2,500 a month.
Students participated in a number of activities including identifying which careers would be available to an applicant depending on three different educational outcomes: high school dropout, high school graduate, and post-secondary education including apprenticeships, trade school, and college. "The average dropout earns around $26,000 while the average college graduate earns $63,000," said Khan. "The more education you have, the more choices you will have for your future."
Students learned the importance of money management when a student volunteer pretended to drop out of school in order to start enjoying life early without a high school diploma. In the scenario, the volunteer must find a job after getting kicked out of his or her parents' house. Finding a job that pays $15 an hour – a monthly paycheck of $2,500.00 – the volunteer and class discover together how difficult it would be to pay for living expenses as other students take money for rent, utilities, gas, food, and regular living expenses.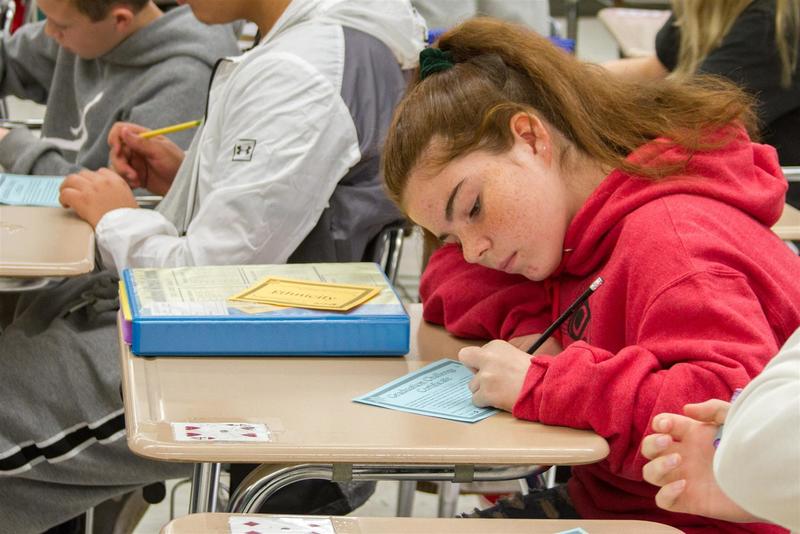 At the end of the two-day workshop, students sign a certificate pledging to graduate high school and earn their diploma.
At the end of the two-day workshop, students sign high school graduation challenge certificates, pledging that they intend to finish high school and eventually earn their diplomas. The certificates were each signed by the students' teacher, Jennie Zarosinski, to reinforce the importance of the pledge they're making to themselves.
Khan ended the workshop encouraging students to consciously make the right choices for themselves and their future, "Life is all about the choices you make in your middle and high school careers; those will determine how many choices you will have for your life after you graduate."
Career-Life-College at Woodland Public Schools
Woodland Public Schools aims to prepare all students for whatever future they decide to pursue after high school graduation with Career-Life-College. At Woodland High School, students can take a wide variety of Career and Technical Education (CTE) courses specifically designed to help students develop the skills they need for careers and trades following graduation which offer living-wages to support families.
Companies interested in partnering with Woodland Public Schools' Career-Life-College can contact Assistant Superintendent Asha Riley. "Engaging students with professionals in a wide variety of careers is one of my biggest passions," she said. "We are so lucky to have the Woodland community – both businesses and individuals – who place a priority on education and support our students by providing enriching experiences as well as monetary funding."
Contact Asha Riley via phone by calling the district office at (360) 841-2700 or email her directly at rileya@woodlandschools.org.
More about the CHOICES Program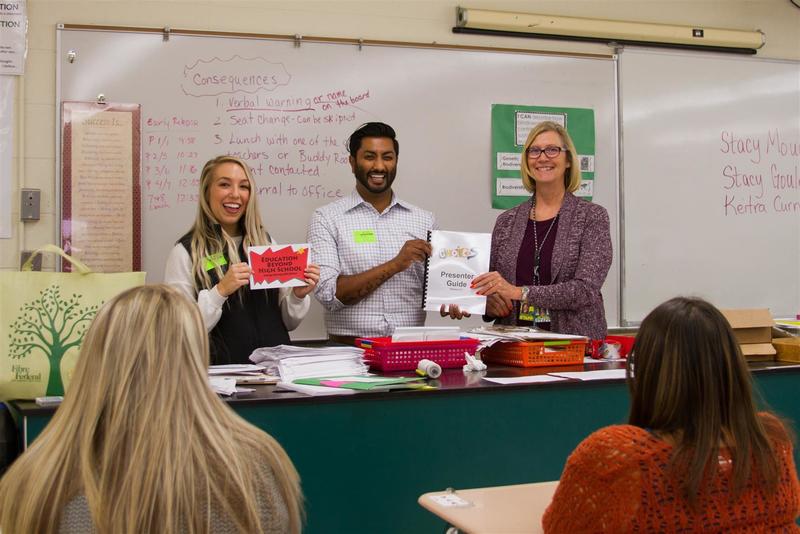 To learn more about the CHOICES Education Group and their work, visit their website at www.choices.org. Woodland students who need assistance developing a plan to finish high school can contact Stacy Mouat, Truancy Specialist, directly at (360) 841-2719 or via email: mouats@woodlandschools.org.
If you would like to subscribe to receive Woodland School Weekly stories in your email, simply click this link. You can unsubscribe at any time, and Woodland Public Schools will not share your email address.