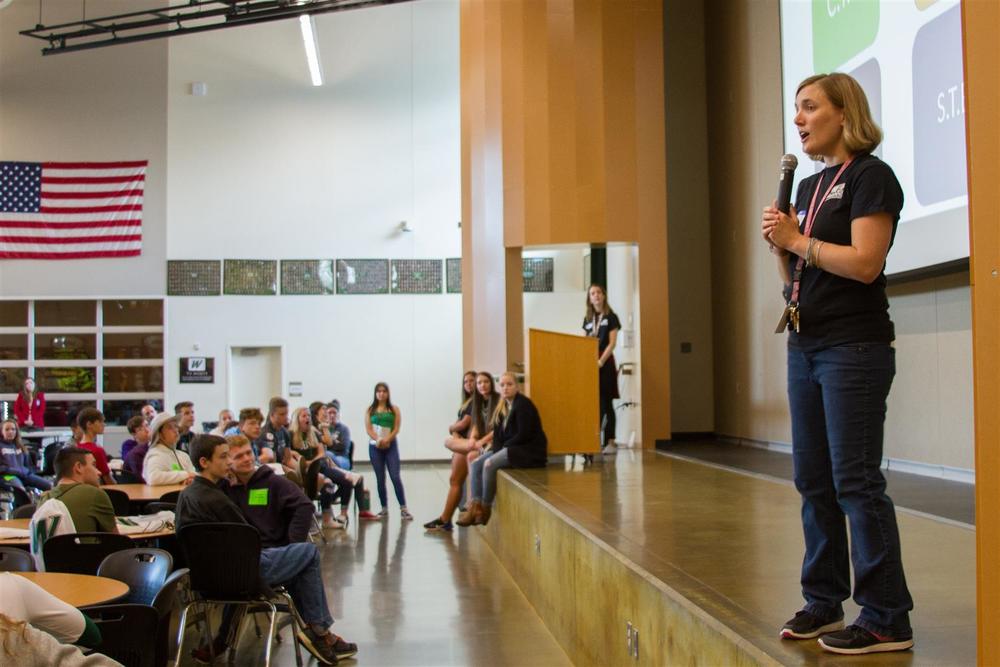 Beaver Camp: Helping new high school students get ready
Woodland Public Schools
Wednesday, August 28, 2019
This year, the high school introduced Beaver Camp, a special half-day orientation program for entering freshmen and students new to the district.
School Counselor Terra Pfeiffer worked with the school's administration to introduce the program after seeing something similar at Longview School District. "The first day at any new school but particularly high school can feel overwhelming for students as they try to find their classes, learn how meal payment works, and more," she said. "In order to help make our students more comfortable and ready for the first day of school, we developed 'Beaver Camp.'"
One day during the week before the start of the school year, students new to the high school attended orientation from 9 a.m. to 1 p.m. Students received their schedules, found their classes, and met teachers. Students also took part in a physical education activity, learned the school's evacuation procedures in the event of an emergency, and ate a free lunch to learn how meal payments and the cafeteria operates.
In addition to learning about the curriculum and operation of the school, representatives from each of the school's extracurricular clubs gave brief introductions during an assembly at the beginning of Beaver Camp so new students could learn all the opportunities available to them. "Woodland is a very inclusive community and we want to make sure our schools feel that way, too," said Pfeiffer. "The first day of school can be exciting enough without adding complications like not knowing your way around into the mix."
The school's counselors walked new students over the requirements for graduation, both for students considering higher education as well as students considering entering a trade. The counselors also taught students about some of the school's many academic offerings including College in the Classroom – classes taught at the high school where students can earn college credit – as well as the successful Running Start program where students may take college courses at local community colleges while still attending high school.
To help with the event, nearly 30 returning students volunteered to serve on the Beaver Crew. The Beaver Crew worked with new students to help them learn different tips and tricks to navigating the high school as well as how to succeed. "The Beaver Crew has been absolutely fantastic," said Pfeiffer. "Not only did they help ensure the event would be a success from the planning process straight through to execution, many of them even joined me during my visit to the middle school last year with lists of tips every freshman student should know so eighth graders could prepare for their transition."