Career-Life-College and Digital Learning
Woodland Public Schools
Monday, August 26, 2019
Career-Life-College: Preparing students to succeed in life after school
At Woodland Public Schools' annual kick-off staff meeting, Superintendent Michael Green announced a new district-wide initiative designed to prepare students for life after high school, Career-Life-College. "Traditionally, the goal for school districts was for students to earn a high school diploma," he said. "However, that is no longer enough – school should prepare students for life after high school, whether that future is higher education, joining the military, or learning a trade."
Green discussed the importance of reaching students wherever they may be in life and helping them prepare for whatever next steps they may have in store. "Our challenge is to really raise the bar and serve all of our kids very deeply," he said. "In Woodland, we don't accept mediocrity and we will continue to push for the highest-quality teaching and learning experience."
Green presented studies to the staff showing many career paths previously available to high school graduates which have become automated along with many others predicted for automation in the future. "We need to make sure our students learn the skills employers are looking for – soft skills," he said. "In addition to reading and writing, we will teach our students complex problem-solving, critical thinking, how to coordinate with others, active listening, and more so they will have the edge they need after leaving Woodland's schools."
In May, the Board of Directors adopted a document defining what it means to prepare students for careers after school. The district's administrative team developed the Career-Life-College initiative, a plan to ensure students receive the education and skills they need for their futures after high school.
Woodland Public Schools' teachers and staff will continue developing methods and curriculum to prepare students for life after their school careers, from kindergarten through graduation. "We aim for effective collaboration, leadership, and learning," said Green. "From the district level all the way down to the classroom, we will engage as a staff and work as a team to help our students develop the many skills they will need to succeed in life."
The district will release updates about Career Life College throughout the year. For more information the Board's work in addition to the document approved during their May meeting, visit the district's board meeting archives section or use this direct link: http://bit.ly/WPS-CareerLifeCollege
---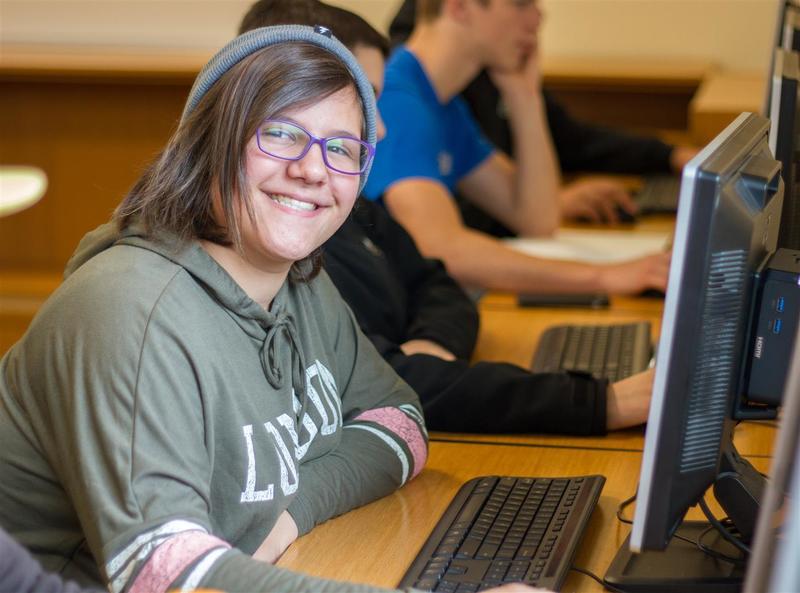 To enhance Digital Learning at Woodland High School, every student will receive their own Chromebook personal computer
Chromebooks for Students: Enhancing Digital Learning at Woodland High School
In order for students to succeed in the modern workplace after graduation, learning how to effectively use technology is essential.
Starting this school year, every student at Woodland High School will receive their own laptop, called a Chromebook, which will enable them to access their coursework, engage with their teachers, and work collaboratively throughout the year. Rather than providing students with their own devices when other school districts first started similar programs, the staff at Woodland High School opted for patience and research. "We've studied other school districts, both locally and on the national level, to see the best ways to introduce and utilize technology in the classroom," explained Woodland High School Principal John Shoup. "By closely watching the methods that have worked and avoiding those that haven't, we have created an excellent approach to increase digital learning for our students."
While teachers had access to carts of Chromebooks for their classrooms in prior school years, they couldn't design their entire curriculum around the use of technology since the carts were shared throughout the school. After reviewing the school's current inventory of Chromebooks, Principal Shoup and his team realized the investment to provide each high school student with their own computer would be incredibly modest. "When we added up all the Chromebooks we had in carts, we realized we already had enough computers for students in three of our four grades," he explained. "With every student having access to the same technology, teachers have designed their curriculum around its use."
For more than a year, the teaching staff at Woodland High School has been using the Triple-E Framework developed by Professor Liz Kolb at the University of Michigan's School of Education to integrate technology into their course curriculum. "Rather than simply providing technology to students without any real guidance, the Triple-E Framework ensures that the computers will be used to Engage, Enhance, and Extend student learning," said Shoup. "This approach uses effective digital learning methods to enable our students to have access to new opportunities learn advanced concepts and show growth in their studies."
In order to protect students' data and help prevent inappropriate use which could damage the computers, the district's Information Technology department installed special filtering software on every Chromebook. "These devices are designed for learning, not for entertainment," explained Shoup. "We also advise parents to have students work somewhere that parents can observe and ensure students are using their computers constructively."
Chromebooks are cloud-connected productivity notebook computers which include Google's suite of office software with applications directly compatible to Microsoft's popular Office suite including a word processor, spreadsheet development software, and presentation software. In addition, students will be able to interact with their teachers and collaborate with their students through Google Classroom, an innovative application specifically designed for schools to help teachers and students teach and learn in new ways.
On the first day of school, students will receive a guide of student expectations along with an agreement for parents or guardians to sign. Some examples of student expectations include bringing Chromebooks to school fully charged every day, being a mindful digital citizen, and keeping the devices in good condition. The guide also includes examples of appropriate and inappropriate uses.
The school will also provide optional assurance for families to purchase which protects against accidental damage for a small fee which is discounted for families who qualify for the Free and Reduced Lunch Program.
Want to learn more?
You can learn about Woodland Public Schools' Digital Learning from our website: https://sites.google.com/woodlandschools.org/woodland-digital-learning.
You can also learn more about student expectations for Chromebooks by viewing Principal John Shoup's video introduction for students on YouTube: http://bit.ly/WHS-ChromebookIntro.