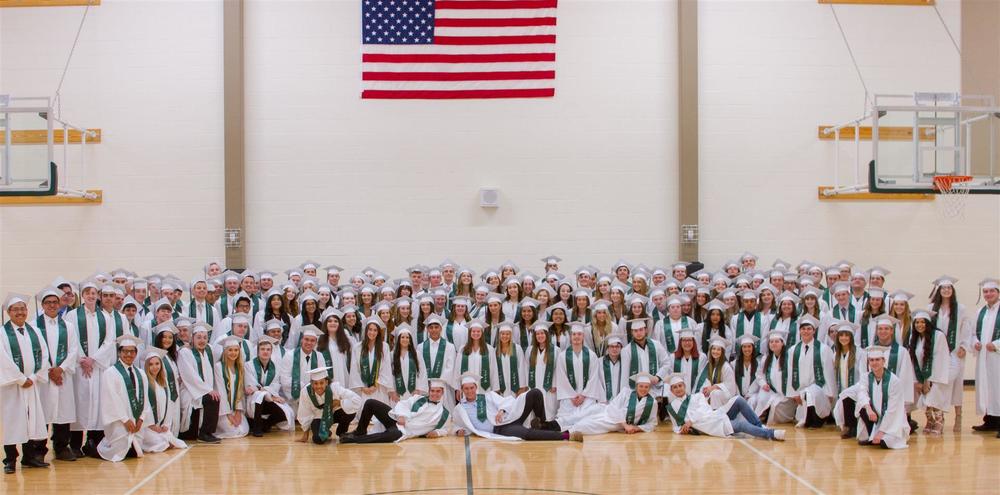 Woodland High School and TEAM High School celebrate the graduates of the Class of 2019
Woodland Public Schools
Monday, June 10, 2019
Woodland Public Schools' two high schools, Woodland High School and TEAM, the district's alternative high school, celebrated their 2019 graduates during commencement ceremonies on Friday, June 7 and Wednesday, June 5, respectively.
TEAM High School Commencement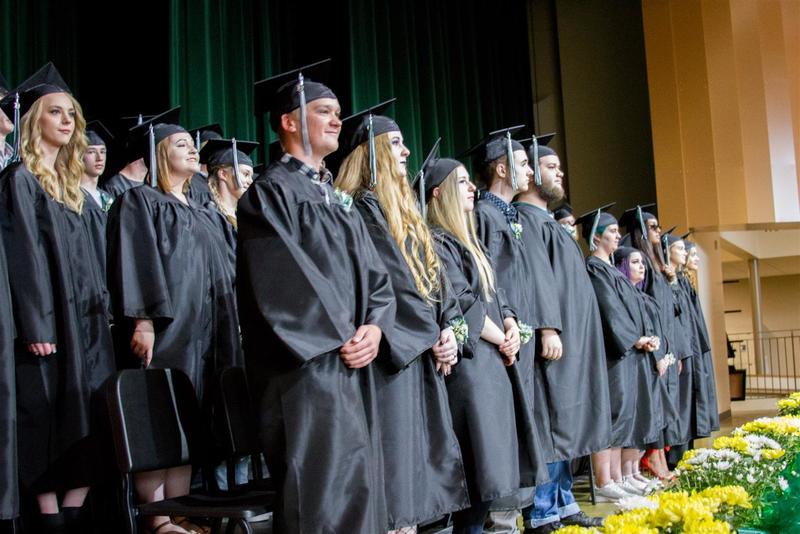 TEAM High School's Class of 2019 had 31 graduates.
TEAM High School recognized 31 graduates during a ceremony Wednesday night. from TEAM High School in 2019, each earning their diplomas after meeting the state's graduation requirements.
Principal Jake Hall welcomed families and guests followed by Superintendent Michael Green's presentation of the Class of 2019 to Board Director Sara Stuart, who handed out diplomas. "Wherever you go, you can carry us in your hearts when you encounter new challenges," said Hall. "Always know this – we are all so proud of you."
Jillian Domingo, who teaches Social Studies and English, and Elizabeth Vallaire, who teaches Math and Science, along with Program Specialist Mary Burnett took turns recognizing each graduate individually, reading heartfelt comments about their experience with the graduate during the student's time at TEAM.
---
Woodland High School Graduation Festivities
Woodland High School celebrated its largest graduating class with 161 graduates in a series of events culminating in the Commencement Ceremony on Friday, June 7. Graduates were recognized for their accomplishments during Senior Night, took part in Senior Breakfast, paraded through district schools in the Parade of Graduates, and concluded by walking in the 111th Annual Commencement to receive their diplomas.
Senior Night – Scholarship and Award Recognition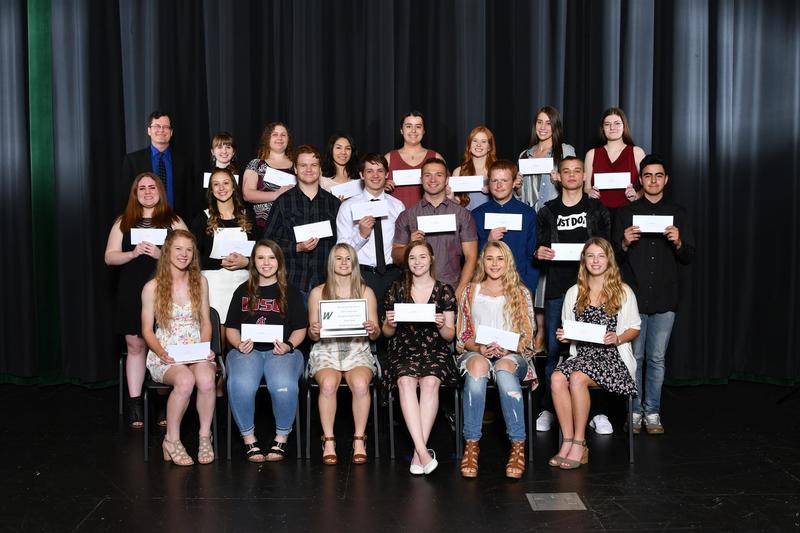 The $50K-for-20 Woodland High School Scholarship Trust Fund awarded 23 scholarships for $2,500 each.
The Annual Senior Night invites friends and family to celebrate the many accomplishments and achievements of the graduating class. Scholarships are awarded to recipients during the ceremony with donors given the option to present their scholarships in person.
The Woodland High School Scholarship Trust Fund, called $50K-for-20, strives to provide 20 scholarships in the amount of $2,500 annually. This year, the $50K-for-20 Trust Fund awarded 23 scholarships thanks to the contributions of many generous community members and local businesses including:
Walt's Meats which donated $50,000 this year and pledged to match the amount in 2020
American Paper Converting which donated $10,000 for the third year in a row
Sodexo Food Services which donates funds annually and also provides food for fundraisers
The Woodland School District Staff through monthly payroll contributions
Eric Rodman
Aho Construction
Woodland Truck Line
IBEW Local #48
Benno & Klazina Dobbe
Karly Bordack of Keller Williams Realty
Tammy & Justin Graham
Nutter Family Foundation
USNR
Fat Moose Bar & Grill
Columbia River Carbonates
Lineage Logistics
Paul Cline
Chuck Jones Automotive
The WHS Class of 1998
Ecological Land Services
Janice Graham
The Donald Family
Jefferson Place Apartments
Following the presentation of scholarships, each of the graduates in attendance was recognized individually by Principal John Shoup. Shoup read off a few of each student's accomplishments made during their time at the high school as well as the student's plans for their futures which ranged from going on to higher education, serving in the military, pursuing a career, and more.
---
Senior Breakfast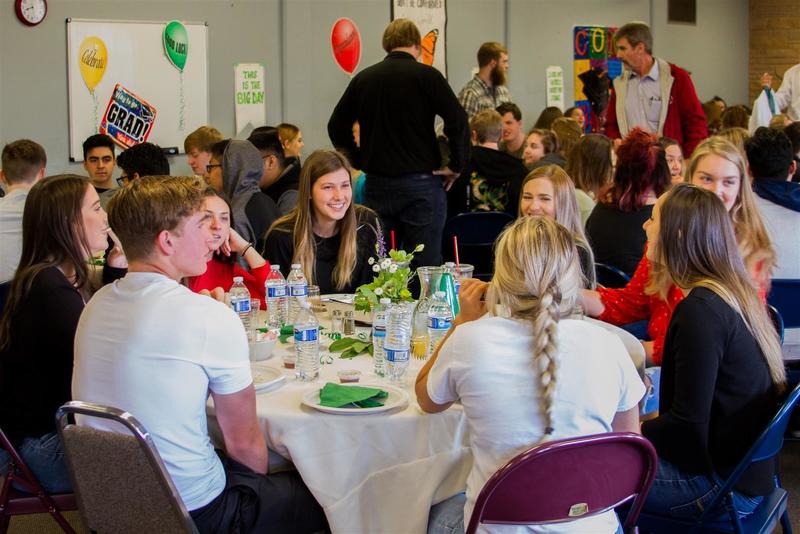 Volunteers and staff from the Woodland Presbyterian Church have served breakfast for the graduates on the morning of commencement for more than 70 years.
On Friday morning, graduates gathered at the Woodland Presbyterian Church for a special breakfast provided by volunteers and the church's pastor each year. The church has celebrated the success of Woodland's graduating seniors for more than 70 years by serving up a hearty breakfast to get the graduates ready for commencement day.
---
Parade of Graduates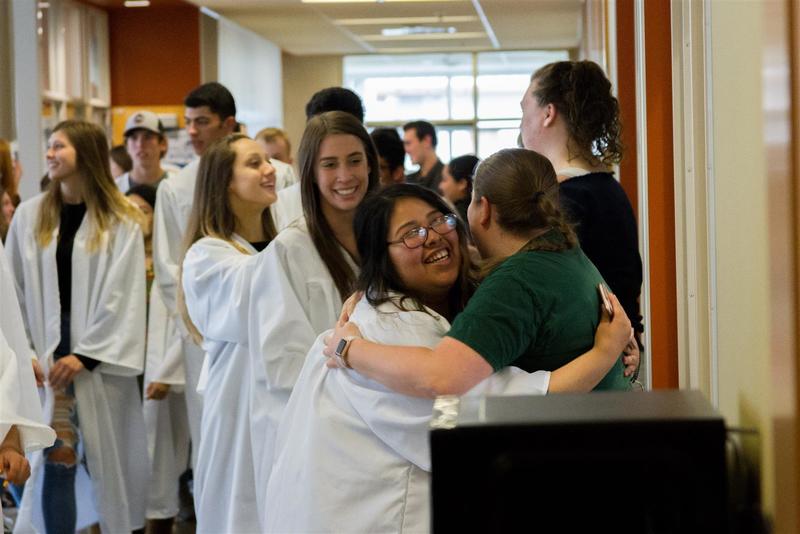 Each year, graduating seniors don their gowns and parade through the schools to see teachers one last time and to inspire younger students to work hard on their academic goals.
Following breakfast, the graduates donned their graduation gowns for the annual Parade of Graduates. Graduates parade through Woodland Primary School, Woodland Intermediate School, Woodland Middle School, and Woodland High School while each school's students line the routes to celebrate their with posters, cheers, and high-fives.
The Parade of Graduates, now in its fifth year, was developed and organized as a joint project by the district's entire administrative team. "The parade gives graduates the opportunity to reconnect teachers from their years in Woodland Public Schools, if only briefly, and acknowledges the significance of their accomplishment," said Dan Uhlenkott, Assistant Principal of Woodland High School. "For the younger students, seeing the graduates motivates them to continue working their way toward graduation, too."
---
Commencement Ceremony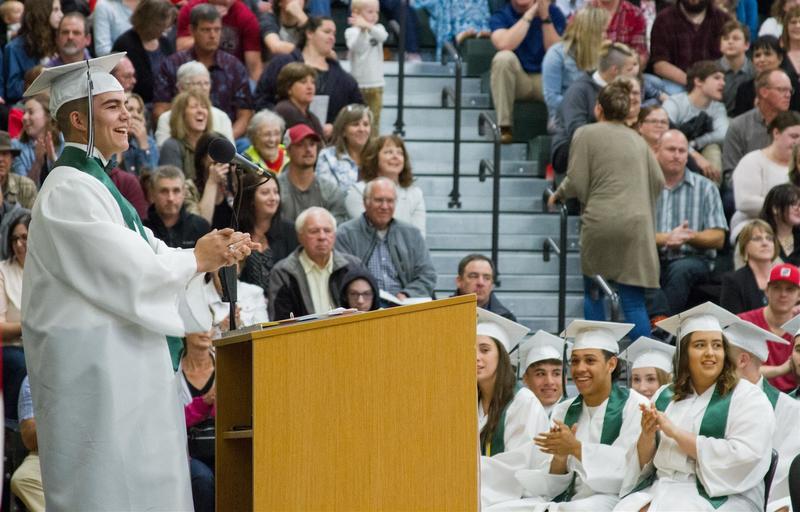 Josiah Morales, 2019 Class President, served as the Master of Ceremonies and told his classmates to dedicate themselves to pursue their dreams.
The Class of 2019 broke the district record made just last year for largest graduating class with a total of 161 graduates. The 111th Commencement Ceremony was held on the evening of Friday, June 7. The Woodland High School band played "Pomp and Circumstance" as the graduates entered followed by the WHS Jazz Choir singing the National Anthem.
Josiah Morales, Student President of the Class of 2019, served as the Master of Ceremonies, opening with a speech featuring the class motto: "Chase your dreams but always know the road that'll lead you home again." Morales encouraged his classmates to dedicate themselves to pursue their dreams and find their "next" whatever that may be. "Our ability to dream will give us the way to create our 'next,'" he said.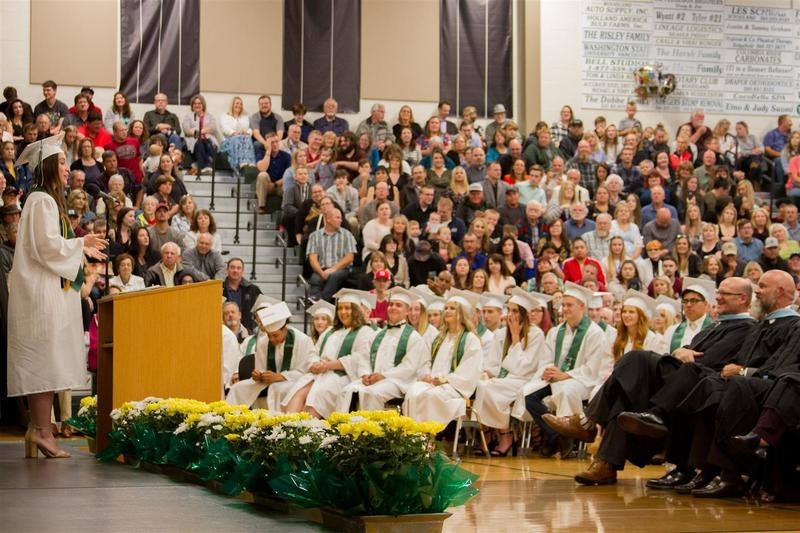 Audrey Adams, one of two senior speakers, told her classmates to remember the time they had together during their academic careers at Woodland High School.
Audrey Adams, one of two senior speakers selected by the graduates, followed Morales and spoke of the different threads tying the graduating class together. "I'll remember my time here because of the people who I shared this time with," she said. "These last four years are setting us up for whatever may come next but remember that we will always have that common thread – the time we spent at Woodland High School."
The Class of 2019 voted for Shari Conditt, a Woodland High School government teacher, as their Faculty Speaker. Conditt reminded the graduates of the importance of establishing roots to grow strong, "People, like trees, need time to put down roots, build a strong foundation, and to grow," she said. "Woodland High School is flourishing and it's because of the roots you've put down here not only to support yourself, but also your classmates and the school."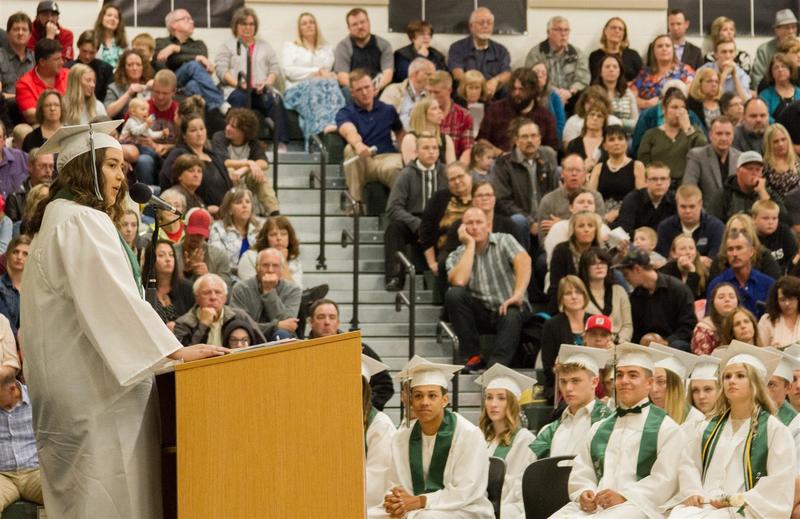 Shekiah Dunlop, the second senior speaker, reminded her classmates to surround themselves with friends and family who support their dreams and goals.
The graduates selected Shekinah Dunlop as their second student speaker. "Many people have helped me along my way to graduation, and they're the reason I'm here tonight," said Dunlop. "We need to surround ourselves with the people who will motivate us to achieve our dreams, not those who make us feel bad or discourage us, and amazing things can happen."
Woodland High School Principal John Shoup regaled the audience with stories of what the Class of 2019 accomplished during their four years. "Someone suggested I tell you all to remember to be yourselves," he said. "The graduates in this class never had any trouble being themselves."
Shoup talked about the graduates' athletic records, amazing drama performances, and record participation in Running Start, the district's program that allows students to take college courses. "Carry on, Class of 2019, because soon you will all be graduates of Woodland High School," he said. "We wish you the best in the years to come."
Woodland Superintendent Michael Green welcomed the Class of 2019 with a quote from Italian Renaissance artist, Michelangelo. "The greater danger lies not in setting your aim too high and falling short but setting your aim too low and making your mark," he said. "Whatever you do in life, work hard and strive to be the very best."
Green then officially certified the graduates had met the necessary requirements to graduate and presented the class to Board President Janice Watts who handed out diplomas to each graduate.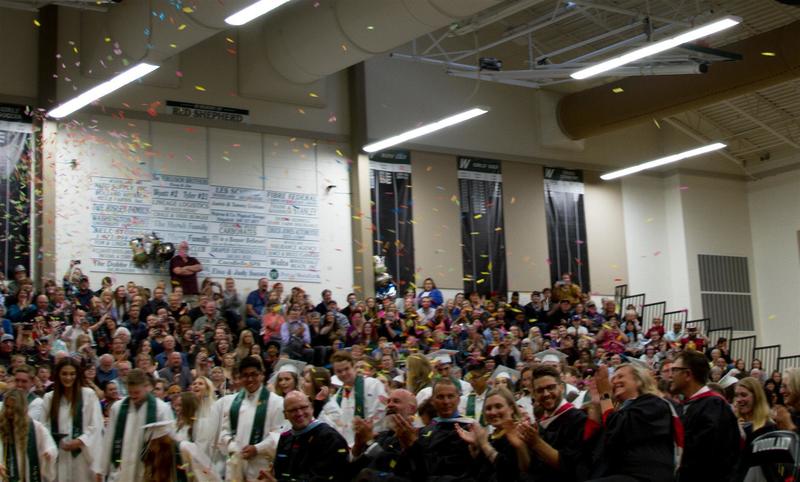 Congratulations to all of Woodland Public Schools' 2019 graduates!
If you would like to subscribe to receive Woodland School Weekly stories in your email, simply click this link. You can unsubscribe at any time, and Woodland Public Schools will not share your email address.