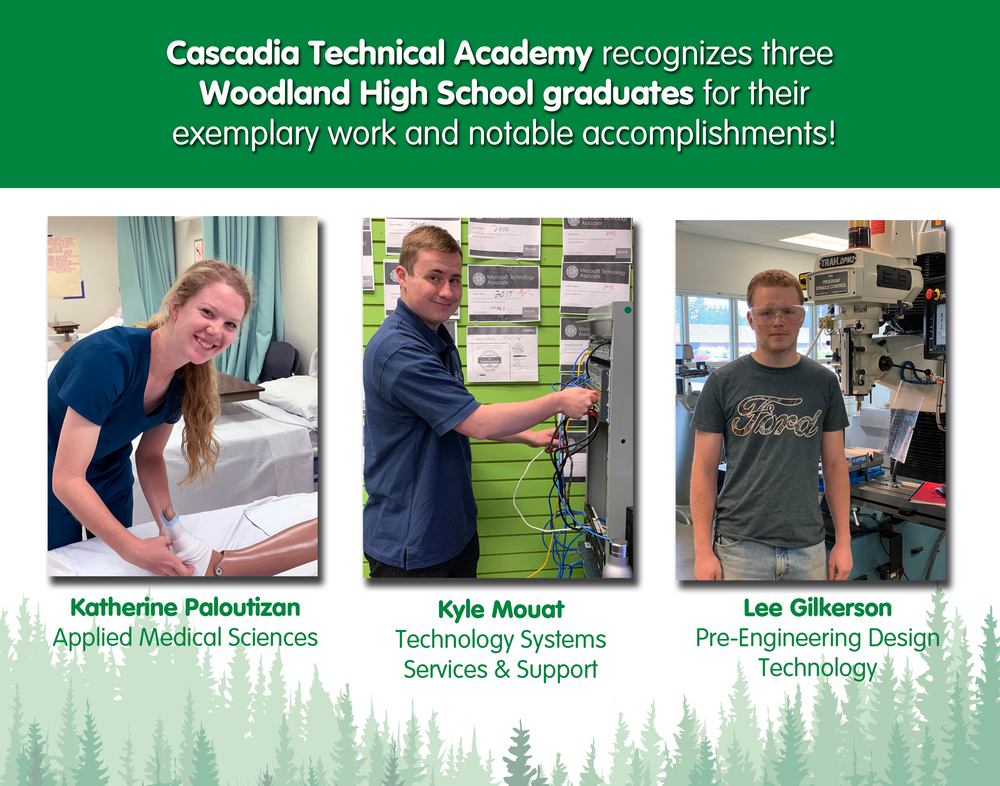 Three Woodland High 2019 graduates recognized by Cascadia Technical Academy
Woodland Public Schools
Thursday, May 16, 2019
Cascadia Technical Academy selected three Woodland High School graduates to receive accolades for their exemplary work in their respective areas of focus while taking part in the Running Start program:
Katherine Paloutzian received the 2018-2019 $2,000 GAC Scholarship for Applied Medical Sciences.
Kyle Mouat received the 2018-2019 $1,000 GAC Scholarship for Information Technology Systems, Service & Support.
Lee Gilkerson received the 2018-2019 Distinguished Graduate Award for Pre-Engineering Design Technology.
The Running Start program is a partnership between Cascadia Technical Academy and local high schools offering high school students the opportunity to earn college credit by taking advanced coursework from Cascadia Technical Academy while still attending high school.
Recipients of GAC Scholarships interview with their respective program's advisory committee who selects the recipient from all of the applicants. Cascadia Tech awards GAC Scholarships to students who exemplify the very best of their respective program focuses. Scholarship funds can be used to purchase tools, buy books or pay for tuition in order to support students as they attend colleges, universities, technical schools or enter apprenticeship programs.
The Distinguished Graduate Award highlights students in each program area who exemplify the technical, academic and employability skills at the highest level. "The award winners represent the most accomplished youth from Cascadia Technical Academy," said Janice Strickland, Coordinator of Administrative Services and Cascadia Tech. "These students have made notable achievements in beyond that of their peers."